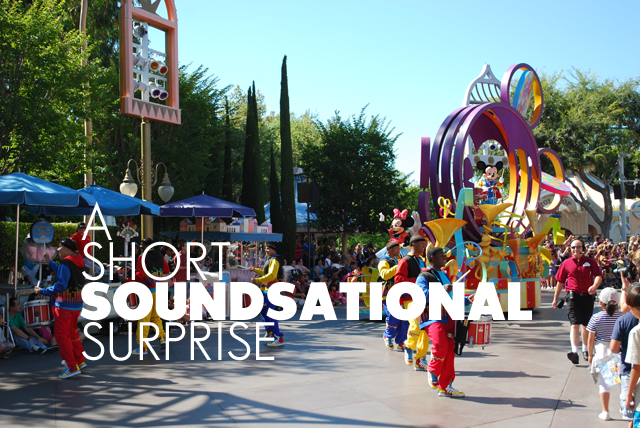 On a road trip down to San Diego this past Wednesday, I got a nice surprise detour to the Disneyland Resort.  It was my first visit to the park since the beginning of Soundsational Summer campaign entailing 3 new attractions, new entertainment and more.  More importantly, it was my first visit to the resort since my trip to Orlando in April, which certainly gave some new perspective as to how things are here on the west coast.  Due to a relatively short time in the parks, I didn't experience everything that is new for the summer; despite the short length, I did enjoy myself and am looking forward to returning later this month for 3 full days.  As for this trip, here's a short wrap-up of how things went.
Upon arriving to Disneyland around 11:30 am, 3.5 hours after park opening, we immediately headed to Star Tours.  No surprise: the line was estimated at 110 minutes.  Another (not so) big shocker was that Fastpasses were out for the day.  The other members of my party were not feeling the 1hour and 50 minute wait, as a result, we ditched our flight on the newly-refurbished Star Tours. Instead, it was "Lightspeed to Pizza Port!" for some Chicken Fusilli and Caesar Salad.
The Little Mermaid ~ Ariel's Undersea Adventure is one of the highlight 'signature' additions to Disney California Adventure's $1.1 billion makeover.
A end-all-be-all E-Ticket? No, absolutely not. A solid Fantasyland-style attraction? Yes.
After a nice lunch, we jumped across the esplanade to Disney California Adventure to check out the new Paradise Pier dark ride,  The Little Mermaid ~ Ariel's Undersea Adventure. With a much more managable 45 minute wait, we jumped in line.  However, due to the wonderful omni-mover ride system, we were thru the entire line (which did in fact go outside of the permanent queue) in under 30 minutes.
My expectations going in were to be a D-Ticket that would match the internet hype during the ride's construction.  Was it a D-Ticket?  To some maybe, however to me it was a modern Fantasyland C-Ticket (which is by no means bad).  The ride has it's flaws, such as a very abridged and abrupt ending, but at the same time there are some absolutely awesome moments.  My favorite scenes were the opening Scuttle scene and Ursula's Grotto.  Expect a full review at a later date, however if you are heading to the park soon, do make sure to ride this ride, it's a real gem in the otherwise dark ride deprived park.
After Mermaid, we checked out The Twilight Zone Tower of Terror (lite version) and the air-conditioned Aladdin: A Musical Spectacular, but then it was back to Disneyland to check out the new parade. Mickey's Soundsational, although the inspiration for the name of the entire summer campaign, was the biggest disappointment of the summer for me.  While it's nice to see a real parade after 2-years of the street-show-that-shall-not-be-mentioned, it was a sub-par parade.  Fortunately, as the name indicates, the music is the strongest aspect of the parade.  Otherwise, its dumbed down float designs and lack of acrobatics really make the parade fall flat.  Once again, at a later time, I'll do a nice photo essay/review of the parade.  Check back later for more.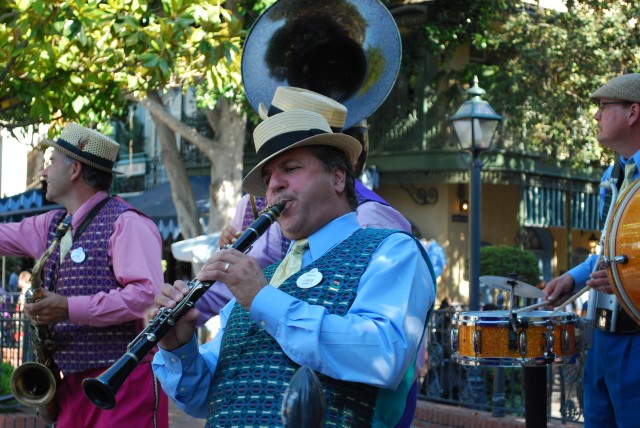 The day went on with dinner at the Riverbelle Terrace, some exploration time of New Orleans Square, and a last ride on Space Mountain before we departed.  There is still plenty to do before Soundsational Summer ends including riding Star Tours (multiple times for multiple destinations of course), taking flight on the newly rethemed Goofy's Sky School, grabbing a bite in the new Paradise Gardens dining area, and checking out the latest additions to World of Color.
Since visiting Walt Disney World and Islands of Adventure, I also got some new insight on the Disneyland Resort including:
Disney's California Adventure 1.0 was a complete joke.  Any respect I had for DCA circa 2001 is now completely gone.
Disneyland is the best Disney park in the US while DCA is the worst.
Although Disney's Animal Kingdom won't/doesn't have has much to do as Disney California Adventure, Animal Kingdom has a sense of direction, something DCA has always been missing.
Both Harry Potter and the Forbidden Journey and The Amazing Adventures of Spiderman top anything Disney has done in the US.
Imagineers have certainly learned their lesson on how to design parks that handle crowds well since Disneyland opened in 1955.
The Disneyland Resort has the best nighttime line up on the planet.
Just some random things that pop into my head at this moment.  I'm sure that's another topic that will one day get it's own blog post.
————————————————————-
Construction time!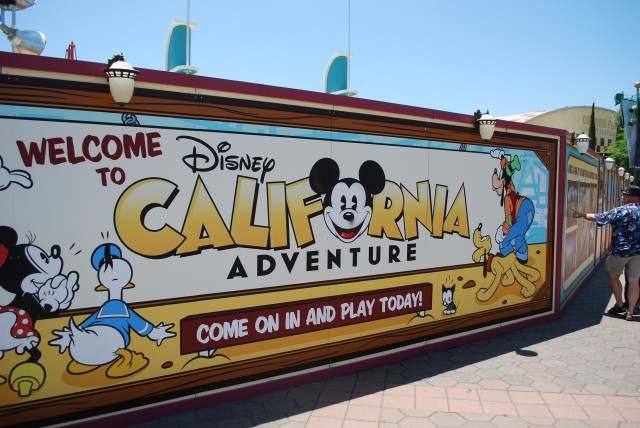 Unless you've been living under a rock, or just have a life other than the theme park world, than I am sure you are aware that Disney California Adventure is currently in the middle of a $1.1 billion expansion.  Not only is the park increasing in size with major additions such as the giant Carsland, but the park is also redoing several sections of the park to give them more of that "Disney DNA".  Construction is in full swing with construction walls seemingly everywhere.  Time for a quick tour….
The bulk of the expansion is being pumped into the 2012 additions, including the massive Carsland.  Occupying 12 acres, 6 of which devoted to rock work, Carsland includes 3 rides (1 of which will be a no-doubt E-Ticket attraction) as well as plenty of shops and restaurants.  As of now, most of the structures have gone up, the cement for the rock work has been poured and construction crews are currently working on  painting the rock work, finishing the buildings, and essentially building a mini-theme park. Mater's Junkyard Jamboree is still in the midst of receiving steel and infrastructure work however that will all change as time passes.
Mean while at the front of the park, construction on the new Buena Vista Street entrance area has swung into full swing.  The park's new turnstiles inspired by the Pan Pacific Auditorium (and quite similar to Disney's Hollywood Studios') are rumored to open July 15th and will welcome guest to an immersive entrance for the first time since the park's opening.
Construction walls now occupy the main corridor forcing guests through either Hollywoodland/bug's land or Condor Flats/Grizzly Recreational Park to get to the otherside of the park.  Behind those construction walls, crews are working hard installing tracks for the new Red Trolley Cars which will be running up and down the new entrance as well.  Details have also began to emerge in the park's new (under-construction) icon, Carthay Circle Theater which is now almost completely in tarps.
Lastly a big "Job well done" to the team behind Paradise Gardens at Disney California Adventure which opened just yesterday.  The newly redone dining area includes an elaborate set of shaded structures, lots of vegetation, beautiful landscaping, spectacular dining facilities, and it is now, without a doubt, the new, best area in all of the park.  I will say, I was a bit shocked at how good the interiors of Boardwalk Pizza and Pasta came out.  Absolutely fabulous job!  Unfortunately, it was still behind walls during my last visit, but our friend MintCrocodile has some excellent coverage of the entire new area.
Goofy's Sky School, a (cheaply) rethemed version of Mullholland Madness also officially debuted yesterday which butts up to the new Paradise Gardens area.  Video here.
————————————————————-
Well, my apologies if you were expecting a short trip report! However that's what happens trying to cover this giant summer at the Disneyland Resort.  Thanks for reading!  Remember to leave a comment with your Park Thoughts below.