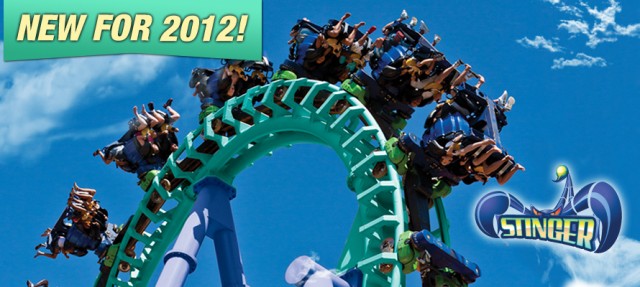 After a troubled final two seasons at California's Great America, last winter, Great America announcd that Invertigo would not be apart of the park's 2011 line-up and dismantled the ride.  Pieces were spotted at Dorney Park, indicating that Invertigo had found it's new home.  And this morning, Dorney Park made it official unveiling the former Invertigo in it's new form: The Stinger.
The Vekoma Inverted Boomerang places riders face-to-face thru the 6 inversions.  Construction is already underway with several of the footers nearing completion. The ride will also be receiving a new paint of a light teal and blue (Leviathan colors anyone?) and it also received one of the coolest logos for a coaster I've ever seen.  The Stinger will occupy the same plot of land as the former "Laser"
Dorney Park's last coaster addition was yet another "used", inverted shuttle coaster Possessed (originally named VooDoo) which has been well received by park goers.  Having had a chance to experience Invertigo several time while it was back at my home park, I'm jealous of Dorney Park getting my coaster.
The Stinger represents a $10 million investment in the park next year.  Expect the ride to open with the rest of the park on opening day 2012.