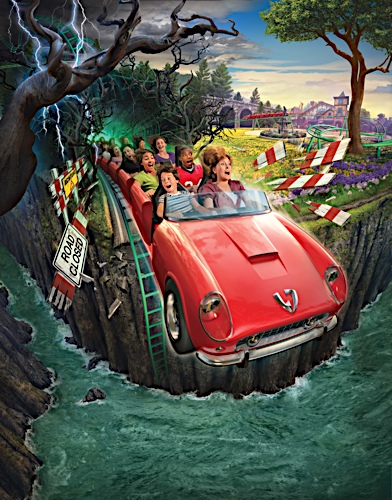 In 2012, Busch Gardens Williamsburg will introduce Verbolten, a multi-launch, indoor-outdoor, Zierer family coaster.  As the park's 6th coaster, Verbolten is geared towards both thrill seekers and families alike.
Anchoring the recently refurbished Germany area of the park, the experience will begin as guests enter the German Tourists Center and board 16 passenger, German sport cars.  The coaster starts as a gentle ride through the countryside before making a right turn and accelerating to 50+ mph into the Black Forest show building. With full control of the lighting, sounds, and other effects inside the building, the park is expected to have many surprises in store for riders, including a possible Th13teen style drop track section.  Verbolten will then launch out of the building and drop over the rhine river, in similar fashion as Big Bad Wolf, and finish out its course back to the station.
Verbolten will feature over 2,800 feet of track, 5 16-passneger trains, and a duration of 3 1/2 minutes.

Initial 2012 Thoughts:
What was expected to be a European themed, slightly modified version of Cheetah Hunt, is obviously not.  By no means is this bad, in many ways I think this could be better than its African counterpart.
Cheetah Hunt is all about the coaster.  While there are a few scenic elements, there is no elaborate effects of any sort.  Unlike Verbolten, which instead of relying on the forces, power, and speed of the coaster, will use visual and audio cues inside the show building to generate excitement.  Although it may mean a less intense ride, it will also increase appeal for the family audience.
Verbolten may not be what hard core coaster enthusiasts wanted, but it will have massive appeal to families.  And that is the obvious intended goal of the attraction.