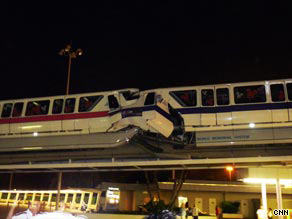 1 train operator was killed when a monorail headed for the from Epcot to Ticket and Transportation Center collided with another stopped monorail at Disney World. No other serious injuries were reported.
Walt Disney World Vice President of Public Affairs, Mike Griffin has stated, "Today, we mourn the loss of our fellow Cast Member. Our hearts go out to his family and to those who have lost a friend and co-worker"
The cause of the accident is currently unknown and the monorail service has been closed until a full investigation is complete.