Some time ago, Six Flags Executive, Mark Shaprio stated that Six Flags Magic Mountain would recieve a coaster in both 2010 and 2009.   From here, speculation began to fly as some thought it would be an S&S El Loco coaster, a family coaster, or even just another kiddie coaster.  Lets take a look at some of the possible locations of where the new coaster could go: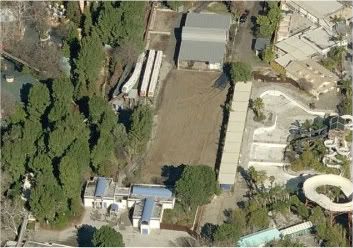 One of the most obvious places the new coaster could go is at the site of the former Flashback roller coaster.   This area is surrounded by either trees, a monorail or the water park.   Because Flashback closed down due to complaints of loud noise from the neighboring water park, if a coaster were to go here, it would have to be relatively quiet.
However, I do remember reading some where that park managment is looking into a Hurrican Harbor expansion and this seems like ideal room for expansion of the water park.  Perhaps it will be a battle over which will get this plot of land!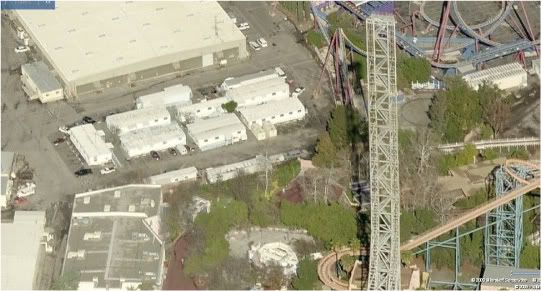 Another area that could be under consideration is a patch of land next to Scream!, which is currently occupied by some temporary bungalos.  These could be easily moved and replaced by a large sized coaster.  Unfortunately this plan is likely the most costly.  However, if the park were to add a coaster here, it would also be a nice time to close down Scream! for a bit and add some landscaping under the ride.
Mark Shapiro also stated that the park was looking into getting a Wiggles World in the future.  If this is true then it may call for the conversion of the Bugs Bunny and Warner Bros. character land into Wiggles World.  Not only would it be sufficenet for several new attractions, but it would also make room for a nice amount of land for a small roller coaster such as a Vekoma Roller Skater.  However, Wiggles World isn't set to open until 2011 which again makes this plan unlikely.
While the park doesn't have many flat pieces of land available for expansion, the hills are always an option.  Beneath the forest of trees is great terrain to make a terrain hugging coaster of some sort.  I would suggest a GCI would be perfect here, but now that we have Terminator Salvation I would think otherwise.  However, a terrain hugging Intamin of some sort would be a great addition not only for the park, but for the entire West Coast.  Something similar to a custom version of Maverick would be nice as it winds through the trees.
It will be interesting to see how things play out because if the coaster is a large one, we will start seeing markers in the coming weeks and months for land clearence and footers for the new coater.  What do you think it will be?  Leave a comment and park thought.  Thanks for reading!