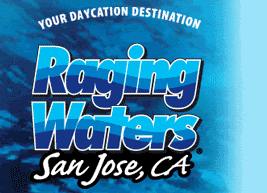 Raging Waters is the premiere water park in Northern California and calls San Jose its home.   On the shores of a lake, this water park has a beautiful location that makes it a real treat to walk around in. With a nice collection of water slides, it is a water park worth visiting if you live in the area, but nothing special and not worth skipping a theme park to come too.
Once you enter the park, there is a plaza with lockers, restaurants, some food carts, and a water fountain.  Really, if you want to eat, this is about the only place you can go.  There are 2 other food stands in the park but they offer the same food as the locations here in the plaza and are also much smaller facilites making the line much slower.  So there you go, you can get BBQ, Pizza, or Burgers.  Make your choice.
On the first tower of slides you have an orange, pink, and yellow slide, a.k.a. the Serpentine Slides.  Neither of these are too thrilling.  On orange you pick up some nice speed, pink has some great turns, and yellow has the largest drop.  While they are all nice, close your eyes for a more thrilling experience.  It makes the whole ride much more exciting.  Major mark down on the yellow slide though, only children can ride it.  Any adult about 5′ 8″ and over 130 pounds can't ride; ridiculous.
Next is the pair of slides known as Shot Gun falls.  After climbing about two stories, you hop on one of two identical slides, drop about 20 feet and are shot out 10′ above water.  While fun, not worth waiting more than two minutes.
Finally some big toys.  White Lightning and Blue Thunder are the parks drop slides.  I didn't get the chance to ride Blue Thunder but I was told by numerous people that it hurt because the transitions in track pieces were not smooth enough.  However, White Lightning takes you through a few twist before dropping three times 5 stories down.  On the third drop you go airborne and begin to fly off the track before hitting the slide again.  While extremly fun, this one is also a bit painful on the back.
The Great White Shark, this ride is one of the more popular ones.  Guest ride in a two person tube and wind down the hills in a flume before entering the mouth of a Great White Shark.  From here they are inclosed before shooting out into a "speed pool" and winding down into the lazy river.  In the begging, the slide was great, the banking was quite intense and was very surprising, but the Shark features an "epic fail".  The so called "speed pool" is horribly designed.  What happens is the flume widens and jets shoot water which should make you go faster into the rest of the slide, well the designers didn't do their math and the flume is too wide in some sections creating a reverse current.  In other words, the tubes go backwards and stop instead of forwards.   If the speed pool worked, it would have been so much better!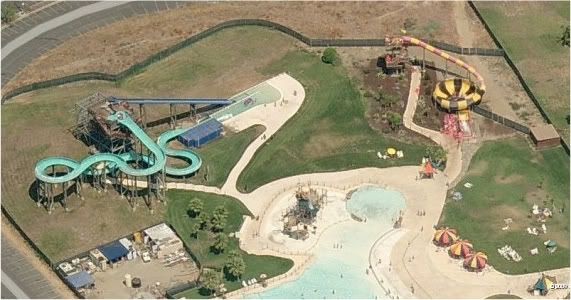 Dragon's Den is one of the park's newest attraction.  Dragon's Den is your standard CanonBowl from Canada based ProSlide.  Riders go into a 2 person raft and shoot out into a bowl before falling into the water.  However this bowl has a twist, in the center of the bowl is a fierce dragon luming over you.  Although the dragon is masterly carved, it really would have been so much better if the bowl was enclosed and lighting effects were added.  Just a red spotlight on the dragon would have made this ride phenomenal.  Not to mention the fact that you could see the dragon half way up the stair case was just a big turn off and ruined any sort of suspense.
Finally, my personal favorite slide Barracuda Blaster.  Also new to the park, this three person raft slide is a fun bobsled style adventure.  As you wind down the twist and turns your raft goes hard into each and every bank.  What a great ride!  If you lean in on every turn, your raft goes so high on all the slides, it is a great slide to go on with your friends.  Also, the ride features a lift for the rafts which carries the rafts up for guest, well the park needed about 3 or 4 more rafts and another life guard.  Installed in the station was room to load two rafts at once but with one life guard it wasn't possible.  Therefore the split lines moved very slowly.  Another big turn off.  But none the less good slide.
The park also had a really disappointing water play structure, a decent wave pool, and some nice kiddie areas.  Lastly, their was a rather small lazy river but over all the park is good.  It is a great 1 day, once a year water park.  But when it comes down to it, go to California's Great America because in general the slides are better and you also get a theme park with your admission.  Raging Waters San Jose really needs some more slides to put it on the map.  A good Master Blaster style slide along with a Tornado or Tantrum Tornado would really make this park wonderful with its ideal location.
Thanks for reading, leave your comments and park thoughts!