Each Summer Tokyo Disney Resort launches special nighttime entertainment that can only be found during the hot summer nights.  This year the park brought back the most high octane, high energy show I have ever seen, and created a new ridiculously clever show.  Let's take a look: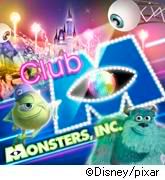 Club Monsters Inc "Its Laughter We're After"
Club Monsters Inc is a new nighttime show that is running now through August 31st and is based off the hit Disney-Pixar movie, Monsters Inc.  Another reason the park launched it is because of the new Monsters Inc, Ride n' Go Seek ride that just opened in April.  Therefore, this summer is Monsters mania!
The show is basically a collection of famed tunes with new lyrics.  The classic "One Night Only" was transformed into the Monsters hit, "One Eye Only" and "Dancing in the Street" was transformed into "Mickey's Got the Beat".  All of it is done incredibly well and the audience seems to really enjoy it.
Of course what is a Tokyo Disneyland castle stage show with FIRE!  Club Monsters Inc is no exception as their is a high octane fire segment with lots of raging infernos going off around the stage.  But don't fear!  Donald has come in to give a "Splash, Splash, SPLASH!"  Him and is monster fire fighter friends help cool down the fire and the audience too.  (Remember it is super humid in Tokyo and I am sure they approve of getting some nice water on them at 9:00 at night.
Overall the show is incredibly clever and really should be brought to the United States.  Some of the things Tokyo Disney does seem a bit risky in the U.S. however I think this would have a great general appeal.  Check out the finale below. (Keep watching, even though the begging bit is in Japanese)
Bonfire Dance!
"WE'RE DANCING!"  Bonfire Dance is absolutely, with out a doubt, the most high octane, high energy show that any Disney park has ever had.   While it is based around the traditional Japanese Bonfire it has a twist, guest get to dance around the bonfire in Arabian coast with a few of their favorite Disney characters.
Not only do guest wait over 4 hours to get good seats for the show, but often the die hard fans get Bonfire Dance outfits as well as learn the dance moves online.  I have never seen such controlled excitement in a Disney park ever in my life.
The show features multiple dance numbers but the finale by far is the most entertaining.  Guest in the dancing section get to stand up and dance with either Mickey, Minnie, Alladin, or Jasmine and not only that but circle the entire dance stage.  In a grand finale the excitement builds up to the ultimate arrival of Genie!  All of this creates an atmosphere that you won't find at any other theme park any where in the world.  Here is a video of the finale: