Northern California's best theme park is Six Flags Discovery Kingdom (pathetic, right?) and on July 23rd I had a chance to take a trip to the magical kingdom.   While some of the coasters here are clearly very good, it is no world class theme park by any means.  However the park is great fun for anyone within a two hour radius.  It provides thrills, animals, and entertainment.  Not to mention you get to discover how many different ways sponsors can advertise in an amusement park.
With my camera in hand it was time to invade this Six Flags, Park Thoughts style!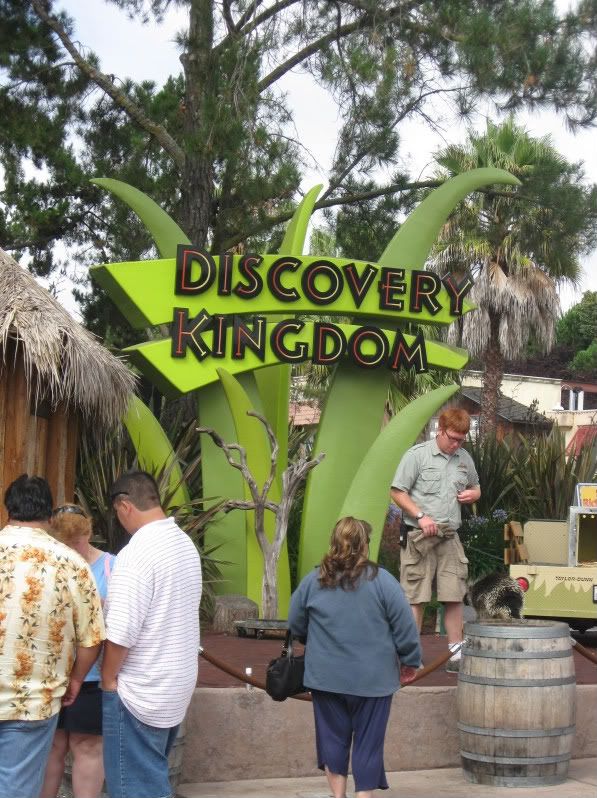 This is the park's big fancy sign. I actually like how the park opted out for a more abstract entrance. The bright colors, the decorated statues with mosaic tiles, the nicely themed buildings. It is all well done and does create a good park atmosphere.  Notice how trainers are up and showing off different animals that interact with guests.
We actually arrived at the park half an hour before it opened at 10:30 am.  But the park was smart and took the oppurtunity to get guests hyped for their upcoming day.  Included in preopening entertainment were the dolphins in their tanks playing with different footballs, foam balls, and other toys, Bugs Bunny and Gang, as well as a few other walk around characters like Merlin, the park's signature dolphin, and finally live animals with trainers talking about there features.  Is it just me or is the walk around dolphin character a tad on the creepy side?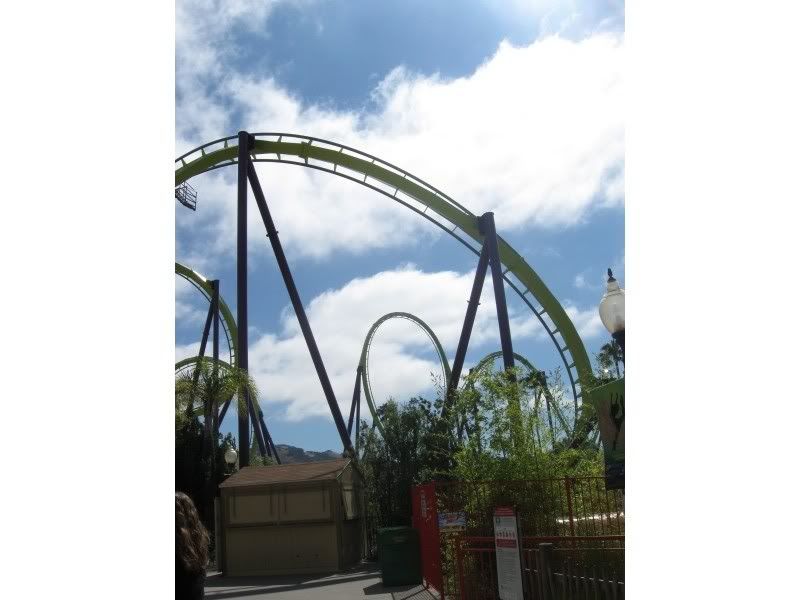 First stop was Medusa.  This is an excellent time for me to thank Six Flags for being so cheap and enforcing the no bags on coasters rule.  It really is ridiculous, unnescary, and another scam Six Flags remarkably pulls off to make money.  This made me split from my group, as they rode Medusa and I went to get a Locker in the front gate as we didn't want to spend the money or time, every time we had to get on a coaster to get a locker.  I reccomend everyone to do this when they are at any Six Flags park.  It may cost a bit more then paying $1 every coaster locker, but it is better then having to get the locker, then go back to the locker before and after riding coasters.  Great job Six Flags!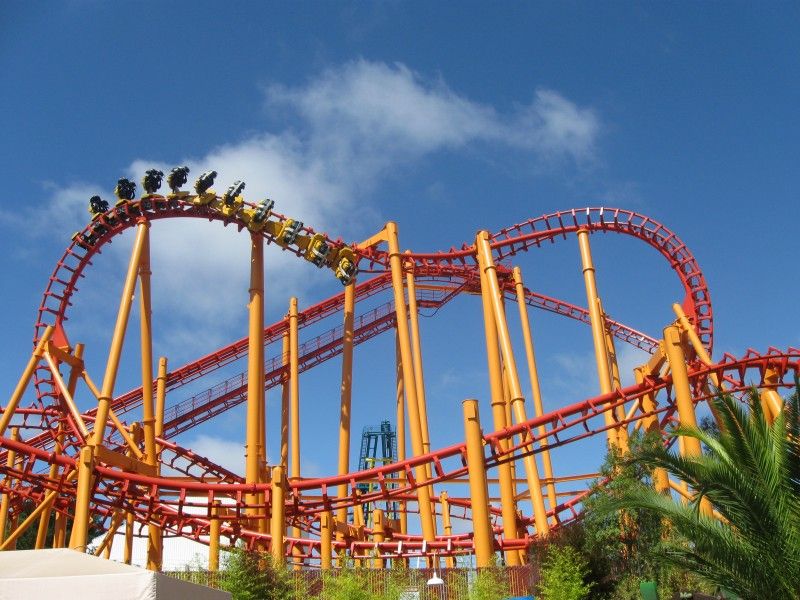 Next up, we looked at Kong and thanked the lord for saving the park guests as the ride was broken.  Before I rode any Vekoma SLC, I had read countless times on how bad and rough they were.  Now I have a soft spot for rough coasters and didn't expect to be too bad at all.  However, my first visit to Six Flags Discovery Kingdom, in February, I took my first and final ride on Kong.  It is horrific.  I honestly question myself if I ever come across another SLC is it worth the credit?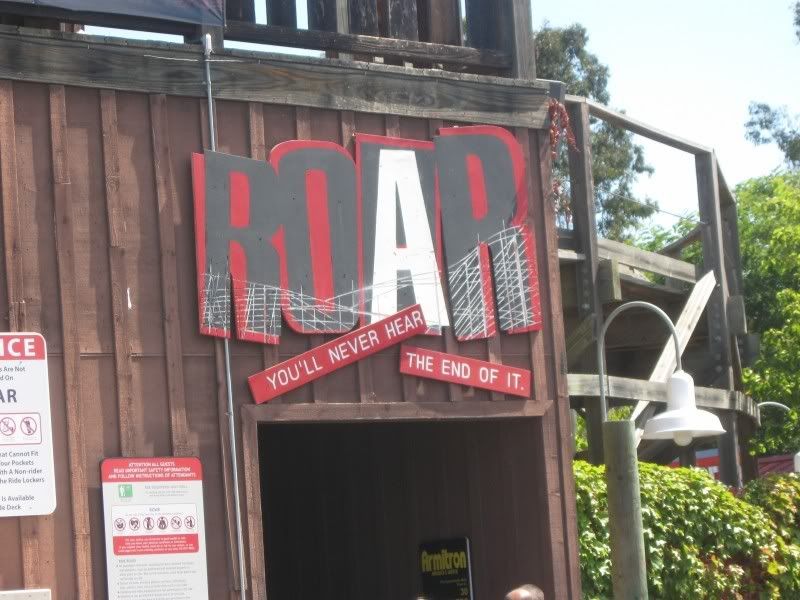 We made our way across the park and took a spin on Roar.  Roar is a Great Coasters International (GCI) wooden coaster that was built in 1999 and was the first to use the Millenium Flyer trains.  Since I rode Roar on my previous trip, I was not new to the ride at all and new the all mighty power that the back posssessed.  However one member of my group thought it was going to be a wimpy ride and was in for a big surprise!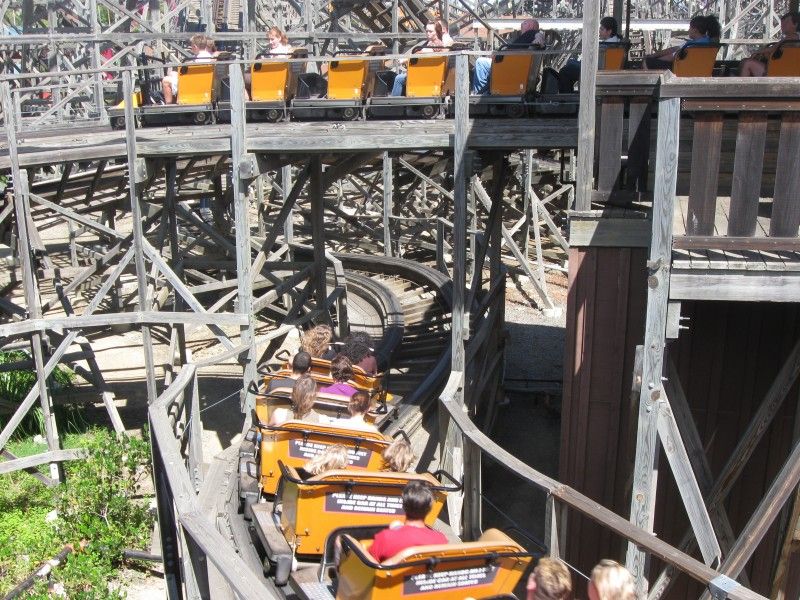 Roar! consists of several turns, hills, and drops while dodging a huge support structure providing a hair raising, and head chopping experience.  Roar! was celebrating its 10th anniversary at the time of its visit and doesn't seem to have aged bad at all.  Yes the ride is rough and clearly whips you around but it is not nearly as painful as its buddy across the park, Shake n' Break Kong, or even as rough as the god awful Grizzly at California's Okay America, but the coaster is really quite a thrill.  The tunnel mid ride is very fun.  Unfortunately, on the break run at the end of the ride, we were stuck for about 15 minutes.  We had to wait in the blistering hot sun as we awaited a mechanic to come and get the ride operational again.
Right next to Roar! is the new for 2008 Tony Hawk's Big Spin spinning coaster.  Unlike its cousins found in other Six Flags parks around the country, this one features a different layout due to space constraints.  While I haven't ridden the other layout style before, I do really like all the insane helixes on this ride.  Be sure to load all the weight on one side to maximize spinning; it makes the ride about 4 times more enjoyable then if you don't spin.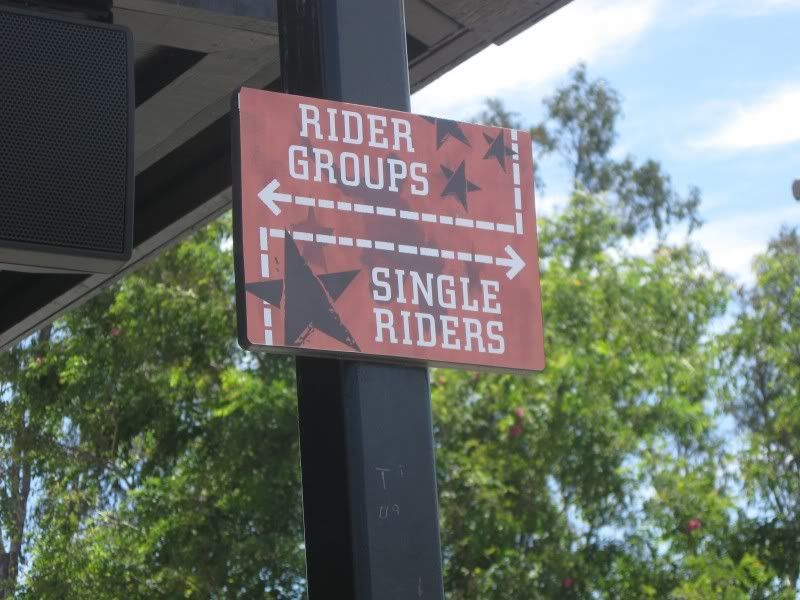 Park Management here is brilliant.  They put a single rider line available about 5 feet before you board.  Now why in the world would anyone want to split up their group after waiting 98% if the queue?  It is really pathetic.  However, this was the most efficient crew I have ever seen at Six Flags Discovery Kingdom.  There was always atleast one, usually two trains waiting to get on the lift.  Good job Tony Hawk crew!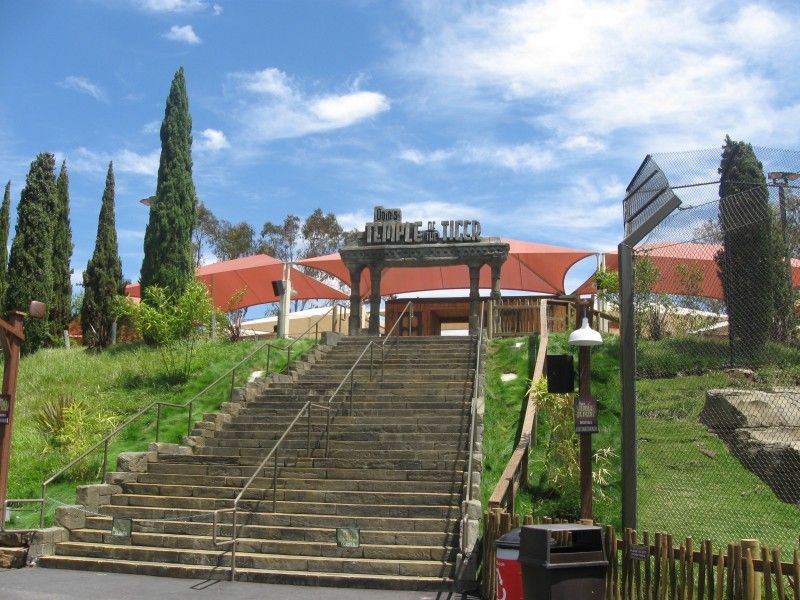 From here, we headed to the locker, grabbed some money and went to lunch.  We chose Johnny Rockets.  This was a big risk as in our last trip we waited a whopping 45 minutes to get our food.  The line moves fast but they had 2 people in the kitchen.  On this trip, we decided to try the other Johnny Rockets location further down in the park, again mistake.  We still waited 20 minutes.  However the park clearly knows this.  I couldn't tell you how many more people were in bussiness suites were in the kitchen then actually Johnny Rockets employees.  Six Flags seemed well aware of this problem and once they started getting involved, it moved much faster.  However, my recomendation, got to Subway.  Faster, and right across the way.  From our location, we did get a nice view of the new Odin's Temple of the Tiger stadium and enclosure.  But no tigers in enclosure.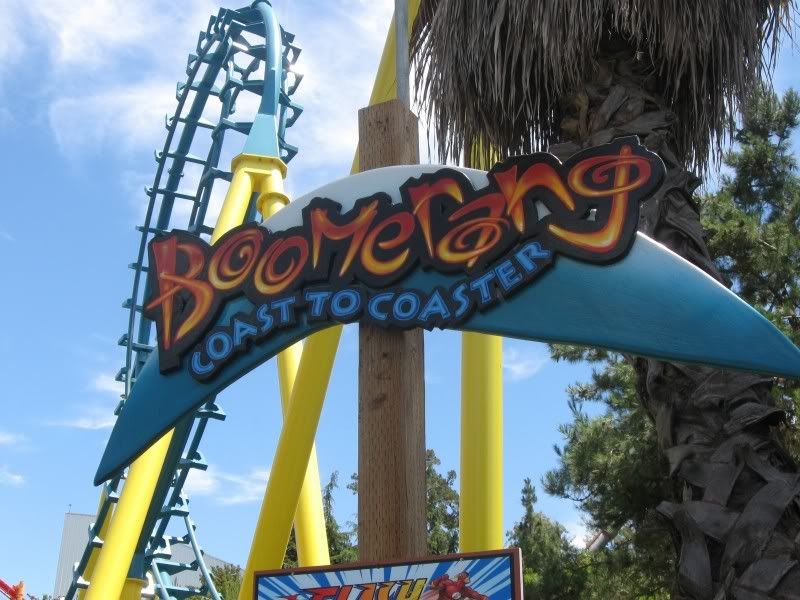 It was right next door, and I needed the credit, so we rode Boomerang Coast to Coaster.  It was much smoother then the model at Knotts which provided for a much more pleasant expierence.  We waited only 1 cycle for a ride which is nice because I dread waiting in line for any shuttle  coaster.  Boomerang was Six Flags Marine World's (the park's former name) first coaster and it was a smart choice.  Not to big and brought in the crowds.  I faintly remember as a small child seeing the coaster zoom through but I was way to short to ride.  Still not the greastest ride though.  Not nearly as smooth as the ultra smooth Invertigo at California's Great America.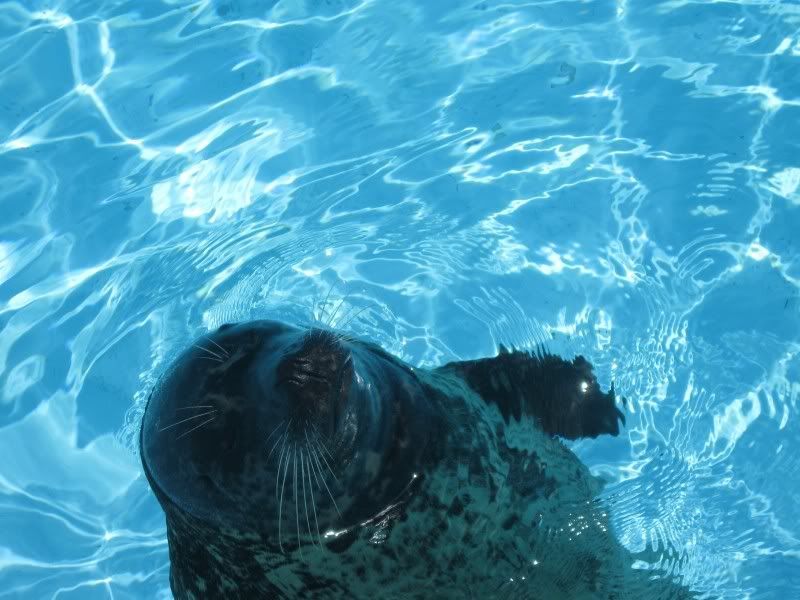 After Boomerang Coast to Coaster, it was time to check out some of the animals.  Here we have the California Sea Lions and some sort of seals.  Sorry, I can't seem to recall the names.  They are so cute!  Last time we were here, my brother spent $5 to feed 3 fish to the seals and sea lions, little did we know that they would be just like our dogs and rush to the food as soon as one was fed.  I reccomend spending the 5 bucks to anyone who likes animals, definitely worth it.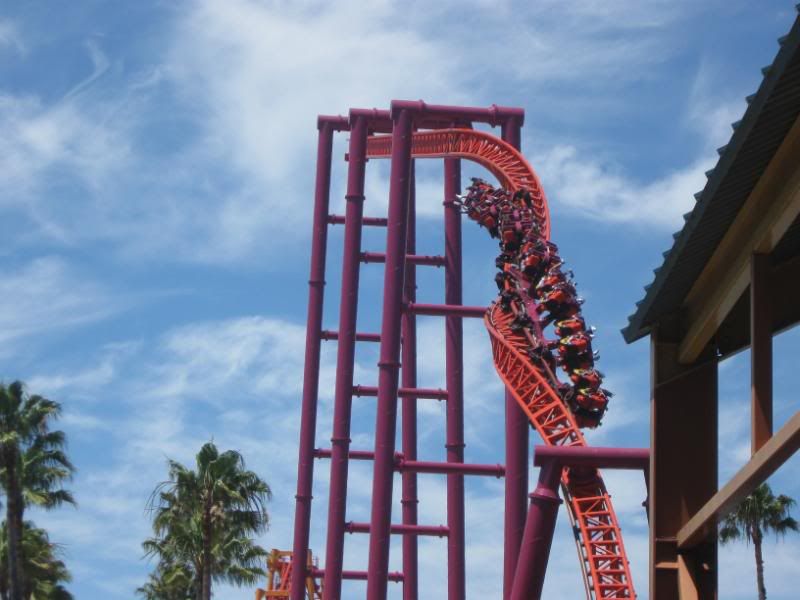 Once again, it was time to hop across the park to Vertical Velocity or V2.  Interesting story about the coaster is that it was originally built as a replica to the other models.  However the park didn't not get approval to make a coaster that tall so the twisting spire was removed to change it from vertical to a slope and makes the expierence much more unique.  The launch is spectacular!  Totally worth it however I wish the ride stopped at the top of the back spire, it would have been so suspenseful!
Alright, well that is it for now.  Leave your comments and Park Thoughts!