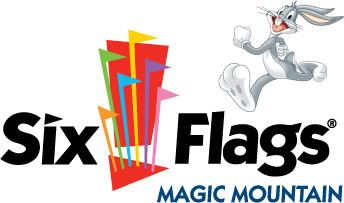 After taking a trip to Disneyland and Disney's California Adventure, my family decided to head up to Six Flags Magic Mountain as it was en route to our home in Northern California.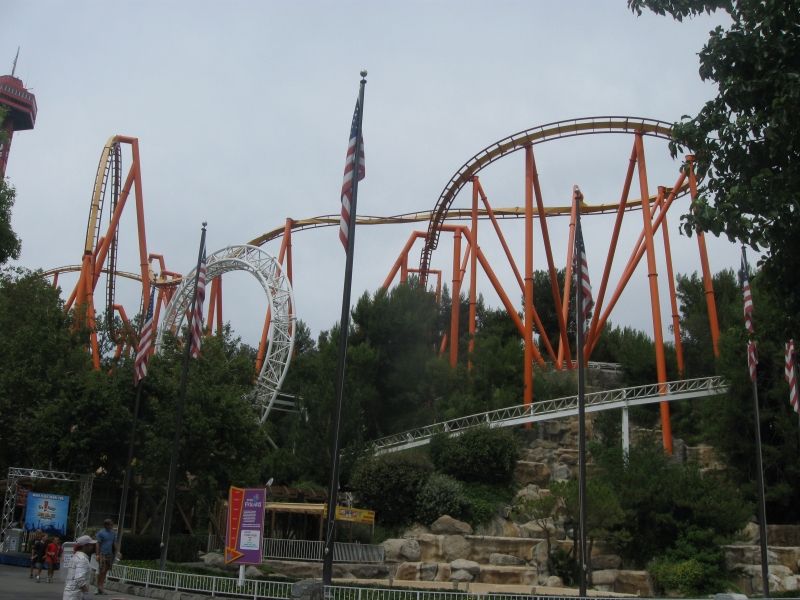 Six Flags Magic Mountain's signature shot. I have to say that this picture has become much more exciting with the addition of Tatsu. Maybe it is because of the color contrast, the height differential or just the fact that an awesome B&M is in the picture but I have to say that I love this angle so it gives a great first impression as it is your first "real" view inside the park.
First ride we hit up was Terminator: Salvation, again Six Flags did a great job of screwing guests over with their mandatory locker rule. Well I suppose I should be used to it by now, eitherway, I was shocked to see that the line was, well there wasn't a line! That's right, around 11:00 a.m. an hour after park opening, the brand new ride was a walk on! I was shocked, the only downside is that we skipped all three preshows. None the less, we got to ride the new coaster twice in a row before coming back later in the day.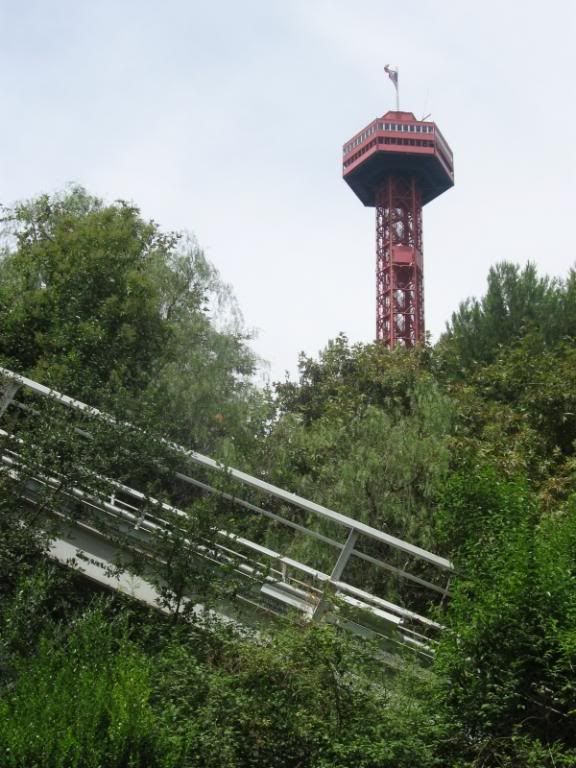 Even though we just got in the park, everyone in my family was really hungry so we headed back over the hill to eat at Panda Express. Along the way, you really can take in the great natural landscaping, mixed with the steel marvels that make the park very beautiful in some areas. However, the beauty of it, is exactly what hurts the park, in my honest opinion.
Located in the center of the park is a massive hill that takes loads of energy to walk up and down of. Energy that I didn't have after spending four days, at the beach, with friends, and at Disneyland. While the hill really does hurt your legs, it provides for a great location for terrain following coasters like Ninja, Revolution, and Tatsu.
Our meal at Panda Express was nice. There were a few different combos you could choose from, but unfortunately you had to get exactly what was in the picture. Meaning if you wanted Orange Chicken, Kung Pao Chicken, and just Chei Mein (sorry for my spelling) you couldn't get that because it had to look just like the picture. No flexibility at all. Another dumb policy with Six Flags. Atleast they moved fast.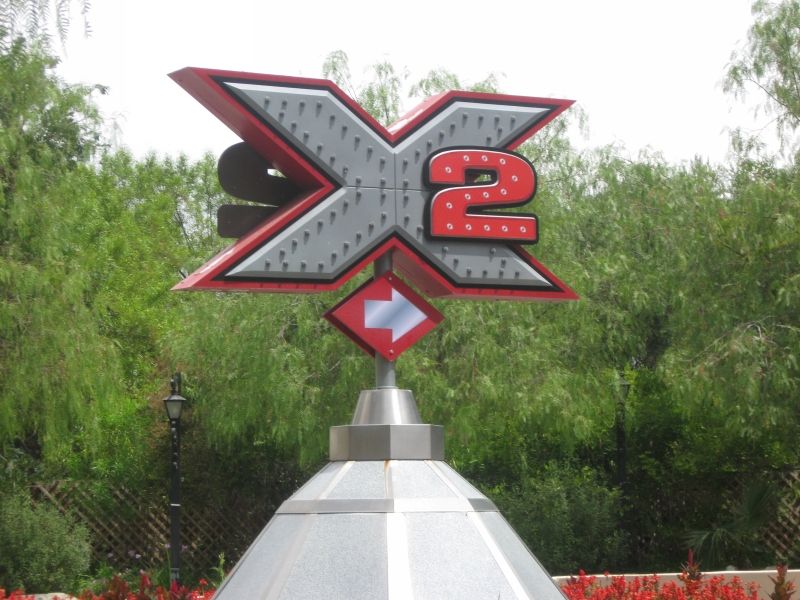 Next up, I went to check out the line for X2. Since Terminator just opened I expected the line for X2 to die down since it was now a year since its transformation and was no longer considered "new". I was wrong, the line was just about 3 hours long. No way was I waiting for it.
It was time to go back up the hill and hit my favorite coaster in the entire park, Tatsu. Tatsu's line was around 45 minutes since both sides are working but I still question myself why they don't use assigned seating for this ride. It makes no sense at all. Termiantor was using assigned seating and was moving incredibly fast as appose to spending 10 minutes stuck in the station try to organize your group to get on the fastest.
My experience on Tatsu was just as insane as I remember. Luckily the back had the shortest line so not only did we wait less we got the most forceful seat in the entire ride. Going up the lift is the one of the most exciting moments on any ride I have ever been, the anticipation is incredible. My favorite element of all time though is Tatsu's Pretzel loop. It is hard to comprehend if you haven't ridden it before but basically you go from being pushed out of your seat to being pushed into your seat to the point where you almost black out. A truly incredible experience. Check out my Tatsu Review here.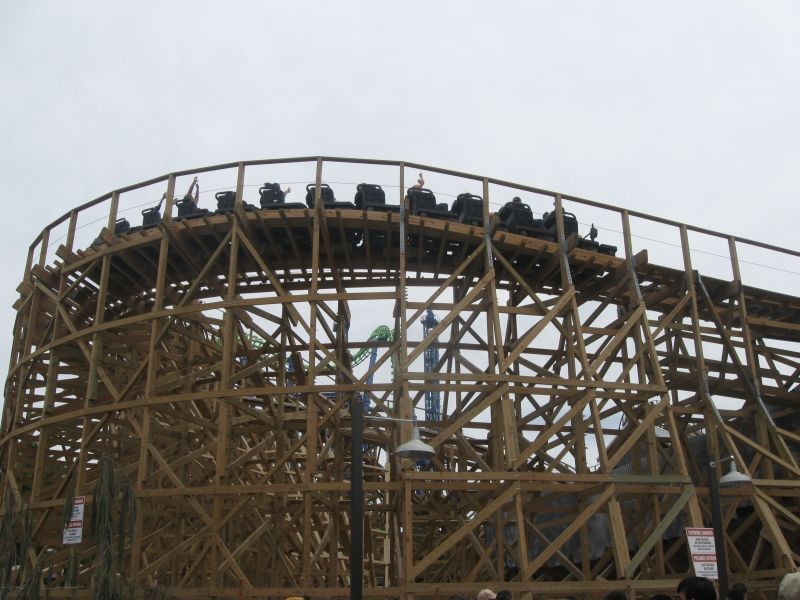 My dad's long time friend joined us at the park so we headed back over to Terminator since it is so nice. However this time it was not a walk on. I would estimate we waited probably an hour and 15 minutes for the our third ride on Terminator. While I must say though that the crew was still working incredibly fast as the second train was never waiting to come in the station. But, the line moved in huge increments as they only released so many people for the preshow purposes.
The bulk of the queue is surrounded by this helix in the ride where the train shoots out of the tunnel and around before going into the final turn. While it isn't exactly the greatest line, the loud clanks of the train passing by and the screams of the riders does make it quite fun. I wish there were alot more misters however.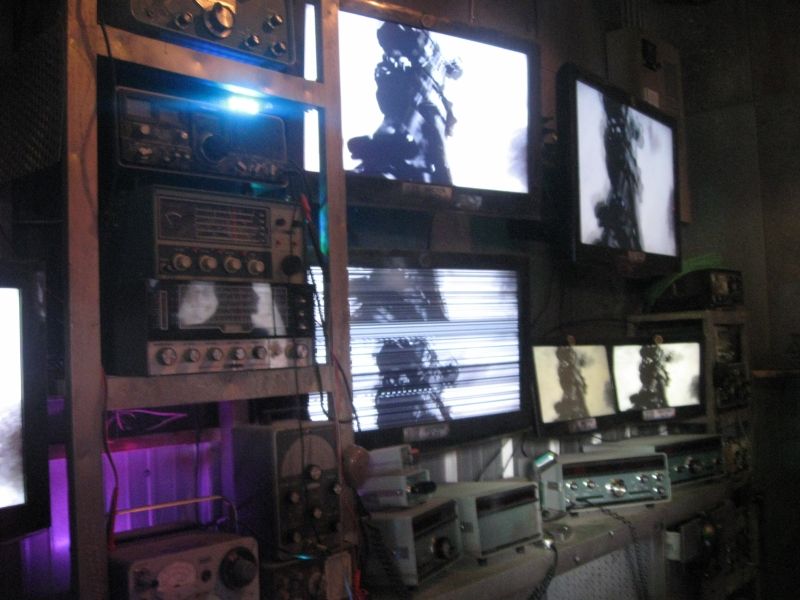 Alright, this time around I got to see the preshows. I commend Six Flags for trying but there was no need for 3. It was way to long and boring. What needed to happen is there needed to be more then just TV Screens, there needed to be windows where you could see the Terminators coming towards the shed, or something. While I can put my finger on it, the preshows just weren't that commanding. Too much talking, it isn't like Tower of Terror preshow where when it comes on, everyone shuts up and pays attention. There were a few times when guests did that in Terminators video's but never did the guests do it for the entire time.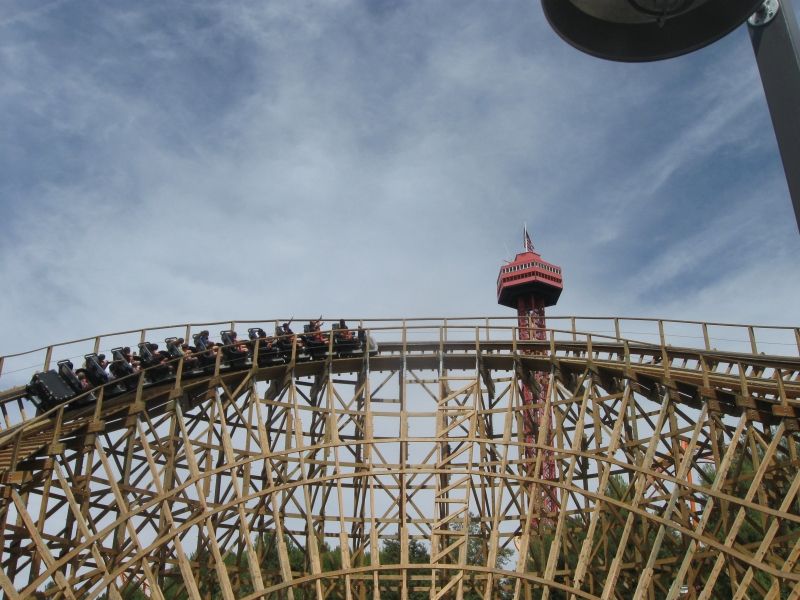 Terminator: Salvation itself was awesome; a prefect addition to Magic Mountain as it is just what the park needs a great wooden coaster. Terminator never lets up as it is always going with no downtime at all. As soon as you finish the turn after the lift hill, you are going full speed from start to finish as you head up and down, twists in turns. It was such a great layout! However it was definitely on the short side which was unfortunate as I wanted it to last longer.
On my visit, the fire wasn't working. I asked the employee he said it hadn't been turned on for 3 days because of winds, which I was fine with, safety first. However the mist and lighting effects in the tunnel weren't working, or were just extremely under wealming. I assume if there were strobe lights in the tunnel at night, the experience would be awesome.
Lastly, the on board Audio system was unnecessary. I rather have an extra seat and then speakers on the break and lift as you could never hear what the music was saying otherwise. Unfortunately it was way to quiet to tell what was even going on. I have been informed that during opening day it was way to loud so the park turned it down, and turned it down too much. Which is a shame because I can't really judge the music as it was way to quiet.
So overall I think Terminator is a great addition. I hope more of the techniques used on Terminator are applied to some of the other coasters. Personally, I think it would be great to see assigned seating on Tatsu and Goliath like Terminator, as well as employee costumes like Terminator which really add to the show.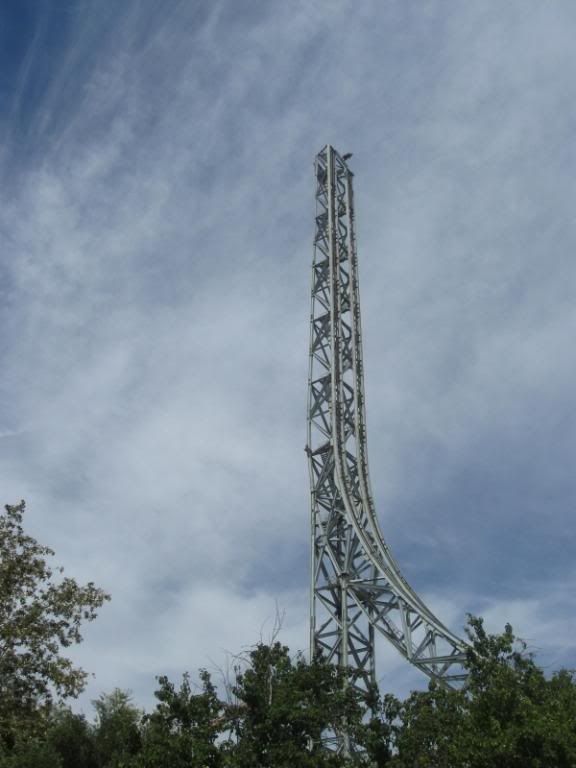 Didn't take a spin on Superman this time around. In fact I don't think I have ridden Superman: the Escape in nearly 2 years. I find the attraction kind of blah, you wait a long time, go fast go up, go backwards and its over. I wish it did something a bit more prior to the launch like a whole preshow type deal. Would have been epic.
Colossus serves as the park's other wooden coaster.  While it is a classic, it is in dier need of new trains as the ride is way rough.  This time we waited 10 minutes for it and I honestly don't know if it was worth it.  I honestly hope that Colossus is one day restored to its former glory with new trains, both sides running, and racing.  Six Flags, consider this for your next "Bizarro" type transformation please!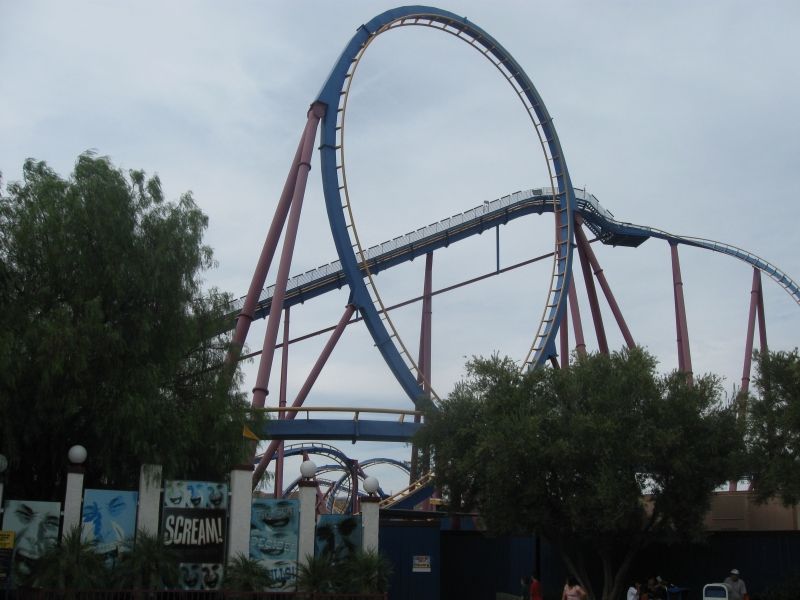 Scream was well, disappointing. It doesn't make those transitions in exactly a smooth way and after riding Medusa at Six Flags Discovery Kingdom and Scream only a week a part, I must say my opinion has changed and I feel Medusa is far superior. Not only is it smoother, but the entire ride is just better. However I do prefer the Cobra Roll in Scream as appose to Medusa's Roll Over. Either way still a fun ride, that is under appreciated.
I do admit, that Scream does have a huge loop though. It is pure fun to be on a floorless coaster going through a monstrous loop. All of the feet flying in the air, the ties of the track whipping by, and that B&M sound as the wheels press against the track.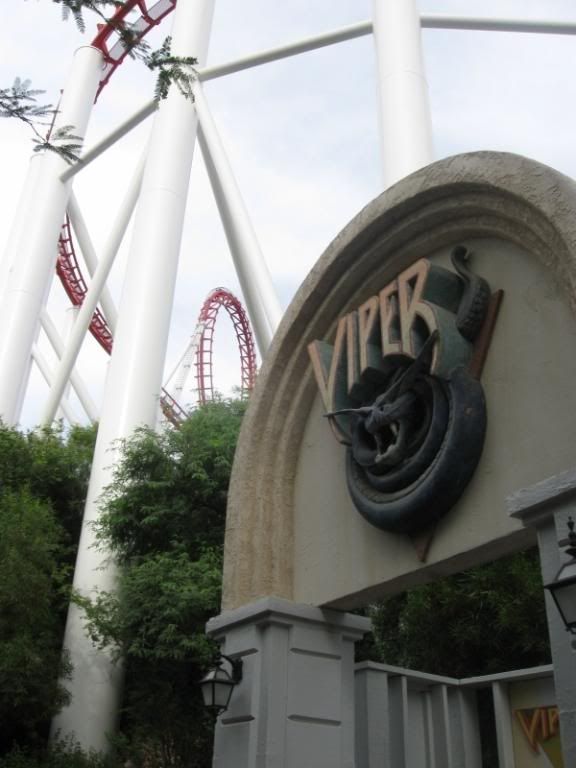 Our time was slowly dwindling so we headed towards the exit and took a spin on Viper since it had such a small line. Its an Arrow, what can I say? Shake and Bang? Painful? All of the above? As soon as you go into the first loop my head didn't stop rattling. It isn't nearly as bad as the Demon at California's Great America but still bad.
So at the end of the day, my Mom said she would be running late to pick us up, so my dad and I decided to hop in line for X2 just in case we got a chance to ride. Unfortunately we didn't. Maybe next time. I was too tired so I actually didn't care.
Overall, it was a good trip.  If I had more energy, it would have been better.  I was very impressed with Terminator, I wasn't expecting the ride to be so good, but eitherway.  Fun trip, reccomend the park to anyone.