So after we saw the terrific Elephant show we just kind of strolled through that side of the park, checking out the animals, scenery, and the food.

This is one of the animals, with an odd name, that the employees took out on a leash for a walk. I think this is great for the animals and the people as it provides entertainment and knowledge for the guests, while providing exercise for the animal. I would tell you the name but I completely forgot.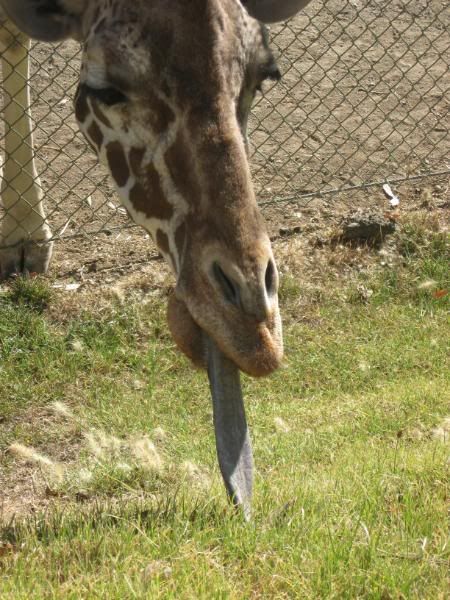 The Giraffes had just been fed and it sure looked like they wanted more! It was incredible to see these guys just bend there long necks way over the fence and then stick out there 18-inch tongue. That is right a Giraffe's tongue can be up to a foot an a half.

Tava's Jungleland is a very well done kid's area that serves as the park's "Wiggles World." It has nice theming, but the colors are just so bright and great. I think it is an excellent area for children at Discovery Kingdom.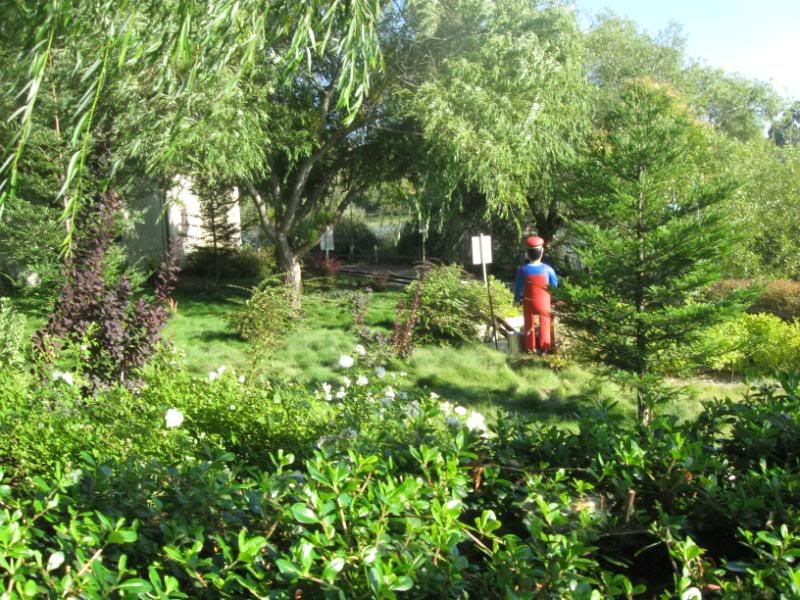 We went to the Shark encounter but it was closed for a private event. However, I did manage to get this good picture of the Thomas the Train ride and you can see how nicely landscaped the ride is. There was tons of scenery around also for the Thomas area that was hidden by bushes.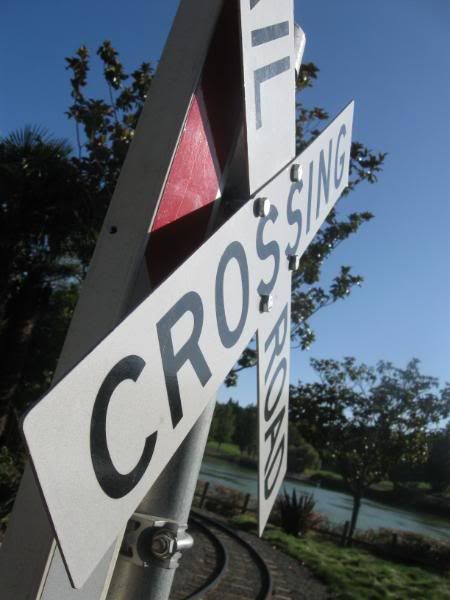 This is my favorite shot of the day. The train surrounds the Shark building so they have these little miniature rail road crossings and I managed to get an "artsy" shot.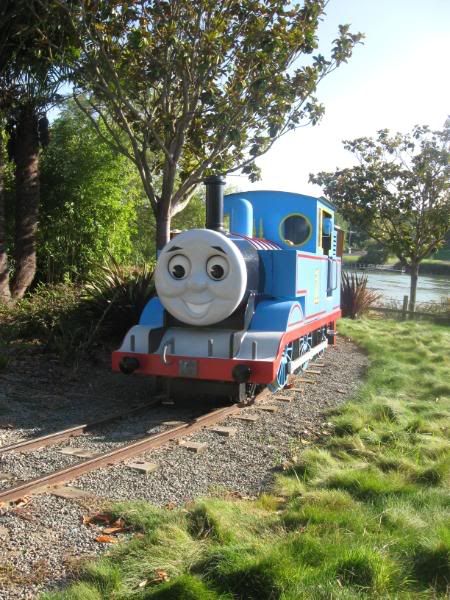 Thomas would be much cooler if he didn't have someone driving him. If they did have to have someone drive him, I wished they dressed them up in costume like they do for Terminator at Magic Mountain, it would have been great for the little ones.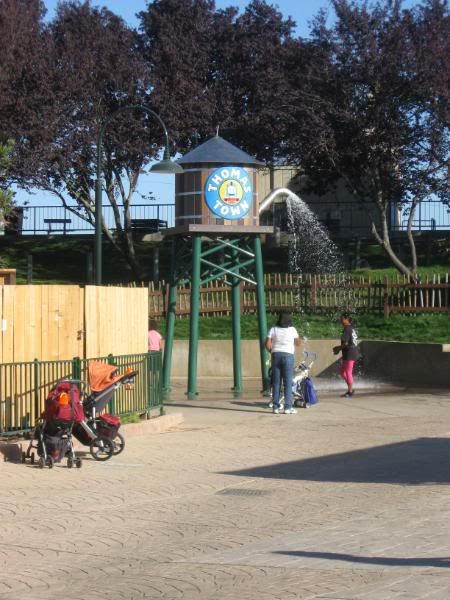 The water play area reopened from my last visit. Before it was either under construction, or being redone, however it is back and kids love it. The wooden fence next to it though is new.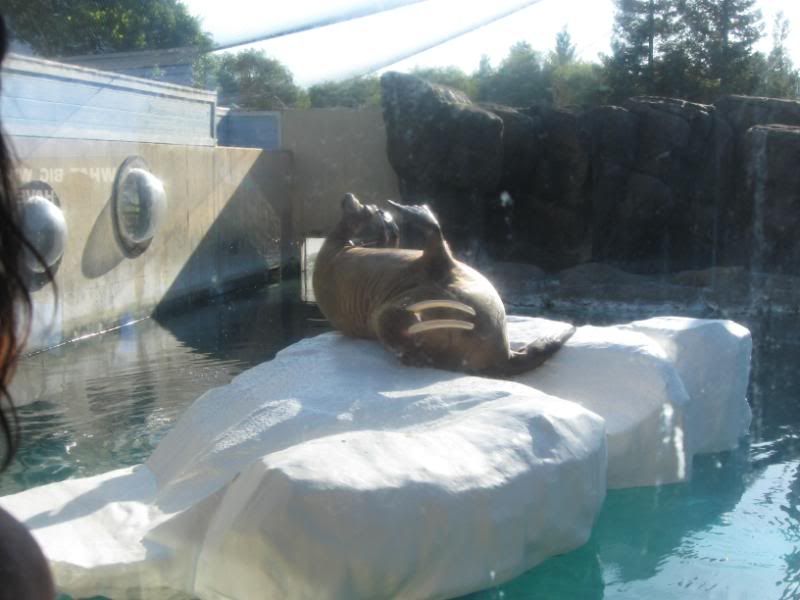 The walrus was asleep on the Ice Berg in the middle of the pool. He was just chillin' out. An interesting note is that these guys can grow up to 4,000 pounds, atleast males can. She is a female and is around 1,700. I don't believe she is full grown yet.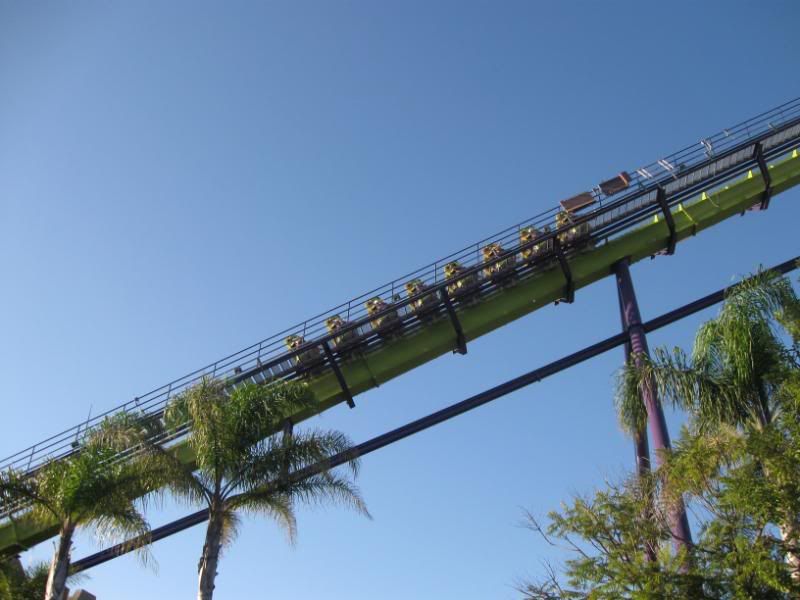 We did Medusa three more times as there was almost no line. It is the best coaster in the park. Plus it rides consistantly and is the same in the morning and later in the afternoon which is nice because some rides (cough* The Demon *cough) get much rougher as it runs through its day.

It was time for one more ride so we chose Tony Hawk's Big Spin, in hopes that we get the same spinning action as our last ride. On the way, there was some great views of Roar in the twilight sun.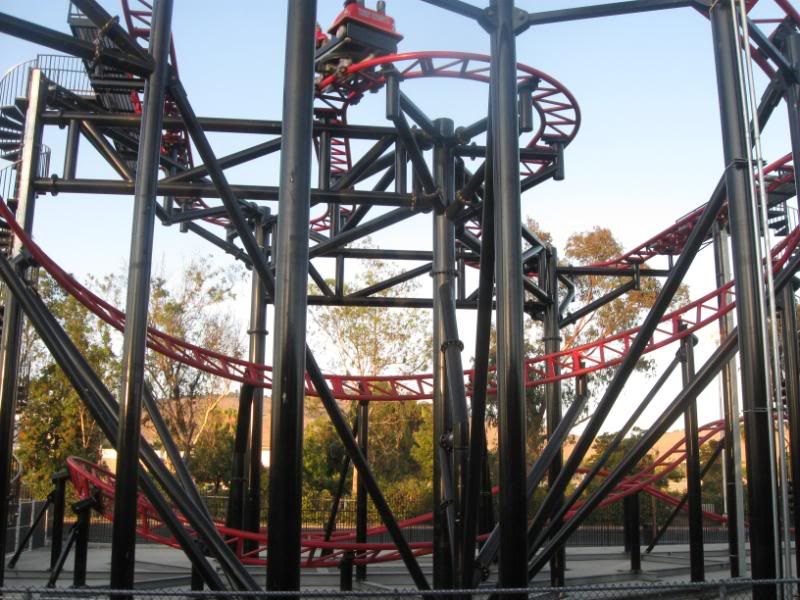 Tony Hawk was good but not nearly as good as our last ride. The weight might have been slightly more evenly distributed this time around, but I don't know. Still a fun ride. A good choice to bring to Six Flags Magic Mountain.
Overall great visit to the park. Unfortunately there is nothing really to do at night besides rides so the park doesn't stay open late. I think it would be great to bring in the Glow in the Park Parade to Six Flags Discovery Kingdom. Not only would it give the park a reason to stay open later, it would be very marketable, and a hit because so many families attend the park. I wouldn't be shocked by any means if that is what the park got next year.

Thanks for reading! Leave your comments and park thoughts.