…a new breed of attraction was born.  More then 20 years ago, Star Tours opened at Disneyland in Anaheim, California and brought a new kind of ride to the theme park industry called the "Motion Simulator."  While several other parks and designers tried to copy this style attraction, there was never any quality ride built that was superior to the original, Star Tours, an immersive, unique, attraction that puts you into the airport of the future.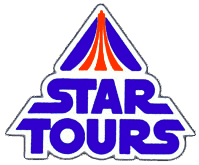 However today, Star Tours is an outdated attraction in the rather lackluster area called Tomorrowland.  Or, even worse, is part of a "Movie Studio Set", eitherway change is coming, and soon.  With "subtle" hints dropped by Disney, it is now basically confirmed that the best simulator in the world will be getting an update and will open in 2011 at Disneyland California, followed by the other parks around the world.
This news is great to hear after years of rumors that the attraction will be updated so it is incredible news to hear this.  But no, the movie is not the only thing to be updated, but more cabin effects are supposed to be introduced, the possibility of multiple storylines has been rumored, a 3D element has been said, and many more.
Star Tours is themed to an airport of tomorrow.  Guests enter the port and pass by a full scale version of the Star Speeder 3000, a futuristic transportation device that takes you across the galaxy to your destination.  Handling nearly 100 passengers, these Star Speeders are a very popular means of transportation for guests.  However, one wrong turn sends guests flying through a comet, before being in the heat of battle with a X-Wing pilot.  This high speed adventure is still unmatched due to its full fledged theming, great storyline, and exciting concept.  Even today, Star Tours is a very popular attraction among guests.
So when will Star Tours 2.0 be officially announced.  The fastly approaching D23 Expo of course.  And guess who will be there….
Leave your comments and park thoughts.