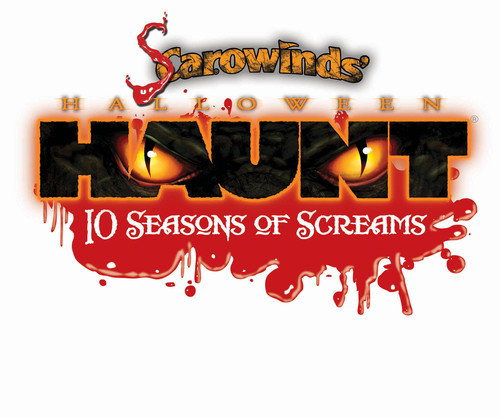 This is a big year for SCarowinds, 2010 marks the 10th year of the event, and man, has it come a long way. This years event will feature double the monsters, 2 new Haunts, and a new show.
_
First off, the full line up of Haunts and Shows have finally been added to the website:
_
Mazes:
The Asylum, Located in the new building behind Nighthawk's station, lots of very fun aspects that really make this a can't miss if you go to SCarowinds.
Camp Killauee, The new maze this year, it appears to be some kind of zombie infested summer camp, I'm definitely looking forward to this!
Cornstalkers, a haunted corn maze, it definitely could've used a little more last year. Hopefully we'll see something different this year as it seems that it'll be in a different location, due to the new Camp Killauee taking its place by Afterburn.
Dead Inn, returning this year in the Carolina RFD Arcade, while isn't very original, its definitely fun.
Final Summons, Another can't miss! I'm not sure about were this maze is going to be located due to the construction of Intimidator, it was in the one of the parks picnic pavilions, but that is currently cut off from the rest of the park, at least to my knowledge.
Last Laff 3D, returning from last year, but new is the 3D aspect, which should make this maze even more trippy than it was last year. Unfortunately, it appears that you have to either purchase 3D glasses at the maze or bring your own.
Slaughter House, Located behind Carolina Cyclone, this is, at least in my opinion, the headliner at SCarowinds.
Silver Screen SINema, While this is a new name, the park isn't promoting it as a new maze. My guess is that this is just a rename of the maze in Hurlers infield, "The Dream Factory."
_
This years line up of mazes is great, and I can't wait to check them all out! It is sad to see Alien Annihilation, the outdoor maze located under the former log flume, not returning somewhere else in the park.
_
Shows:
Haunted Homecoming, This is the new show in the Carowinds Theater that replaces last years "Dead Awakening," which was very will done. Being the huge show fan that I am, I really hope this one is just as good, if not better!
_
It would be nice to see at least a couple more shows for SCarowinds, but I would definitely rather have quality over quantity.
_
Scare zones:
The Playground, new this year, this really looks like its going to be one of the best haunts at SCarowinds, the whole "haunted playground" themeing is just so fun and original. I'm sure this will be another one not to miss.
The Cemetery, this has been with the park for a while, located near Vortex in Carolina Showplace, I believe you'll find more monsters here than anywhere else in the park.
Feeding Frenzy, this was new last year, and it was one of the most unique scare zones ever… who doesn't love a wild zombie-infested college party? From what I've heard, this is going to be moved and totally redone this year.
_
The number of scare zones this year is kind of disappointing, with both Kings Dominion and California's Great America both receiving 4-5 scare zones this year, it would've been nice to see a few more.
_
Overall this is a pretty good year for SCarowinds, there are clearly some areas that could be worked on, but its looking like its going to be fun for sure!
Also, Local news station, FOX Charlotte sent "Wilson's World" out to the park to give a sneak peak at what the park has in store for SCarowinds, check it out:
You can check out the rest of this story here
_
Stay tuned in the next few weeks for a review of this years SCarowinds!