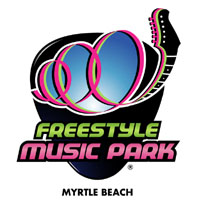 Freestyle Music Park isn't really known for its coaster collection, but the 5 it does have all very solid attractions that everyone seems to really love. Here's a video run-down of these coasters:
_
Let's start with Hang Ten, Freestyle Music Park's Vekoma kiddie coaster, it features some good themeing that make it look just like a coaster you would find on a classic American boardwalk.
_
Round About is the most unique roller coaster at Freestyle Music Park, with elements like a prototype ferris wheel lift hill and a very cool factory themed station. It features an on-board audio system featuring a mix of hit British songs.
_
Soak'd is one of only 2 water attractions at Freestyle Music Park, and the only one that could really be considered a ride.  It always seems to be very popular.
_
Iron Horse is the main attraction in the Country U.S.A. section of the park. This Vekoma mine train coaster also features an on-board audio system playing country and southern rock songs.
_
…and finally, the parks signature ride, The Time Machine, a B&M sitdown roller coaster. Once again,  The Time Machine also features an on-board audio system that can take take you back through 5 decades of music.
_
For more videos like this be sure to subscribe to Park Thoughts on YouTube!