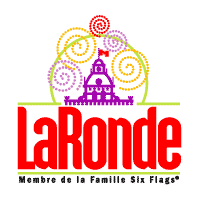 La Ronde, a Six Flags operated park located in Montreal, announced that they will be debuting a (not-so) new Vekoma SLC next year, as you may remember a few weeks ago we reported that the ride formally called "Serial Thriller" from Six Flags Astroworld was on site and land clearing had begun. While it is just a standard SLC clone, the park is promoting in as unique because over half of the ride's track is over water. From the concept art, it appears that the park will be removing a restaurant and Tasses Magiques, a teacups ride. The ride's name has not yet been released, but I really wouldn't really be disappointed if it was still Serial Thriller, its definitely not a bad name at all.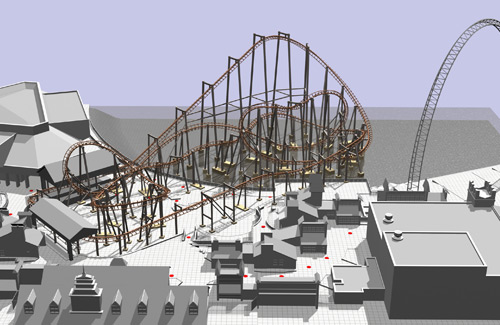 Concept art of the ride's new location.
.
Quick Stats: (via RCDB)
Manufacturer: Vekoma
Model: SLC (Standard)
Height: 109 ft. 3 in.
Speed: 49.7 mph
Length: 2260 ft. 6 in.
Inversions: 5
.
The ride's history:
It originally opened at the now defunct Six Flags Astroworld in 1999 as "Serial Thriller," but was removed when the park closed in 2005.  Until now, the ride was in storage at The Great Escape from 2005 till this summer, when it was moved to its new home at La Ronde.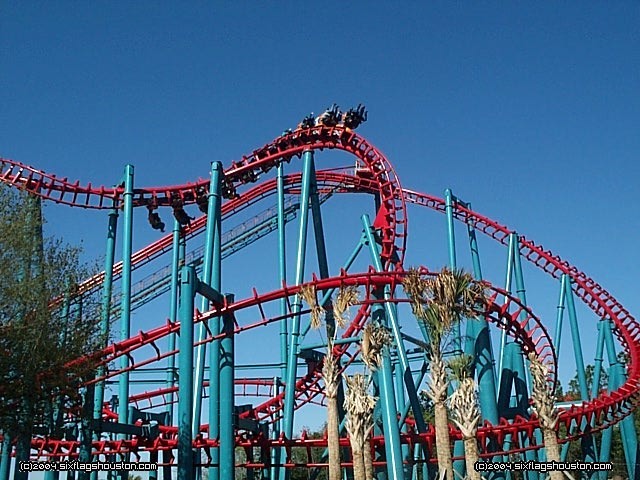 The ride at its original location at Six Flags Astroworld. Photo: SixFlagsHouston.com
My Thoughts:
Most people seem to get really upset when a park markets a "used" attraction as new. If you put yourself in the shoes of just an average theme park goer, you see a large new roller coaster, they get excited, and they don't care that this ride was moved from a defunct park they probably have never heard of, thousands of miles away and that there are 30 or so of these exact rides around the world.  The park isn't saying its an entirely new ride, they are marketing it as big new roller coaster for La Ronde.
As for the ride itself, its going to be a Vekoma SLC, not much special there, but with the massive over-water portion should make for a great effect, especially on an inverted coaster.
.
So what do you do think about this addition for La Ronde? Good or Bad? Leave your comments and Park Thoughts!