Recently, Splashtacular Entertainment, manufacturer of popular water slide designs, introduced two new designs.  360Rush and SplashRally are two new and innovative adventures that are bigger and wetter then ever.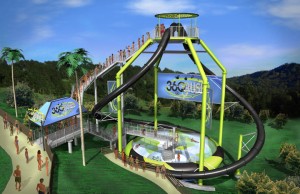 360Rush first brings riders 58 feet into the air before they enter two opposite facing, flume chamber.  Each of them await their fate as the countdown begins creating plenty of suspense until the floor drops out from under them and they rocket up to 40 mph.  Riders will launch out of the flume and into one giant bowl as they swirl around 'racing eachother' creating a sensation never before done in any water slide.
SplashRally takes the multi-lane racing slide to a new level with new twists and turns never before done.   The 2-3 person rafts all line up at the starting line before they are simultaneously launched into the slide.  From here it is a race to the finish.  Due to the figure 8 layout, the slides have equal lengths making it fair game for everyone.  The 60 foot high race track is equipped with strategically placed water canons form maximum fun.
Both of these slides have been recently introduced and are expected to come to a theme park near you.  Splashtacular Entertainment continues to provide unique, themed water slide adventures for a reasonable price ensuring that these amazing slides can come to your local water park.  Leave a comment and park thought below about these two great new water slides.