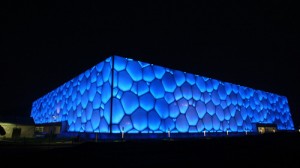 Beijing's famous 'Water Cube' is about to become more popular then ever.  The iconic facility made for the 2008 Beijing Olympic Games is about to get retrofitted to hold a massive indoor water park.   The new entertainment facility will be known as the "Happy Magic Watercube"
Once inside the amazing structure, guest will be immersed in a very out of the box indoor water park, with features never before done.   Guests will have the chance to ride through giant funnels, play with interactive jelly fish, and just enjoy the simply epic surroundings.  Another major draw for this new attraction will be that it will have China's first ever AquaLoop.  The designer states that all the details have been designed to match each other; the theatrical lighting, the iconic architectural style, and the glass mosaics will all work together to transport guest to a new world.
Happy Magic Watercube is set to begin construction soon and be completed just in time for Summer of 2010.  Be sure to leave a comment and park thought below!