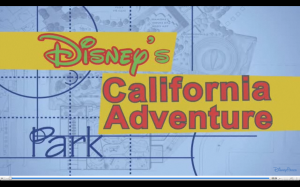 Recently, the Disney Parks Blog posted a video showing off some of the up and coming additions to Disney's California Adventure Park at the Disneyland Resort in California.  Those hard core fans of the park knew just about all the information that was talked about in the video, however what they weren't expecting was some new concept art.
Look at the picture above.  Do you see what I see?  If you are saying a typical logo for a blog's video, you are wrong.  Let's back up the video a few fractions of a second and zoom in to help you.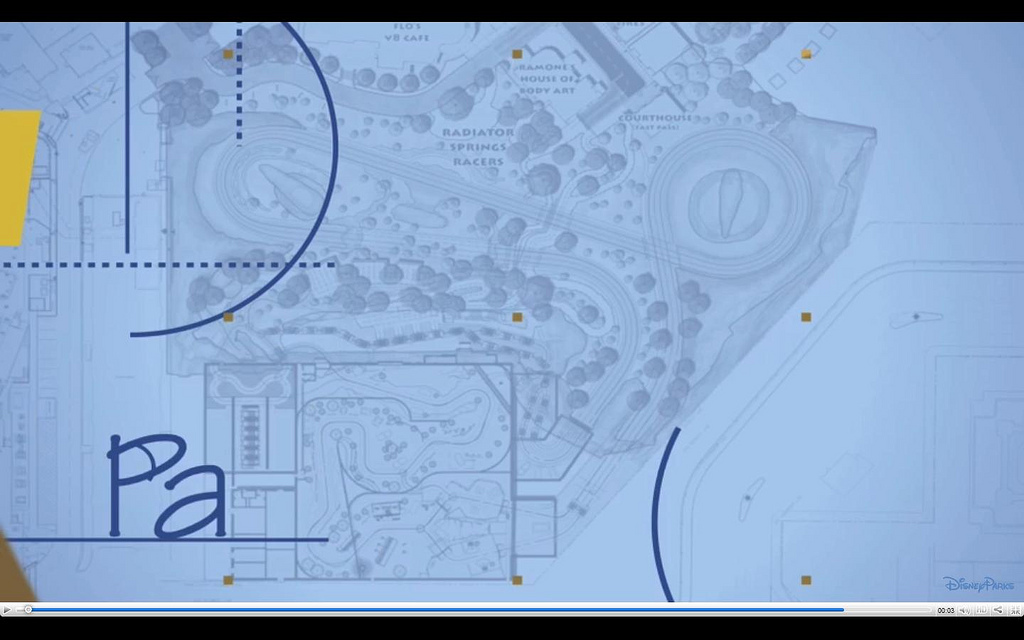 That's right.  Those are what appear to be the blue prints for 2012's Carsland at the park.  They seem to be final version as it matches the models shown at the D23 Expo as well as the current cement walls/track/footers, that have been built in the area.
If you click on the picture to view the full version, you can see that it shows a very detailed layout of Radiator Springs Racers, the main attraction of the land.  From what it appears, the indoor portion of the ride will be similar to Test Track at Epcot, going past a few sets, at a constant speed.  However it gest interesting when the track splits and riders enter 1 of 2 different show scenes.  Then they race each other for a high speed, but seemingly a rather short ending.
Weather or not Disney expected the internet to find these plans, it gives us a great glimpse into the upcoming attraction.  The video also shows off some other nice pieces of concept art for the ride: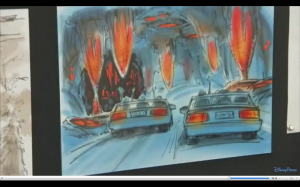 Part of the ride will go into a giant cave where giant "StalagLIGHTS" will be covering the ground and ceiling creating a truly imaginative and immersive experience for the Cars theme.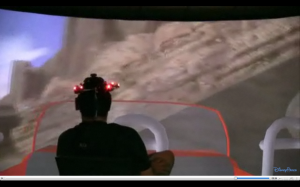 An Imagineer taking a virtual test ride through Radiator Springs Racers.
It appears this video gave literal meaning to "Seeing between the lines."  Be sure to leave your park thoughts below!