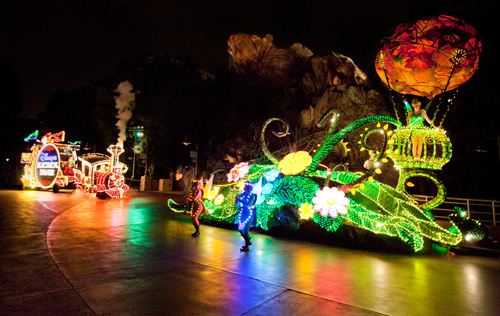 This summer, Walt Disney World will introduce Summer Nightastic.  One of the highlights of the new promotion will be Disney's Electrical Parade.  Direct from Disney's California Adventure, the parade will makes it's way across the country to run down yet another Main Street.
For a limited engagement, Disney's Electrical Parade will head down the Magic Kingdom's Main Street and illuminate the park once again.  Just updated this summer, the parade is hot out of the oven with numerous additions from Disneyland's Summer Nightastic in 2009.  The park has not seen the lights of this parade was back during the Millenium Celebration in 2000.   So now, the real question is, what is limited?
Walt Disney World will also be adding plenty of new offerings for the nighttime season as part of Summer Nightastic.  Tower of Terror fans rejoice because the famous drop tower will be receiving a brand new lighting package.  Animal Kingdom will have extended hours and Epcot will hold a worldy concert series.
Check out some of our pictures of the Electrical Parade from Summer 09 back when it was at Diseny's California Adventure here.  Leave a comment with your park thought below.