In Memorial Day Weekend of 2009, I took a family trip to Reno, Nevada.  Like every other coaster enthusiast on this planet, I scrambled all the attraction-related brochures as I could during my visit.  Reno, is a beautiful, Casino town, almost a mini-Vegas, however there was no theme parks in the area.  While grabbing some brochures I got one called Wild Island Family Adventure Park, I thought it was just your typical, hometown Mini Golf Course.  Well I recently discovered that Wild Island Family Adventure Park is actually a decent sized water park, indoor and outdoor mini golf, go-karts, and a Bowling Alley.  It is much larger then I previously anticipated.  Lets take a tour of this great family fun center!
Below we have a collection of pictures highlighting the various events at the park.  Bowling, Mini Golf, Go Karting, as well as the water park attractions.  Also below are the satellite images from Bing Maps! Click on any of the pictures below to view them full size!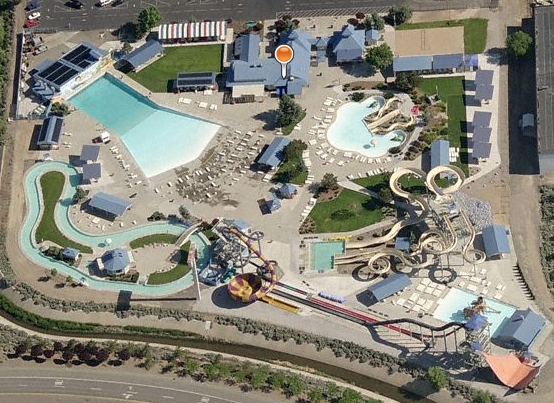 And here we have a few bird's eye images of the park.  The water park seems to feature a few drop slides, as well as a Body Bowl Slide, a Family Rafting tower, and a quite large wave pool.  I think this is a great hang out spot for the local.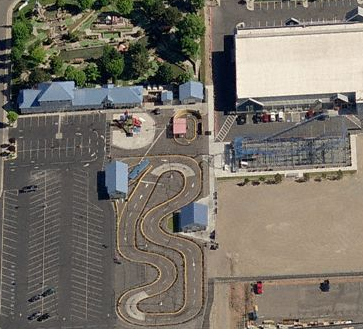 These images also has an okay Go-Kart track and some nicely themed outdoor Mini-Golf.  I do not know how old these pictures are, but the website lists there being a new Indoor MiniGolf area opened, and I would assume that the warehouse in the corner is where the glow in the dark Mini Golf is located.  Of course the park may have built a new building as well.  Is that a coaster I see?  I believe it is either defunct or left over from a carnival because the park overview does not list any roller coasters at all.
So I really do like these little spots to go and hang out for a few hours with some family and friends!  Do you?  Tell me what you think, by leaving a comment with your Park Thought below!