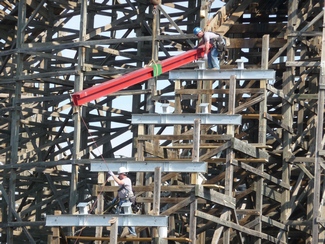 2011 will be Six Flags 50th Anniversary, and the original park, Six Flags Over Texas, is getting some huge birthday gifts.  Six Flags has said they were going to close Texas Giant, one of the biggest wooden coasters in the world, for the entire 2010 season while it gets a refurbishment in time for the 2011 celebration.  While Six Flags has been pretty quiet about the details, the park has finally revealed some details on the ride's update.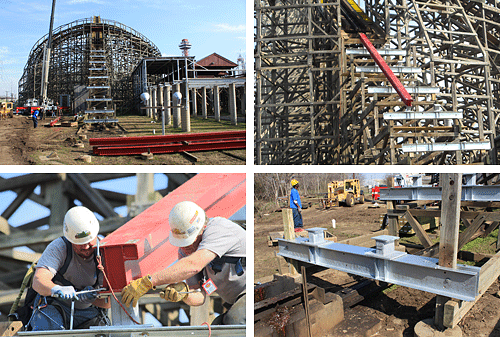 Image from Amusement Today
Officials today showed off Texas Giant's new red, steel track.  Texas Giant will be receiving all steel track over it's wooden supports.  The system the ride will be using is the first of it's kind and will be manufactured by the Rocky Mountain Construction Group.  The pictures above show the Chinchillan Red track, that is custom fabricated to fit this ride, as well as the steel braces being put into place.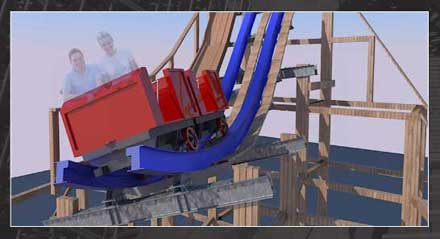 This new style of coaster is being named an "Iron Horse Coaster".  Rocky Mountain Construction claims several improvements with this new system such as less daily maintenance, less construction cost, and "a revolution in track technology".    Six Flags seems very proud of this new creation saying "Six Flags has a reputation for developing ride concepts and Texas Giant will be the crowning jewel."
Needless to say, that this is a very unexpected announcement.  It sounds like this refurbishment will certainly not be a typical off season refurbishment, but instead bringing the ride into the new generation with the custom fabricated track. My thoughts on the Iron Horse Coaster style is still up in the air as the details are a bit confusing.  This 2010 season will certainly be an interesting one as we see a Wooden coaster transform into a steel coaster marvel.  What are your thoughts?  Leave a comment with your Park Thoughts below.