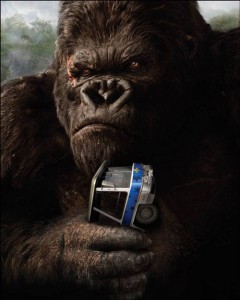 Shortly after part of the Universal Studios Hollywood Backlot burned down in 2008, the park announced they would be rebuilding the King Kong portion of the Studio Tram Tour.  Universal Studios says that it will utilize 3D technology to make guests feel like they are in the movie with King Kong.  It is said to be the biggest 3D experience in the world.
Universal's tech wizards are hard at work to animate a giant life like ape that the studio tram will encounter.  During the huge sequence, guests will not only be able to see King Kong, but also smell his breath and feel the gusts of air.  In this newly re-imagined segment of the Studio Tram tour, King Kong will be in an epic battle against a huge Dinosaur and guests will be right in the middle of it.
King Kong 360 will debut in just a few months as construction is coming to an end.  To get people excited for the soon to be opened attraction, Universal Studios Hollywood has released a trailer showing that King Kong has arrived to Universal Studios.  After seeing this, all I can say is watch where you park your car at Universal Studios!
Leave a comment with your Park Thought below!