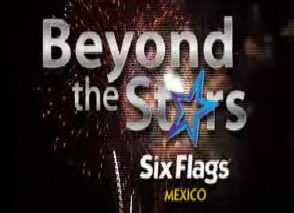 The country of Mexico will be holding it's Bicenntineal Celebration in the coming months.  And in honor of the monumental moment, Six Flags Mexcio has launched a massive firework spectacular called Beyond the Stars.  Six Flags Mexico invites you to celebrate with themin the biggest show the park has ever done in it's history.
Six Flags Mexico invites you to come and celebrate with their biggest show ever.  During the Easter Holiday, from March 27 to April 10, park goers can gather in the park's Chinese theater and watch this Mexico-centric show that in the end will make the crowd scream ¡Viva Mexico!
Six Flags Mexico enlisted the help of several  of Mexico's finest to make sure that this show is as amazing as it can be.  The soundtrack for beyond the stars is created by Mexican composer Cesar Vega, an experienced musical director who Six Flags describes as being essiental for the success of this show.
Holding 4,500 guests, the Chinese Theater is going to be one of the most popular spots in the park this Easter Holiday as the stars are illuminated at Six Flags Mexico.  It is sure to be popular among families and without a doubt will pack guests in every night t runs.
Check out the park's Facebook page for more pictures.