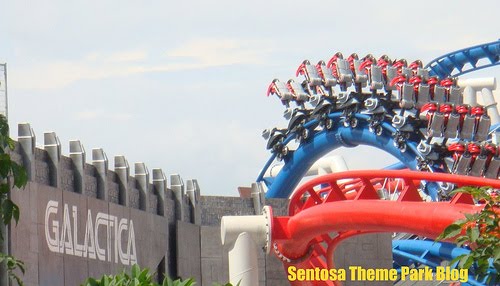 Universal Studios is preparing for tomorrow's opening day.  And now more and more information is surfacing about the park.  However, no opening goes over well without problems as nearly every theme park enthusiast has learned over the years, and Universal Studios Sinapore is no different.
First off, the good news is that the park has been going through full previews lately meaning guests are able to ride the rides (and more importantly get videos!) of each of the various attractions.  Sentosa Theme Park Blog has several updates from inside the park.
The Jurassic Park River Adventure has shaped up to be a real winner.  It is certainly a very well done twists on the classic Universal Studios ride.  Also, one of the rides unique attractions, Canopy Flyer, a supsended family coaster also seems like a real hit.  In short, the Universal Studios Singapore designers set out to make this park unique and high quality, and they achieved it.
Unfortunatley, the park has been having issues with the website being overloaded with too many eager guests trying to get tickets.  The park was expecting many people to go to the park to buy tickets and not online, however it happened in reverse.  Better luck next time!  Also police are warning guests of pick pockets that have been lurking in Universal Studios Singapore.
Universal Studios Sinagpore's signature attraction is Battlestar Galatica: The Ride.  This dueling Vekoma coaster has a Human (Sit-Down) side as well as a Cylon (Inverted) side that duel in a twisted layout with some near miss moments.  The coaster features a high speed "launching" lift hill that accelerates up and over the first hill before twisting and spinning over the Sci-Fi area.  Decide which are you: Human or Cylon?