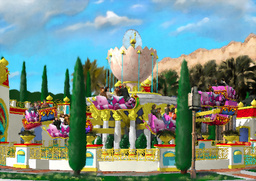 Tokyo DisneySea announced that they will be adding Jasmine's Flying Carpets in 2011.  The ride will be part of the park's 10th anniversary in 2011 and will go in the Arabian Coast section of the park, in front of the Magic Lamp theater.  Guests will be able to raise and lower their own individual carpet and also be able to tilt the carpets as well.  From the details, it appears the ride will be very similar to Aladdin's Flying Carpets (Magic Kingdom) and Flying Carpets Over Argabah (Walt Disney Studios Paris).  Jasmine's Flying Carpets will take the place of the current fountain and will is set to open in Summer of 2011.
Personally, this is actually nerve racking news to many Tokyo DisneySea fans.  I found out about this new attraction through a forum thread that was titled "Stupid New Ride" and that is how I feel as well.  The Oriental Land Company (owners of Tokyo Disney Resort) have always provided the highest quality with Tokyo DisneySea and unfortunately that quality seems to be in a slight decline recently.
The announcement of modern day toys entering a 1920's New York area is a bit disconcerning.  Turtle Talk was not exactly well-recieved by some fans and now it appears that just a new Dumbo is coming to the park.  While, yes all of these rides are/will be exceptionally done it is concerning that the OLC feels that these kind of attractions suddenly belong in the park.
And for many Disney fans such as myself, this new ride means the departure of the most high energy show ever, Bonfire Dance.  Only time will tell if this new ride is a hiccup in the park's history or a sign of things to come.