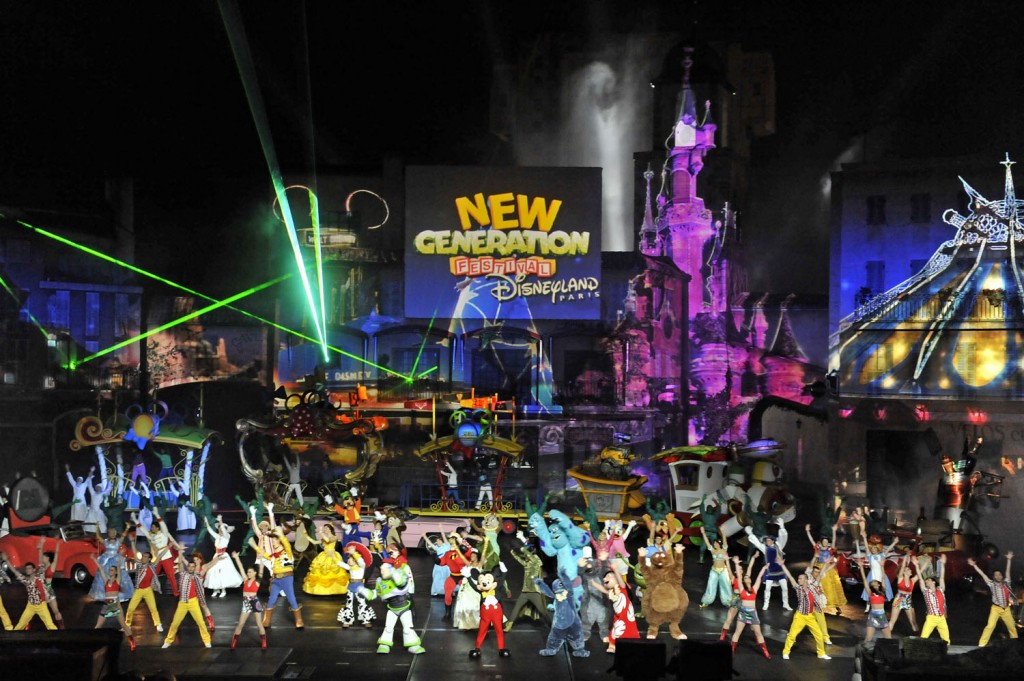 Disneyland Paris launched its New Generation Festival this week.  The year long celebration highlights characters that the new generation has fallen in love with.  These characters have hit the resort by parachute.  They include, Lilo and Stitch, Buzz, Woody, and Jesse from Toy Story, Mr. and Mrs. Incredible from The Incredibles, Remy and Emile from Ratatouille, Tiana and Naveen from Princess and the Frog, and more.
The New Generation Festival will also bring several new additions to the resort.  On the Plaza Stage in front of Sleeping Beauty's Castle, guests can watch Mickey and his gang play in Disney's Showtime Spectacular: a stage show featuring all of the New Generation Characters.   In Disney's Once Upon a Dream Parade, Princess Tiana and Prince Naveen have joined the other Disney princesses on the dream of romance float.  Several times a day, characters, both new and old, will ride out greet guests on the All Star Express.
Over in Walt Disney Studios Park, Ratatouille has been added to the line up of the Stars in Cars parade.  The highlight of the New Generation Festival will be Toy Story Playland.  Rumored to open in July 2010, this new area is themed to the hit franchise Toy Story.  Guests can ride the half-pipe on RC Racer, soar into the air on Green Army Men Parachute Drop, and spin around with Slinky Dog.
For the grand kick off party of the New Generation Festival, Disneyland Paris transformed the Lights, Motors, Action amphitheater into a massive canvas for a spectacular show.  Huge projections and plenty of extras made this and unforgettable experience.
To say that the show was visually impressive is a gross understatement.  While I cannot find a fully video of the show, from what I have seen, it is simply stunning.  Sometimes fun and high energy, while other times artsy and visually stunning this show is simply put one of the best things I have seen any theme park do.  Check it out for yourself: