Earth Day is a day to help the planet and all of the beautiful creatures on it. It is a chance to celebrate nature and all of it's beauty. All of us here at Park Thoughts hope you take part in conserving energy and doing your part to save the planet. If we do not take care of the planet, there may not be any more animals like the ones at Six Flags Discovery Kingdom!
Recently, I made a trip the park during a rainy day, but it was a great chance to see all the shows and animals the park had to offer. Celebrate earth day at Park Thoughts by checking out some of the great animals in Six Flags Discovery Kingdom.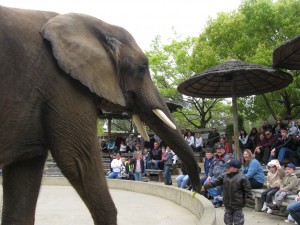 Six Flags Discovery Kingdom offers a spectacular experience called Tava's Elephant Show, where the park's signature Asian elephant Tava gives park guests a very up close and personal experience with these awesome creatures.  The stadium for this show is very intimate encounter with guests.  Tava performs many incredible talents such as catching sticks flying through the air, taking fruit directly out of guests hands, and even balancing on just two legs.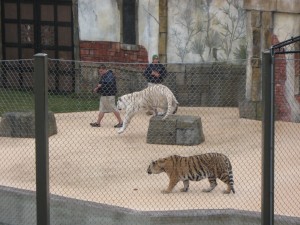 New for 2009 was Odin's Temple of the Tiger.  Here guests can see two young tigers, one white and one the standard orange do natural behaviors.  Unfortunately due to the rain and cold weather, the performers did an alternate version of the show.  However, on regular operations, trainers will run through the water with the energetic tigers right behind them.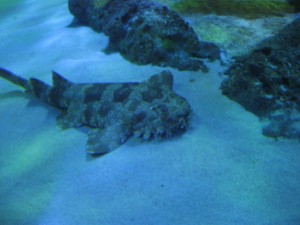 At the far end of the park, guests can enter the dark realm of the killer fish, the shark.  In this moving floor aquarium, guests pass through several different types of sharks, mantas, and other exotic fish.  At the end, guests even get a sense of how huge a Great White's Jaw is.  Check out this video from Park Thought's YouTube channel showing off the Shark Encounter.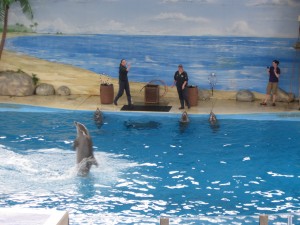 One of the other major shows at Six Flags Discovery Kingdom is Merlin's Dolphin Harbor.  Spectators in the covered stadium (very nice on rainy days) get to watch Merlin and his Dolphin friends do some fantastic tricks!  The front rows even get splashed!  Be sure to arrive early as this show does tend to run out of seats.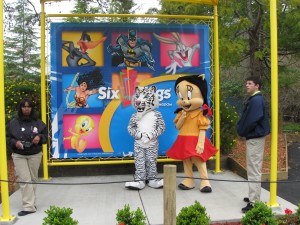 Discovery Kingdom is also home to all sorts of other creatures.  Like the fuzzy Odin the Tiger walk around character and plenty of other Loon Toon friends.
So remember, protect the planet!  Without doing so, we could not have all the wonderful creatures like we do at Discovery Kingdom.  Tava, Odin, Merlin, none of these spectacular creatures could be here if we do not protect the earth.  Do your part, turn off a light, even take a shorter shower, but do one good deed to help the earth today.  Remember, "the power is yours!"