Around the country, it is starting to heat up.  And at here in California, it is becoming flat out hot.  With all this warm weather, park's are putting the finishing touches on their new water park based attractions.  Both water parks, and amusement parks alike are pulling out all the stops, with new and unique technologies, record breakers, and top-notch theming.  The weather it heating up, so it is time to cool down!
Wildebeest, Holiday World and Splashin' Safari
Holiday Worlds free with park admission water park, Splashin Safari, is one of the biggest and grandest of them all.  For years, Splashin Safari has been producing some of the latest and greatest water slides.  This year is no different.  Towards the end of last season, the park announced Wildebeest, a ProSlide Rocket.   Wildebeest will be the world's longest water coaster and surely one of the best as well.  Wildebeest is now open at Splashin' Safari!
Shoot the Rapids, Cedar Point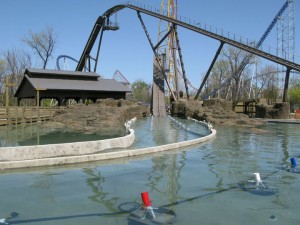 Cedar Point is also resurrecting a classic.  Shoot the Rapids is a new take on the standard log flume.  Featuring two drops, one of which going into a forest of gushing water, Shoot the Rapids is a fitting replacement to the log flume removed from Cedar Point in preparation for Maverick.  Shoot the Rapids will be great for those hot summer days.
Scorpion's Tail, Noah's Ark Waterpark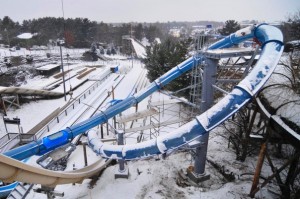 Wisconsin Dells, Wisconsin is soon to be home to the first operating White Water AquaLoop, this summer with the Scorpion's Tail at Noah's Ark Waterpark.  Guests will go into a small compartment before the floor drops out from below them with the push of a button.  Then riders go down a huge drop before going into an angled loop.  Finally, at the end of the ride, there will be one more large drop into the splash down below.
Triple Twist at the Great Wolf Lodge.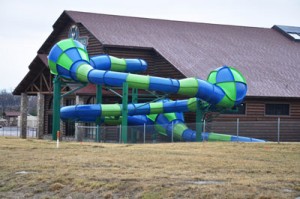 The Great Wolf Lodge in Mason, Ohio, will be introducing Triple Twist, the world's first ProSlide Tantrum with three funnels.  Rafts go down a winding tubular track while going though three funnels before heading back into the building for a grand splash down.  Triple Twist is now open.
Omaka Rocka at Sea World's Aquatica
After opening in 2008, Aquatica has made no new additions.  However, Omaka Rocka put an end to that streak.  Like Triple Twist, Omaka Rocka is also ProSlide Tantrum, in fact, it is two of them side by side.  One side purple, the other side green, Omaka Rocka certainly delivers the thrill factor with two funnel elements.
River Blast at Silver Dollar City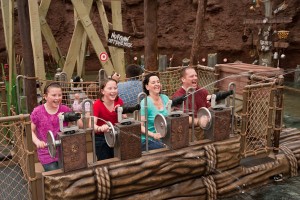 The final addition is River Blast at Silver Dollar City.  As part of the 50th Anniversary the park introduced this detailed version of Huck and Finn's epic river adventure down the mighty Mississippi.  Guests on land and on the rafts get to spray each other as they embark down the longest ride of it's kind.
So this summer, head to your local theme park and cool down.