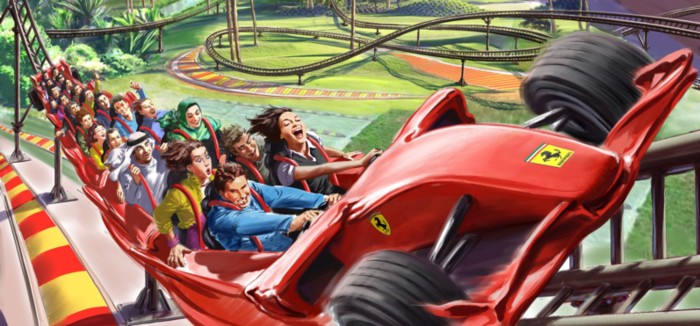 Ferrari World Abu Dhabi, the world's first and only Ferrari themed complex, recently announce new details about the park and its exciting future. Currently under construction, this new park will allow guests to experience the Ferrari car world, in ways never before. The entire park is under a giant roof in the shape of the Ferrari logo providing for a nice temperature controlled experience.  The indoor theme park will feature more then 20 rides and attractions; Ferrari World has something for the entire family to enjoy. Opening on October 28, 2010, the park will truly be an incredible experience.
The signature attraction of the park will be Formula Rossa, the world's fastest coaster. Shown in the concept art above, Formula Rossa takes a new approach to the record breaking coasters we are used to seeing. Instead of going for more height, the designers opted for more speed. After launching at a speed of 240 km/ph or 149 mph, the train will climb just 52 meters (170 feet), relatively small for a coaster of this speed. After cresting the hill, the Ferrari themed train continues through it's winding, low to the ground course. Overall the layout seems reminiscent of Rita (Alton Towers) and Desert Race (Heide-Park).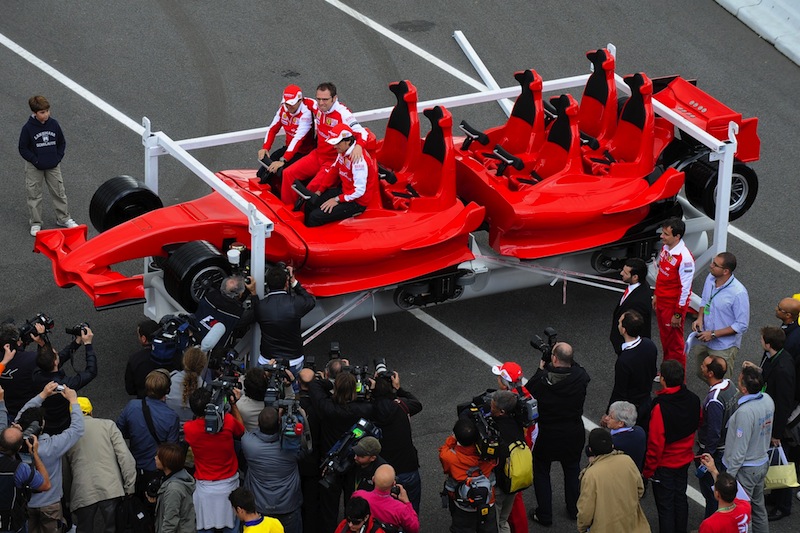 One of the most spectacular parts of Formula Rossa will be it's train. For a coaster to achieve such speeds, the body shape needed to be extremely aerodynamic. At the same time the designers wanted to resemble the body of a Formula 1 racing car. This posed challenges for engineers to create light weight trains, that can each hold 16 passengers, (4 cars, 4 passengers each). The solution are what you see above. The very stylish cars will be aerodynamic, however they will not solve the problem of the flying sand and other debris in the desert air. As a result, riders will be required to wear a pair of standard sky diving goggles.
Constructions presses on for Formula Rossa and the rest of Ferrari World Abu Dhabi to make sure that the park will be ready for its late October opening. Excitement is building as more and more details emerge. Keep checking back at Park Thoughts for more details.