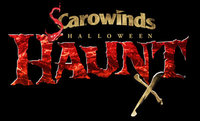 Carowinds has just opened up the website and released details about this years SCarowinds Halloween Haunt event, officially dubbed "SCarowinds X". The biggest announcement is the inclusion of a new maze, "Defex", described as a "disassembly line" for defective toys, will be replacing "Final Summons" in the picnic pavilion next to Intimidator. As always we can probably also expect improvements to the returning attractions. So with the addition of Defex, Scarowinds has a really good line up of 11 different mazes and haunted houses for this years event.
Defex
Dead Inn
Last Laff 3D
Silver Screen SINema
Slaughter House
The Asylum
Camp Killauee
Feeding Frenzy
The Cemetery
The Playground
Cornstalkers
The park has already began constructing the haunted houses, posting some pictures online of their progress. It looks like Defex might even have a 2nd level, which would be very interesting:
Another interesting note, the park is marketing this year as "SCarowinds X", claiming that this is their "10th year of fear" which is extremely odd seeing that last year was the "10th season of screams" (which was accurate, 2000-2009, making this the 11th season that has included SCarowinds). But anyway, this should be another great year for SCarowinds, hopefully even better than the last two years since their shouldn't be any construction going on around the park during the event.
Scarowinds kicks off on September 17, for more information visit the official website at http://www.scarowinds.com/
What do you think of this year's SCarowinds? Leave your comments and Park Thoughts below!