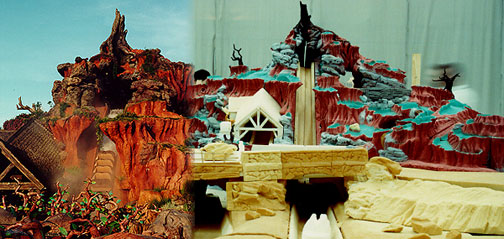 Recently, I got a chance to interview Don Carson, an illustrator and artists for theme parks.  He has worked on several projects ranging from Disney classics such as Splash Mountain, to Universal's Island's of Adventure's latest addition of the Wizarding World of Harry Potter.  Don has been the industry for more than 20 years, and is an expert at what he does.  It was very fascinating getting an inside look at the design process for such lavishly detailed attractions.  He also has a fantastic blog that showcases much of his work.  All artwork shown in this interview can be viewed on his blog by going here: http://themedenvironments.blogspot.com/ I had a fantastic time interviewing Don and I hope you enjoy it too.
Me: Hi Don!  It is a pleasure to meet you.  For those who don't know, Don is a spectacular illustrator that does concept artwork for theme parks. He has also worked for some big names like Universal and Disney.  So Don, how did you get into this field of work?

Don: Well, I started as an Illustration major who also had a love for Disneyland. My childhood was spent making bi-yearly trips to southern California and the highlight was always visiting the Disney park. Leaving college I arrived into an industry that was on the way out, as traditional editorial and advertising illustration was being replaced with more photography. I took my newly acquired skills as an illustrator and began to apply them to the design of themed environments. One of my very first jobs was as the Design Director for the Renaissance Pleasure Faires in California. This gave me a quick education in building large scale themed spaces with very little money. We used to say that we deliver "Elizabethan England using plywood and hay bales". These early years gave me an important perspective on just how much story can be told with very little investment. Later at Disney, despite the much larger budgets, I always made sure to design smart, and see what could be achieved with less.

You have a fantastic blog (http://themedenvironments.blogspot.com/) that shows lots of your early work.  What was your first theme park related project?

I was hired as a Show Designer for Walt Disney Imagineering in 1989, and on my first day I was handed the designer role for the Walt Disney World's Magic Kingdom version of the Splash Mountain attraction. I was initially only supposed to be on the project for two weeks, but changes to the width of the ride flume had so altered the layout of the attraction show scenes that my involvement stretched over two years and included my re-designing every aspect of the ride. It was a fabulous experience, and I was mentored by a talented and infinitely patient Show Producer, Kathy Mangum. It was only later that I realised that getting to experience your attraction from concept to opening was rare indeed, and mine was filled with good memories.

The sheer amount of detailing in your work is incredible.   What project of yours has proven to be the most difficult? Why?

As a concept artist, especially for theme park attractions, your design is only as successful as its ability to communicate your idea to a large variety of disciplines. I always work to include as much detail and description as I can, because I know that architects, engineers, graphic artists, and fabricators will be looking to these drawings for information. Where any theme park designer falls flat is when their work has too much room for misinterpretation. Making sure my designs work in scale and are eventually "build-able" is the most important value I can add to my designs.

Any project has its challenges, the only really difficult jobs are those that you have no infinity for. Each artist's work has its own individual look, this is usually based on an affinity they have with the subject matter. I personally have a fairly "cartoony" style, so I only really struggle when given something that it is outside my own aesthetic. Casting me as a designer for an "edgy" futuristic attraction is a recipe that will make me, and inevitably my clients, unhappy. The rest is all just plain fun to do.

You seem like you have worked on some very inventive and clever projects, such as Toy Story Midway Mania and Men in Black: Alien Attack.  Which of your projects was the most fun to work on?

Really, my favorite projects are always the ones I am working on at the moment. All assignments have their challenges and my job is to try and exceed the expectations of my clients, whether it is Disney, Universal, or a computer game company. One of my current assignments is working with Imagineering's Show Ride department to develop attraction overlays for their newest ride technologies. This means I work from very basic ride concepts and try and design a deep, immersive experience around them. I have to say this has been the most fun I have had in years. I love the people I am working with and it touches every aspect of my professional design background.

To my understanding, the procedure of making attractions from the concept to the finished product takes years.  What would you say is the average time it takes for such a task?

Attractions can take up to five years to go from concept to ribbon cutting. This is for very large complex projects, but I have also worked on assignments that only had 12 months between the first sketch to the first guest. Mickey's Toontown took 23 months to complete, which at the time was unheard of for a project its size. Since then many projects have had to work with less time, and often smaller budgets. The truth is that this is never a boring job.

Some of your renderings seem very accurate to what the actually came to be, while others are a bit far off.  How many of your contributions are worked into the final design?

As a concept artist, especially a freelance one, you never know what will make it into the final product. I would estimate that a good 70% of your work is leading you up to that final design. It is not as important that your design gets built as it is that the best design makes it to the final attraction. More often then not your project never makes it past the concept phase, for a variety of reasons, most having nothing to do with the quality of the proposed attraction. There were half a dozen complete Little Mermaid attraction proposals and teams over the years, but only recently did they decide to build the ride… and when the did they used another new team to design it. Your job as a designer is to support the Story that is being told, and give the client more then they expected, having your design get built is just icing on the cake.

Another reality to freelancing is that you are seldom if ever invited to watch your design go from concept to fabrication. This means that you can only hope that you fulfilled the initial assignment, and given enough information that it will indeed make it into the finished project. I often don't find out whether one of my designs made it into an attraction until years later when I get to ride it. This was true of the Men In Black attraction. It wasn't until I saw Dave Cobb's ten year anniversary pictures of the attraction that I actually got to see what did and did not get into the finished product (man, I still can't believe it has been ten years!?).

Well Don, on the behalf of the staff of Park Thoughts and its readers, thank you for your time!  Any chance you can tell us some of the projects you are working on at the moment?

It was my complete pleasure, thanks for asking! As you can imagine I can't talk specifically about the projects I am working on, but I can say that they include parks in China, and one very large expansion for the Magic Kingdom in Florida. All my work is done from my studio in Oregon, with my very seldom needing to travel. The computer allows me to work with several teams at a time, and digitally turn around concepts, whether traditional illustrations or 3D models instantly. Although I do a lot of unrelated work, theme park design is my true passion and I always work to apply all my weight of experience into every project.

Don
Once again I would like to thank Don Carson for allowing me to do this interview with him!  Remember to check out his blog: http://themedenvironments.blogspot.com/ Don also has more pictures of his work on his main website at: http://www.doncarsoncreative.com/  Be sure to leave a comment with your park thoughts below.