After much anticipation, Busch Gardens Tampa Bay revealed their massive new addition for 2011, Cheetah Hunt.  Custom designed for Busch Gardens Tampa, guests will get to experience, the grace, speed, and power of a Cheetah as it races across the African savannah for it's prey.  Featuring multiple LSM (linear syncronized motor) launches, nearly a miles worth of track, and one of a kind animal encounters, Cheetah Hunt will offer something for the whole family.
While a bit late to report the news, I feel it is time that I share my thoughts on this capital investment for 2011.
The Facts:
Manufacturer: IntaRide (U.S. Division of Intamin AG)
Three LSM Launches

Launch 1: 30 mph
Launch 2: 60 mph
Launch 3: 40 mph

Length of Track: 4,429 feet – over three quarters of a mile
Largest Drop: 130 feet into an underground trench
Maximum Speed: 60 mph
Highest Point: 103 feet
Train facts: 5 trains, 16 riders per a train (4 cars of 4)
Average Hourly Capacity: 1,370 riders
Height Limit: 48″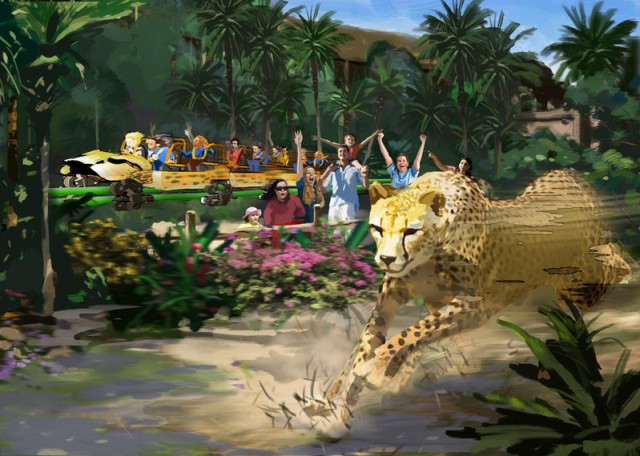 The Good:
Tight curves in all the right places – Cheetah Hunt is a fairly low to the ground attraction.  With a relatively short maximum height of 103′, riders will spend most of their journey winding through canyons and soaring over the savannah in over banked turns.  Rhino Rally has already cut the water portion from the ride to accomodate for some new lower to the ground curves for the ride.
Keeping its Pace – The ride appear's to pace really well.  The three launches at varying speeds mean that the coaster will not have a sort of dead period towards the end of the ride and will feel essentially fast for the entire experience.  With an initial jolt of 30 mph, then working its way up to 60, and later back down to 40, the ride will certainly be a change from the usual slow lift, fast beginning, and slow ending that is found on traditional coasters.
Cheetah Run – Similar to what we have seen Sea World Parks & Entertainment do with Manta, the park will be incorporating a new animal experience along with the addition of this ride.  Cheetah Run will be an immersive Cheetah enclosure that will get guests closer to these majestic animals than ever before.  Featuring two glass-planed viewing areas, the park will also be holding daily feeding runs to see the Cheetah in it's full speed.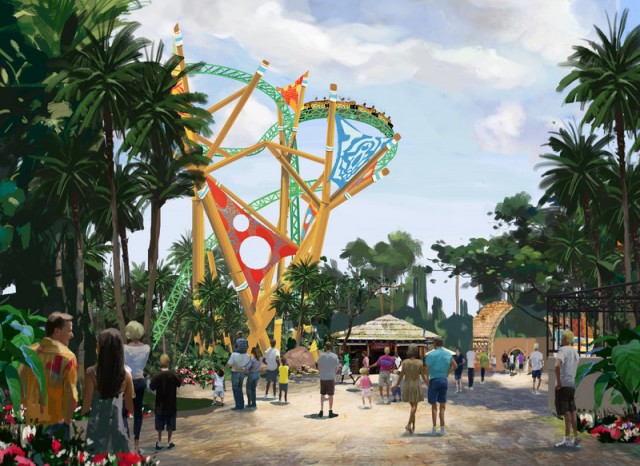 The Debatable:
The Name – I don't want to spend too much time beating this long dead horse, but I am still not completely satisfied with the name "Cheetah Hunt".  For one it sounds too generic compared the African styled names of Montu, Kumba, and SheiKra.  But more importantly,  I don't understand why a park so focused on conservation would include the word "hunt" in any attractions name.  I understand the intention of the name (a cheetah's hunt) but some my first impression of the connotation of the name was definitely not what the park was trying to convey.
Top Hat Troubles – Nothing is wrong with the "top-hat" of the ride, it just seems a bit awkward.  Perhaps it is artistic interpretation but from the preview video, the element after the 60 mph launch of a sort of figure eight seems oddly shaped and slightly uneventful.   However, maybe the views from the top of this tower will make up for the lack of excitement on this portion of the ride.

A Family Friendly Maverick:
For those coaster enthusiast requesting a new Maverick-esque ride come and get it!  Cheetah Hunt immediately shows some obvious similarities with the Cedar Point favorite.  Both of the rides feature an LSM launch, both feature close to the ground winding sections, both are unconventional in terms of their layout, both have relatively short trains, and maybe it's too early to jump the gun, but both will be crowd pleasers.
While there are definitely obvious comparison you can draw between the two, the biggest difference is the height limit.  Maverick requires a minimum of 52″, while Cheetah Hunt, a much lower 48″.  The 48″ height limit allows the ride to be marketed as a family attraction.  The one inversion, and non vertical drop also provide a less intimidating view of the ride.  With SheiKra, Kumba, and Montu all having height requirements of 54″, Cheetah Hunt will appeal to families with children who are ready for something more extreme than Gwazi, but not quite ready for the big B&M's.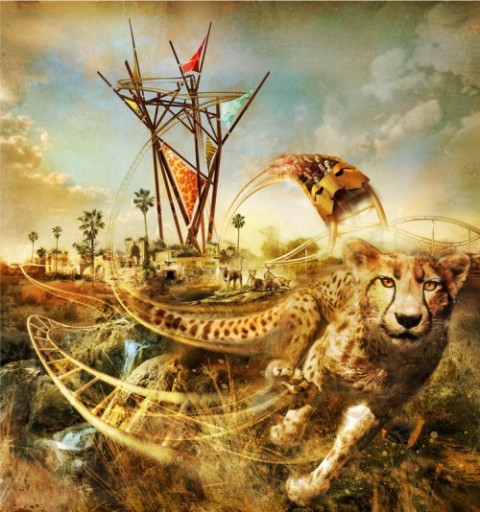 Money well spent:
In Orlando, the most competitive theme park market on the planet, Busch Gardens Tampa continues to stand out from the pack with this one-of-a-kind roller coaster.  With a certain family appeal, and being an attractive offering for thrill seekers, Cheetah Hunt is surely a good move for the park.  With Busch Gardens conservation efforts continuing to grow each year, it is nice to see the Cheetah get true appreciation through educating guests with this new addition.  Also, kudos to the marketing team at Busch Gardens Europe doing such a stellar job at marketing this job with YouTube, Twitter, Facebook, and more.
Busch Gardens Williamsburg fans take notice because the park has already confirmed that they will be adding a similar, multi-launch coaster in 2012.  I am sure that Cheetah Hunt and the BGW coaster will be quite similar!
These are my thoughts, but I want to hear yours.  What do you think of Cheetah Hunt? Leave a comment with you Park Thoughts below.
Concept Art credit to Busch Gardens Tampa Bay