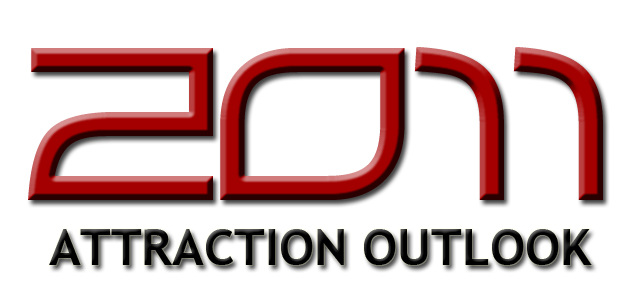 2010 was a very good year for the amusement park world.  It brought many major additions including Intimidator 305, the Wizarding World of Harry Potter, and more.  2011 however is shaping up to be a slightly more modest year compared to years past.  The economy is still less than spectacular leaving most parks simply not able to afford their own B&M hyper coaster.  Despite the economy, Six Flags is celebrating it's 50th anniversary and is going all out with major new additions.  Other parks, not so much.  Time for a look to see some of what is in store for 2011.
Cedar Fair is known for creating unique and individual coaster creations for their parks.  However this year, the major additions are neither unique nor coasters.  Not a single Cedar Fair park will be adding a new coaster for 2011.  Major additions for this year is the four, giant Windseeker flat rides at King's Island, Canada's Wonderland, Cedar Point, and Knott's Berry Farm.  New Planet Snoopy areas will debut at Valleyfair, Worlds of Fun, and Dorney Park. Although the Windseeker flat rides each have a price tag of around $6 million, and the Planet Snoopy areas costing a few million more, it is still disappointing to see a Cedar Fair, one of the nation's leaders in the amusement park industry, not add a single new coaster to any of it's parks.
Six Flags, Cedar Fair's rival amusement park chain, will be celebrating it's 50th anniversary in a big way.  With the slogan of "Go Big, Go Six Flags" the company is really going all out with massive capital investments in some of the parks.  Six Flags Magic Mountain will be adding 3 (yes, three) major additions next year including a ZacSpin Ball Coaster themed to the Green Lantern and a complete refurbishment of Superman: the Escape.  On the east coast, Six Flags Great Adventure has received Chang from the now closed Six Flags Kentucky Kingdom to be themed as the Green Lantern as well.  Six Flags Discovery Kingdom and Six Flags St. Louis will be introducing their own Star Flyer giant swing attractions.  Six Flags Over Georgia will be adding a EuroFighter in 2011.  And the original Six Flags, Six Flags Over Texas, is in the middle of a two year refurbishment of Texas Giant from a shaky wooden coaster into the steel tracked, hybrid coaster.
2011 is simply an off year for Cedar Fair.  However, it's lack of new additions is emphasized by Six Flags' massive amount of new attractions for their parks in 2011.   And not only is Six Flags adding attractions, but these are generally first of their kind attractions, or atleast unique to the country.  Green Lantern at Six Flags Magic Mountain will be the first ZacSpin.  Dare Devil Dive at Six Flags Over Georgia will be just the third EuroFighter in the country.  The Texas Giant refurbishment will be the first of it's kind on the planet.  And almost insulting is the fact that Six Flagsis also adding a giant swing type attraction in two of it's parks as well.  And what is Cedar Fair offering in 2011?  Some kiddie lands, and a tall spinning ride.
Destination parks however will be adding some of this year's best attractions.  Disney's Hollywood Studios at Walt Disney World and Disneyland in California shut down their beloved Star Tours attractions this past summer and have been hard at work constructing a new version of the classic ride.  The new ride will bridge the gap between the two Star Wars trilogies and will use 3D projection technology to bring guests closer than ever to the world of Star Wars.  Disney California Adventure will be adding a new dark ride based on the Little Mermaid later this year that is one of the highlights of the $1.1 billion expansion of the park.  The most anticipated coaster of 2011 is Cheetah Hunt at Busch Gardens Tampa Bay.  This Intamin AG LSM launch coaster will feature 3 launches and is unique with it's low to the ground bends and twists.  In terms of coasters, Cheetah Hunt is by far what I am most excited for.  The multiple launches and low to the ground curves make it a candidate for best new attraction of 2011.  But only time will tell.
While this is certainly not a complete line up of the new rides for 2011, it is a good impression of what to expect in the upcoming year.  An interesting tidbit about 2011 is that we will not see a single new Bolliger and Mabillard coaster open up in the states this year.  This however, isn't that surprising considering the lack of major coasters opening in 2011.  I for one am very excited for 2011 and what parks will bring to the table come opening day.  Are you?  Leave a comment with your Park Thoughts below.