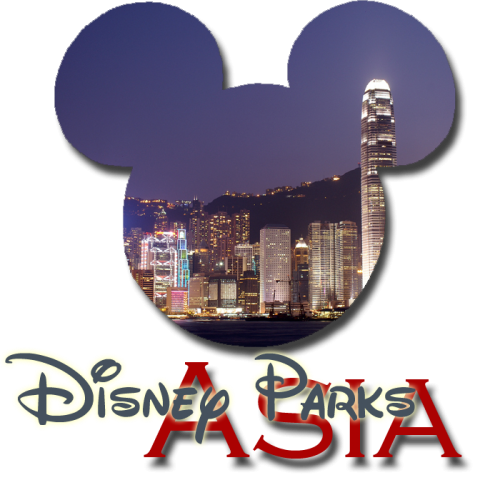 Recently most of the focus has been on the  Disney Parks in America.  Disney's California Adventure is in the middle of a $1.1 billion expansion, Disneyland and Disney Hollywood Studios are preparing to relaunch Star Tours this May, and the Magic Kingdom is also constructing a new subarea to Fantasyland.  However, across the Pacific Ocean, the Disney properties in Asia are bustling with activity.  Projects vary from new rides to  epic spectaculars in the works, and even a new resort.   Together these projects make up half of all Disney resorts on the planet.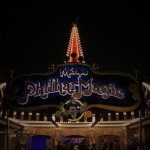 Mickey's Philarmagic – On January 24th, Tokyo Disneyland opened it's own version of Mickey's Philarmagic.  The show is a 3D movie style attraction that tells the story of the wild musical extravaganza that happens when Donald gets his hands on Mickey's magical sorcerer hat.  For those familiar with the show at the Magic Kingdom in Walt Disney World (and Hong Kong Disneyland) the movie itself is identical with sharper projectors and dubbed in Japanese.  However, in true Tokyo Disney Resort style the park pumped lots of money into the queue and surrounding areas of the attraction.  For full opening day coverage, visit Pooh's Travels Blog.
Fantasmic! – Tokyo DisneySea's Mediterreanean Harbor is soon to be home to a completely re-imagined version of Fantasmic. Fantasmic which was first introduced at Disneyland in 1992, and then Disney Hollywood (then, MGM) Studios in 1996.  However, Steve Davison, the creative genius behind World of Color and Haunted Mansion Holiday is leading a team of experts to create a completely reimagined version of the classic Disney show.  Tokyo DisneySea serves as a beautiful and challenging back drop.  As both Fantasmic's stateside are on stages that face an audience on one side, the Japenese version will have no permanent stage besides the waters of Mediterranean Harbor.  The concept art above was just released a few days ago on D23's Disney Geek.  As of now, movies expected to be included are Stitch, Cinderella, Aladdin, and Finding Nemo, and more.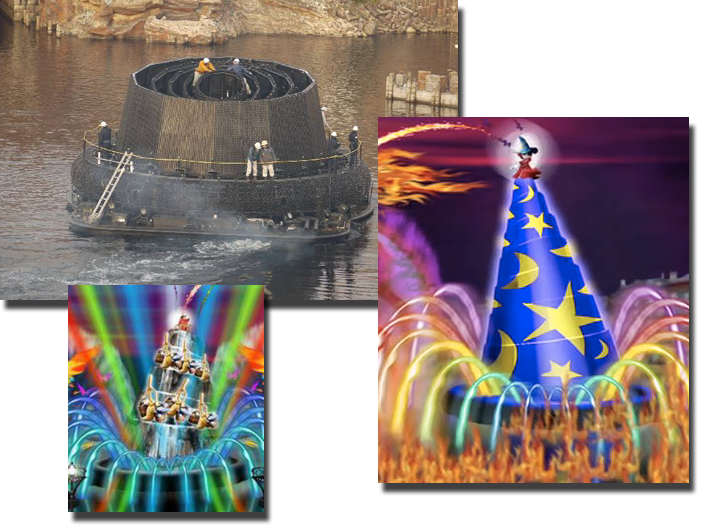 Little is known about the new nighttime spectacular, however some glimpses of construction have found their way to the internet over time.  So far only two pieces of concept art have been released.  Both depict a cone type structure with Mickey on top.  Just last week, Deep Disney discovered shots of a barge with a telescoping structure.  structure has a relatively small opening in the most inner portion that could surely be suitable for say..a mouse?  The walls of the structure are also lined with LEDs to perhaps create a giant sorcerer's hat or a spiral stairs of marching broom sticks.  A video was also posted on YouTube of the park testing a water screen after hours.  However, this is apparently a test barge and is likely not the final of one of the many water screens in the show.
Toy Story  Midway Mania – After successful debuts at both Disney California Adventure and Disney Hollywood Studios, Tokyo DisneySea chose Toy Story Midway Mania to be their next major ride.  Located in the American Waterfront 'port' of the park, between Tower of Terror and the Broadway Music theater, the ride is the first major addition since it's soon to be neighbor, Tower of Terror opened in 2007.  Although only one piece of concept art has been released (shown above), construction photos from Deep Disney confirm that the ride will have a Luna Park/Coney Island motif, with spires and classic Victorian architecture, making it a natural fit into the park.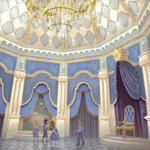 Other Additions -Tokyo Disneyland will also be updating their popular Tokyo Disneyland Electrical Parade: Dreamlights nighttime spectacular  to feature Tinkerbell, a new Toy Story section, two giant Aladdin floats, as well as rearranging the parade floats debuting July 8.  Cinderella Castle will soon be home to a walk through that will allow guests to experience the glory and magic of Cinderella at Cinderella's Fairytale Hall which opens on April 15, 2011.  Tokyo DisneySea will begin their year long 10th anniversary celebration, 'Be Magical'.  Each character will be dressed in their own sorcerer outfit for the event.  New entertainment will be offered at American Waterfront and a new character greeting trail in Lost River Delta will also be added.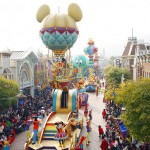 Flights of Fantasy – Steve Davison and his team must be busy as they are working on Fantasmic! at Tokyo DisneySea and the Flights of Fantasy Parade at Hong Kong Disneyland.  With the official premiere this past January 21, the show is fresh in concepts and music.  Like the name says, all floats are themed to giant airships and flight.  The parade includes Winnie the Pooh, Jungle Book, Lion King, Lilo and Stitch, Toy Story, Tinkerbell, Disney princesses, and of course, Mickey Mouse and friends.  At one point in the show, the entire parade stops allowing guests to join the fun as the floats rise to heights 40 feet with acrobats soaring through the air.  Flights of Fantasy features fantastic music, great costuming, and is an overall fantastic show.  Well done Hong Kong Disneyland.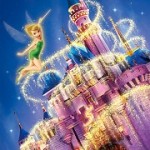 Celebration in the Air – Although the park's 5th Anniversary was September 12 of last year, the park avoided celebrating the anniversary until after the busy Halloween and Christmas seasons.  'Celebration in the Air' is the theme of the 5th Anniversary.  Tinkerbell has shined her dust on the castle, which is now illuminated with gold 'ribbon' and 'pixie' dust that swirls around the castle.  At night during the 'Tinkerbell Castle Illumination', Imagineers have created an effect where the castle is draped in pixie dust as a commemorative for the 5th Celebration.  Check out a video of 'Tinkerbell Castle Illumination' here. 'Celebration in the Air' also brings new decor, merchandise, menus, and a special Tinkerbell Meet n Greet for the celebration.

Toy Story Land – Hong Kong Disneyland will receive 3 new lands as part of a major expansion project.  The first of those 3 lands scheduled to open is Toy Story Land.  Rumored to open as early as winter of 2011, the park is in the middle of constructing the area's 3 attractions: RC Racer, Slinky Dog Spin, and Green Army Men Parachute Drop.  As of now, construction mostly consists of building the structures and stations of the area, however track is already in place for Slinky Dog.  Unfortunately the traffic cone orange track for the Intamin Half Pipe has gone up and is not well hidden.  The structure can be seen from around the park, however hopefully the park will soon plant bamboo to mask the track in the skyline.

Grizzly Gulch – The second of the 3 areas to open up at Hong Kong Disneyland will be 'Grizzly Gulch'.  It will serve as the park's equivalent to Frontierland that poor HKDL was born without.  Grizzly Gulch does however differ from the standard Frontierland in many ways; the atmosphere will be more similar to Grizzly Recreational Park at Disney California Adventure with a coaster that will be far more similar to Disney's Animal Kingdom's Expedition Everest.  Current time tables indicate a 2012 opening date.  Major landscaping work is well underway along with construction of the giant show building housing the station and indoor portion of the ride.  Lance from ScreamScape has created what appears to be the layout of the coaster and it looks quite accurate.

Mystic Point – The last (and my favorite) area of expansion is Mystic Point.  Mystic Point, like Grizzly Gulch consists of one attraction, Mystic Manor.  Themed to an enchanted explroer's mansion gone horribly wrong, guests will take a magical tour of this mystical manor.  As part of the 5th Anniversary, the park opened a new preview center on Main Street.  Here we got our first look at the Monkey who will guide the tour through the mansion and the Garden of Wonders recreational area that will be full of artifacts collected by Lord Mystic.  Mystic Manor is rumored to open in 2013 as construction has only begun on the giant show building of the park.
For the most part, construction is well hidden at Hong Kong Disneyland (unlike a certain California Adventure park), however guests on the back of the park's train can get a glimpse out of the rear of the car to the park's construction.  Imaginary Workshop frequently posts videos of this view for construction updates.  If you are interested, check it out.

Disneyland has officially acknowledged that they will build a new resort in Shanghai Disneyland.  However, no other details have been revealed.  An official announcement is rumored to happen in April that will reveal more details right now.  As of now, the park is surrounded in internet rumors.  Popular concepts include a park that is based off of water and does not follow the traditional hub and spoke layout, a park smaller than Hong Kong Disneyland (this would frankly suck), a Marvel themed area, and most recently a 2 additional parks including EPCOT and Disney's Animal Kingdom.  However, as well all know rumors are just rumors.
That's it for this update, as you can see Disney is very busy with their Asian properties.  Check back and we will keep you posted.