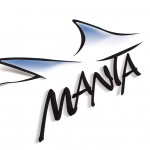 SeaWorld San Diego announced today that they will add Manta, a new multi-launch coaster, to the park in 2012.  Manta will allow guests to soar through both sea and sky, as SeaWorld combines the exhilaration of a coaster with the fascination of an animal exhibit. Riders will board manta-ray shaped coaster trains and be launched twice over the 2,835 feet of track.  In addition to the coaster, the park will add a 100,000 gallon marine life exhibit featuring 65 California bat rays, 10 guitar fish, and more than 400 other fish.  Manta demonstrates SeaWorld Parks & Entertainment's commitment to provide guests with thrilling attractions and magnificent family experiences.
Created by German coaster manufacturer, MACK, Manta will feature two LSM launches reaching speeds of 43 mph.  SeaWorld San Diego employed the engineers to design the attraction to keep it below the 30 foot height limit placed by the California Coastal Commission.  Despite the restrictions, guests will soar as high as 30 feet, and drop as far as 54 feet due to elevation changes.  The total duration of the ride is estimated at 1 minute and 56 seconds.
SeaWorld also describes a "launch station" where the coaster will be encompassed by a 270 degree projection surface displaying larger than life images of manta rays on a first of its kind system in the United States.  The technology will also be used to enhance the acceleration of what I assume to be the first launch.  Manta will boast 4 trains, 20 passengers per a train, allowing for a 1,400 people per an hour ride capacity.
Manta appears to be an excellent addition to the park.  Providing for more park capacity as well as a much needed new attraction.  The park will break ground on Manta in the next month with an expected 2012 opening.  What do you think of Manta?  Leave a comment with your Park Thoughts below.
All images copyright SeaWorld Parks & Entertainment.