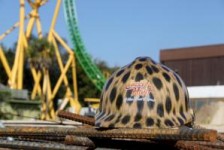 We've been busy, busy in the past few days expanding and enhancing our massive Flickr gallery, beginning the long and tedious task of re-tagging all of our posts, and of course, tweeting up a storm. With all of that mayhem we missed a few things.  Theme parks and amusement parks everywhere are gearing up for the rapidly approaching opening days and summer crowds that will be coming in just a few short months.  With that, parks are adding new rides, modifying old ones, and in some cases removing rides all together. Here's a quick round up of construction in theme parks around the world.
Busch Gardens Tampa Bay recently had a media hard hat construction tour (which sadly, we were not invited to) of their giant new Intamin LSM multi-launch coaster, Cheetah Hunt.  Lucky members of the media got a chance to explore the ride's elaborate layout.  Park officials revealed Cheetah Hunt would open up at 9:00 am on May 27th, 2011.  For more details and photos like the one above, check out Inside the Magic.
Holiday World announced via YouTube Thursday that Splashin' Safari will install a new queue structure for the #1 water slide in the world, Wildebeest.  Eager riders will no longer have to wait in the blazing sun, but instead under a custom designed, shaded structure.  But like the park's new manager said, hopefully it won't get as hot this summer as it did last!
Intimidator 305 at King's Dominion is currently finishing the re-profiling of the large turn immediately after the drop.  After dropping an incredible 305 feet, riders often suffered severe black-outs in this turn from the sheer amount of g-forces. The new, wider and longer turn is designed to give riders a more pleasant and comfortable experience.  Find more Intimidator 305 photos over at Theme Park Review.
After announcing the removal of Invertigo weeks ago, California's Great America 2011 map now shows the spot where Invertigo once stood as an empty field with trees.  However, the good news for Dorney Park fans is that  the park was recently granted approval to build a new inverted boomerang coaster for the 2012 season.  I really enjoyed Invertigo during it's time at California's Great America, and I hope Dorney Park fans find it just as fun.
Great Coasters International's tallest, fastest, longest coaster ever at Knight Valley has been completed.  Built into a cliff side, Mountain Flyer takes all the fantastic elements of a GCI coaster such as a station fly-by, tunnels and highly banked turns and puts them into one massive roller coaster.  The company released a POV of a full test of Mountain Flyer.  Needless to say the ride looks amazing, and seemingly doesn't let up throughout the ride.
Last but certainly not least is and update on that ever so mysterious yellow B&M track.  First spotted at the Bolliger & Mabillard factory early last year, the track finally found it's home at Hong Kong Ocean Park in China a few months ago.  Speculation of the ride continued as to what type it would be with rumors indicating it to be a stand-up coaster (remember to vote in our poll!).  Recently, concept art of the ride surfaced showing plans for floorless trains as well as Coney Island/Luna Park style theming. For more pictures on Hair Raiser and other projects at Hong Kong Ocean Park visit AirTimers.
That's all the happenings in coaster world. Be sure to leave a comment with your Park Thoughts below.