These past two weeks we wanted to know what Park Thoughts readers thought of stand-up coasters.  The topic is a bit controversial as some coaster enthusiast find them to be an instrumental element in a roller coaster's success.  The stand-up places riders in a unique position that completely changes a ride experiences. Others however find stand-ups to be nothing more than a gimmick and often makes a ride far more painful than it needs to be.  With a wide range of opinion we narrowed it down to four distinct options: I avoid them at all costs; Uncomfortable, I dread getting my credit; Fun, and thats about it; or Amazing, unique ride experience.
These results were honestly much more positive than I was expecting with a strong 55% of the 40 votes finding them to be Fun, and that's about it. In second was a more optistmistic view of Amazing, unique ride experiences, followed by Uncomfortable I dread getting my credit, and last, with just 1 vote, I avoid them at all costs (Harsh!). Perhaps it is the fact that this year is the first year we will be seeing a "new" stand-up coaster opening in years that there is such a relatively optimistic look on this style of coaster.  Chang has been relocated to Six Flags Great Adventure where it will re-open as the Green Lantern in just a few short months.  I guess a majority of coaster fans will enjoy it!
Stand-Up Coasters?
Amazing, unique ride experience (25%, 10 Votes)
Fun, and thats about it. (55%, 22 Votes)
Uncomfortable, I dread getting my credit. (20%, 8 Votes)
I avoid them at all costs (3%, 1 Votes)
Total Voters: 40

Loading ...
We've also added a Twitter poll to coincide with every one of our Park Thoughts site polls! For the past two weeks, we've been asking our Twitter followers what their favorite Stand-Up coasters were and here's some of the responses we got: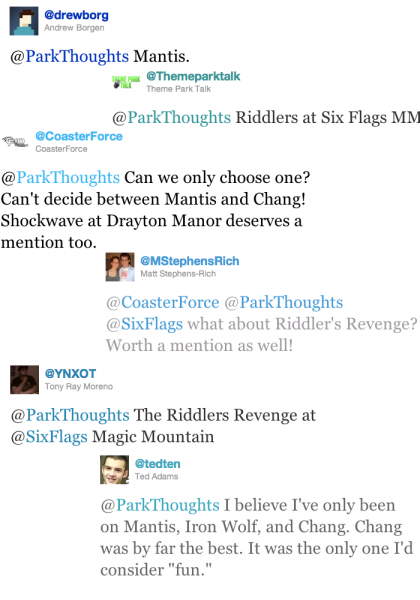 Want take part in the upcoming Twitter poll?  All you have to do is follow us on Twitter and reply with your response!

Once again it's time for a new poll! Since the last two polls have mainly focused on Bolliger & Mabillard steel giants, we decided to go in a totally new direction for this next one: wooden coasters! Wooden coasters come in all sorts of shapes and sizes. Some focus on the giant drops, other the massive turns, and so on.  In recent years, each wooden roller coaster manufacturer has grown to develop their own unique style of layout.
Great Coasters International, is known for their twisted, overlapping layouts where the coaster crosses over itself numerous times, including rides like Thunderhead (Dollywood), Prowler (Worlds of Fun), and Troy (Toverland). The Gravity Group on the other hand is a much new wooden coaster manufacturer that gears their layouts towards a mix of airtime and high banked turns. Gravity Group coasters include The Voyage (Holiday World), The Ravine Flyer II (Waldameer), and Fireball (Happy Valley).  Intamin is known for their unique, "pre-fab" wooden coasters with pre-fabricated track that are set in place similar to a steel coster.  This system allows for higher and faster woodies like T-Express (Everland), El Toro (Six Flags Great Adventure), and Balder (Liseberg). Last but certainly not least is Custom Coasters International, a now defunct roller coaster manufacturer, however their coasters continue to wow guests today. CCI creations include Boulder Dash (Lake Compouce), Rampage (Alabama Adventure), and Tremors (Silverwood).  Of course, if none of these are your favorite we've included an other option.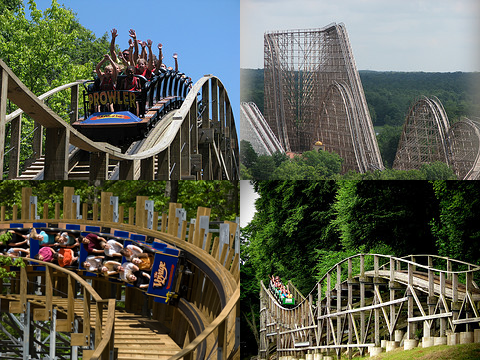 Poll is open now! Remember to vote below and on the side bar for the next two weeks. May the best manufacturer win!
Which is your favorite wooden coaster manufacturer?
Great Coasters International, Inc (42%, 22 Votes)
The Gravity Group (13%, 7 Votes)
Intamin AG (34%, 18 Votes)
Custom Coasters International (4%, 2 Votes)
Other (8%, 4 Votes)
Total Voters: 53

Loading ...