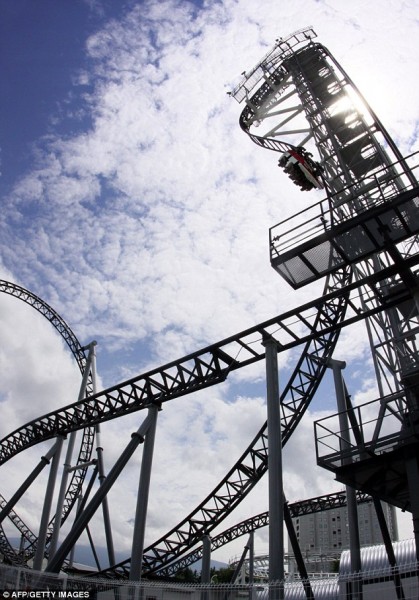 Fuji-Q amusement park in Japan is known for having some of the most extreme coasters on the planet, and this year the park adds to their collection with Takabisha, a Gerstlauer Euro-Figheter.  Takabisha takes the record for the steepest drop of any coaster on the planet with a stomach-churning 121 degree drop.
The coaster's layout truly looks like something you can find in the RCTLounge No Limits forums.  The inversions of the ride are so twisted, it really is incomparable to anything we have seen before. Takabisha begins with a 62 mph launch into 4 inversions (2 skewed loops and a deformed cobra roll) followed by a 142 foot lift into the record-breaking 121 degree drop.  The coaster continues thru a multitude of strange inversions before coming to an end and returning back to the station. Takabisha is now open.
After seeing both this an Dare Devil Dive open this year, it's becoming much more apparent that Gerstlauer is getting increasingly creative with their coaster layouts and veering away from the standard straight lines and pre-made elements. Instead the company is now creating some of the most twisted coasters we have ever seen.  A change in direction, however a welcomed one indeed.
A great gallery of pictures of the coaster can be found here and a POV is posted below.  What are your thoughts on Takabisha? Leave a comment with your Park Thoughts below.
[yframe url ='http://www.youtube.com/watch?v=M9Vy_YzhwHE' ]
Image Source: Daily Mail Online