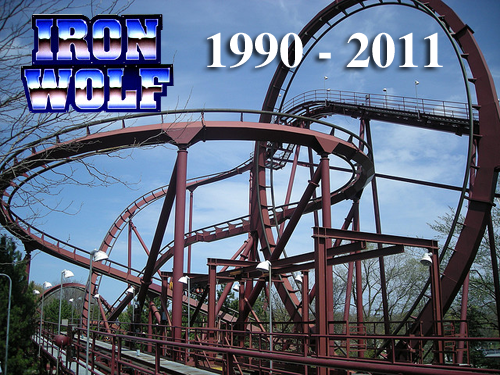 Today Six Flags Great America announced that after 21-years of operation, the park will be removing Iron Wolf.  Fans of the classic coaster will have their last chance to ride on Labor Day, September 5, 2011. The ride's removal has been rumored for a number of years and it's time has finally come to be removed from the park.
Opened in 1990, Iron Wolf was the first coaster manufactured by Bolliger & Mabillard, which went on to create some of the world's greatest coasters.  In addition to being the company's first coaster, it was a custom stand-up model that positioned riders in the up-right position.  Iron Wolf featured 2 inversions, a modest height of 100 feet, and a 2:00 ride duration.
If rumors are true, Iron Wolf will soon find a new home at Six Flags America.  The ride's removal seems to indicate confirmation of what fans are calling the "Ride Relocation Program".  According to several sources, Six Flags is going to beging removing rides from certain parks, and transferring them to another Six Flags park to be marketed as "new".  Other rumored removals include Magic Mountain's Deja Vu, and Discovery Kingdom's Pandemonium (formerly Tony Hawk's Big Spin).
Did you get a chance to ride the coaster? Even if you didn't, leave a comment below.
Photo credit: Iron Wolf