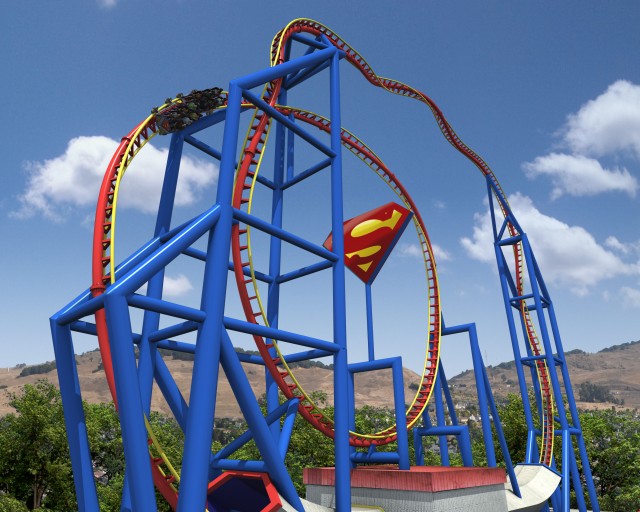 This morning, Six Flags Discovery Kingdom, Northern California's #1 theme park, announced it will be replacing Tony Hawk's Big Spin with a new, first-of-its-kind creation: Superman: Ultimate Flight. This truly unique coaster will tower at 150 feet as well as what are sure to be some very exciting elements! From the Press Release:
The familiar refrain, "It's a bird, it's a plane, it's Superman!" will become part of Six Flags Discovery Kingdom's lexicon with the official announcement today of the park's exciting new roller coaster, SUPERMAN Ultimate Flight.  The ride, created in a partnership between Six Flags Discovery Kingdom, Warner Bros. Consumer Products and DC Entertainment, is slated to open in spring 2012.

This one-of-a-kind super launch coaster features the tallest inversion west of the Mississippi and will rank alongside the tallest coaster inversions in the world. At 150 feet high, riders will experience lightning speeds of 62 miles per hour, with two upside-down twists and two vertical rolls over a track length of 863 feet.

"We're excited to bring this caliber of ride to Discovery Kingdom," said Dale Kaetzel, Park President. "Since we opened our super coaster Medusa in 2000, the public has been waiting for a ride to match that intensity. We believe that SUPERMAN Ultimate Flight will satisfy even the most fearless thrill-seeker, and then some."

As Discovery Kingdom's first DC Comics-themed ride, the new addition is the perfect complement to the park's unique collection of marine life, wildlife and wild rides. Thrill rides include the aforementioned Medusa, along with Kong, Roar, Vertical Velocity and Boomerang, and SUPERMAN Ultimate Flight's addition solidifies Discovery Kingdom's standing as Northern California's best place to experience thrills of all kinds.

Brightly painted in Superman's colors — vibrant blue, red and yellow — the steel coaster will be visible from Highway 37 and beyond from its location on the eastern side of the park.  Construction on SUPERMAN Ultimate Flight will begin in early 2012.

SUPERMAN Ultimate Flight is being manufactured for Six Flags Six Flags Discovery Kingdom by Premier Rides.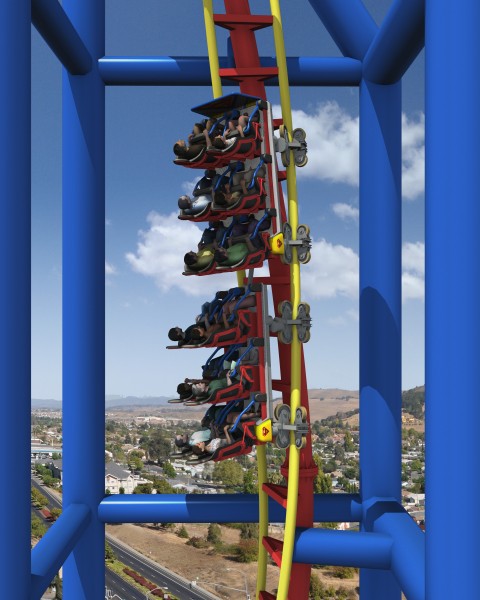 Initial 2012 Thoughts – Six Flags continues to not mass purchase coasters but instead individually select different designers per a park.  And this method surely does appear to be working with this new prototype form seeming to be a welcomed addition to the already fantastic Six Flags park.
The layout of this creation is unlike anything I've ever seen before, and when the first concept art was leaked, I immediately assumed it was a Mauher Sohne, however as the last line indicates in the article, the coaster is in fact manufactured by Premiere. The trains show a great resemblence to those of Sky Rush at Kennywood.  And while I do fear this could be a capacity nightmare, the 60 mph launch + spectacular views should make it well worth the wait.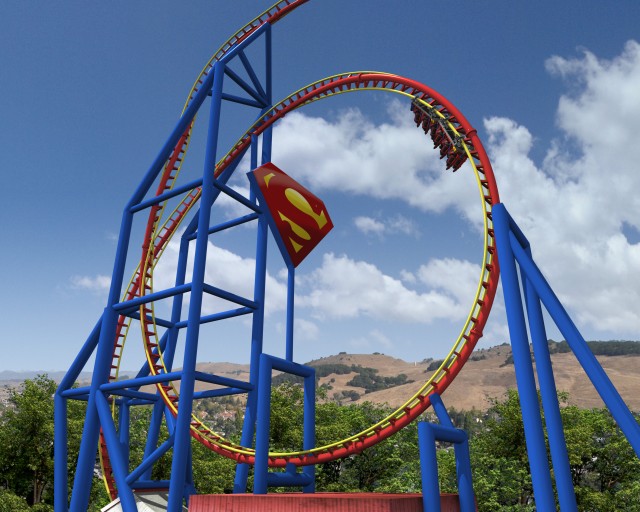 I am definitely looking forward to riding this next summer. What do you think? Leave a comment with your Park Thoughts below.