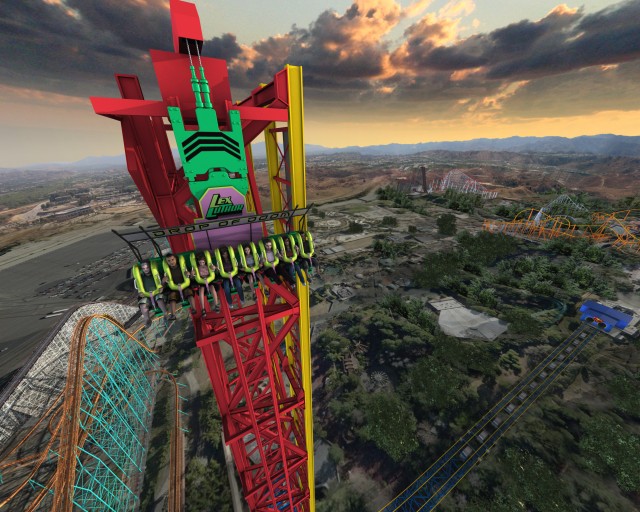 In 2012, Six Flags Magic Mountain will add yet another world class thrill ride: Lex Luthor: Drop of Doom. Built on either side of the recently remodeled Superman: Escape from Krypton, these pair of drop towers will rise 400 feet, before dropping people back to earth while reaching speeds of 85 mph, making it both the tallest and fastest drop tower on the planet.
From the press release:
Fearless riders will be seated inside floorless gondolas on two vertical tracks flanking each side of the SUPERMAN: Escape from Krypton tower. Passengers on the gondolas will be pulled to the top of the tower, experience a brief pause before being released and dropped at speeds of up to 85 miles-per-hour. After five seconds of freefall, the gondola will be stopped by a sophisticated magnetic braking system just a few feet from the ground.

"Six Flags is known world-wide as the industry leader in delivering world-class thrills, and
Six Flags Magic Mountain is proud to be at the head of the pack, offering guests the biggest and the best," said Bonnie Rabjohn, Six Flags Magic Mountain Park President. "We are excited to add another world record to our collection of record-breaking, first-on-the-planet attractions."

Changing Magic Mountain's legendary skyline, LEX LUTHOR: Drop of Doom will offer riders breathtaking panoramic views as they are lifted to the top of the tallest vertical drop ride ever built. Sitting eight abreast, riders will plummet 40 stories at an extreme speed before coming to a stop, all while the SUPERMAN: Escape from Krypton cars are blasted to the top of the same structure.

LEX LUTHOR: Drop of Doom is being manufactured exclusively for Six Flags Magic Mountain by Intamin AG of Switzerland.
Nothing to complain about here; this ride is going to be spectacular.  Imagine the launch on Xcelerator except vertical.  Essientally that is what Drop of Doom will be in terms of speed.  Plus, at 400 feet, the view is going to be spectacular.  Certainly going to be a great addition to the park for 2012, as it is always nice for the Magic Mountain to get some more (and much needed) flat rides.