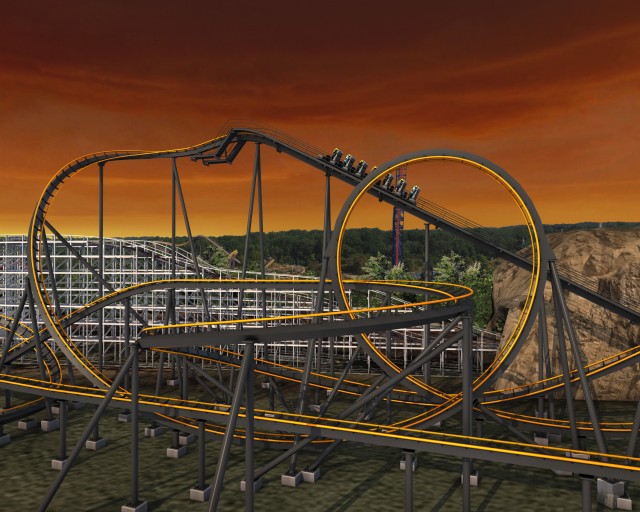 Today, Iron Wolf as Six Flags Great America is officially closed after giving die-hard fans their final ride last night.  Iron Wolf, will soon be disassembled and moved to reopen at Six Flags America in 2012 as Apocalypse.  The original B&M will rise from the ashes and offer park-goers a chance for their "Last Stand".  Aside from a new paint job, no dramatic changes will be made.
From the press release:
The end is near as Six Flags America prepares to face the Apocalypse in 2012! Mayhem comes to Maryland's favorite theme park in the form of a 100-foot mean machine roller coaster. Guests will take a stand against the end of the world in an all-new, stand-up, steel adventure.

Upon approaching Apocalypse, located in the Skull Island area of the park, guests will wind through a queue stepping further and further into an end of the world scenario. Just when it looks bleak, riders will break out to make the final stand against obliteration. They'll stand four abreast together, while making the 100-foot ascent to the ride's apex. For two minutes, they'll hurtle along the 2,900-foot steel track, feeling the rush of 55 miles-per-hour speeds, hairpin turns, and pulse-pounding inversions.

The Apocalypse is planned to begin at Six Flags America on Friday, May 25, 2012 with a grand opening observance in the morning as the park opens and a thrilling display of fire in the sky that evening. 2012 Six Flags America Season Pass holders will be invited to be amongst the first to brave the ride in a two-day preview event on Saturday, May 19 and Sunday, May 20, 2012. Season passes are on sale today at sixflags.com/America.

Apocalypse has been designed by Bolliger & Mabillard (B&M) of Switzerland. This is Six Flags America's first B&M coaster as well as the park's first stand-up coaster.  Apocalypse promises to add to a whole new high-intensity thrill to Maryland's favorite theme park, complementing the park's arsenal of world-class roller coasters, thrill rides, and water park. The seven current roller coasters at Six Flags America are anchored by the 200-foot SUPERMAN: Ride of Steel; and highlighted by BATWING, Maryland's first flying coaster; and the classic wooden Wild One, which celebrates its 95th year of thrills in 2012.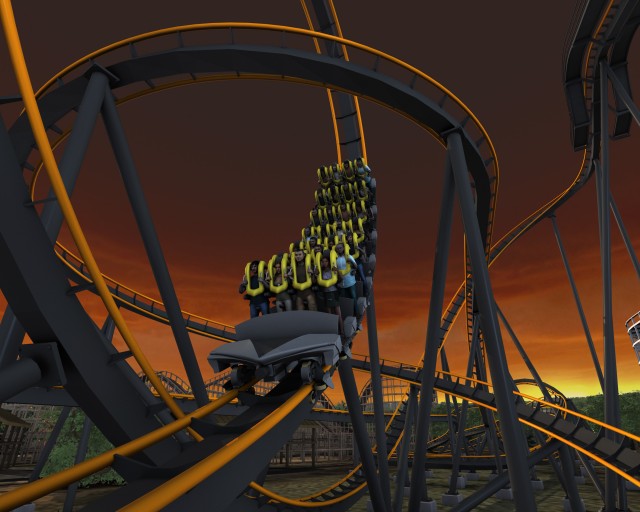 Initial 2012 Thoughts:
Don't complain.  There are certainly some fans out there who are expressing their discontent for getting such an old ride, however I envision it this way: Six Flags America could either get a coaster that is new to the park, or not get a coaster at all.  With my home park being California's Great America, I am certainly aware of what a "new addition drought" feels like, but I would definitely not complain that my local park is building a coaster for 2012 that was not there in previous years.
Apocalypse will be a fun addition to the park's coaster line up; in my opinion, a good move on Six Flags' part.  Enjoy your new coaster Six Flags America!