For Part 1 go here.
Sunday, August 2nd
Sunday began with just me heading to the park.  I was alone, which was nice and allowed me to move my pace!  I started by heading to Indiana Jones: Temple of the Forbidden Eye.  However walking down Main Street calls for an obligatory Sleeping Beauty Castle shot.  You can also see the wires that magically "guide" Tinkerbell and Dumbo across the sky.
Approaching the temple you cans ee the incredible theming of the ride.  Imagineers created a full fledged story here and throw you into the middle of it.  On the outside portion of the queue, it is very clear that the abandoned temple is being excavated.  Several generators, a large truck, and lots of camping materials can be found throughout.  Then guests head up the ramp and into the temple.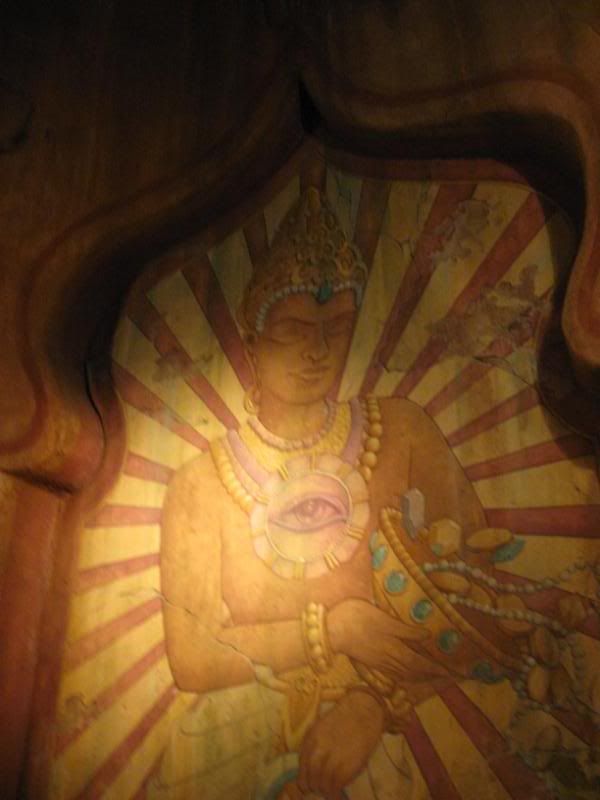 I find that the queue alone is superior enough to be called a walk through attraction.  Inside the temple, it is elaborately done with rock work, artifacts, and paintings on the wall.  All of this makes it without a doubt the best queue line in the entire resort.  Here we have one of many paintings of Mara, and soon guests begin to notice that in each painting, Mara's eyes are hidden.
My journey on Indy was great.  The doors were all working, hall of promise seemed to kind of be working, and several most of the other effects were working this time around.  Unfortunately however the boulder scene wasn't working.  Personally if Disney were to shut down this ride for 6 months and make every effect work perfectly again with a few new twists, I think with out a doubt it would be a strong competitor as the best ride in America.
Next up, incredibly, was the Finding Nemo Submarine Voyage.  I actually had no intentions of riding this.  As I was leaving Space Mountain after getting my Fastpass and heading to Fantasyland I saw how short Nemo's line was and was amazed.  I ceased the opportunity and took a spin.  Pictured above is the entire line for the ride; a mere 5 minutes as appose to the typical 1 – 2 hours.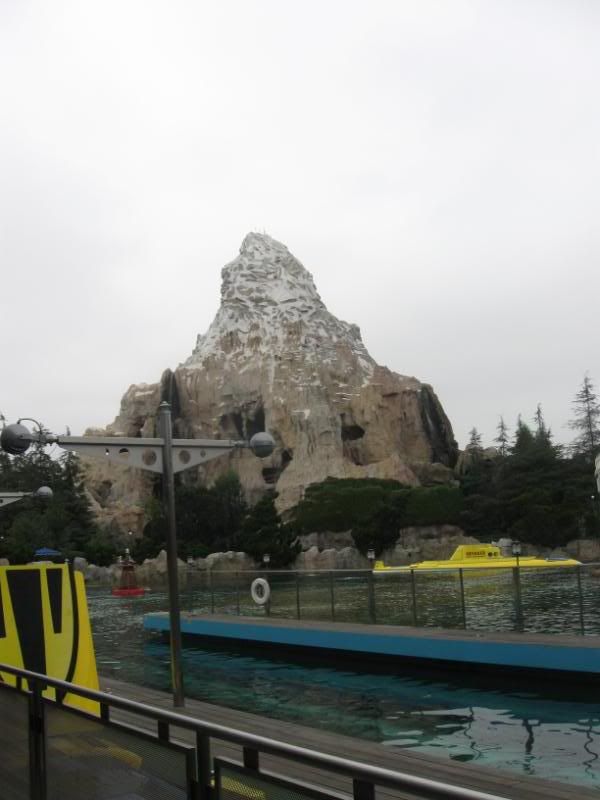 While waiting to board, I noticed how spectacular Matterhorn looked against the Submarine lagoon.  Matterhorn really would be quite out of place in almost any other park besides Disneyland.  It is only around 114 feet tall if I can recall correctly and most of the other castles at Disney parks are over 100 feet, the only other small castle, Hong Kong Disneyland's, already has lush green natural mountains behind it.  All of these factors make Matterhorn an "Only in Disneyland" attraction.
While Finding Nemo Submarine Voyage is really good, it is by no means 1 hour wait good.  I think I would be willing to wait 30 minutes tops for this attraction.  If, they improved loading speeds greatly, and rethemed the ride to its original glory with tons of full fledged audio animatronics and effects, other then projection, then I would be all for this attraction and would wait an hour each visit.  But none of that is a reality at the moment.
Recently, Astro Orbiter received a new silver and multicolored paint job that makes it look much better against the white and blue Tomorrowland facades.  It looks very nice and not to mention the park finally got the planets spinning again.  Unfortunately the planets weren't spinning for the past few years so it is nice to see them working again.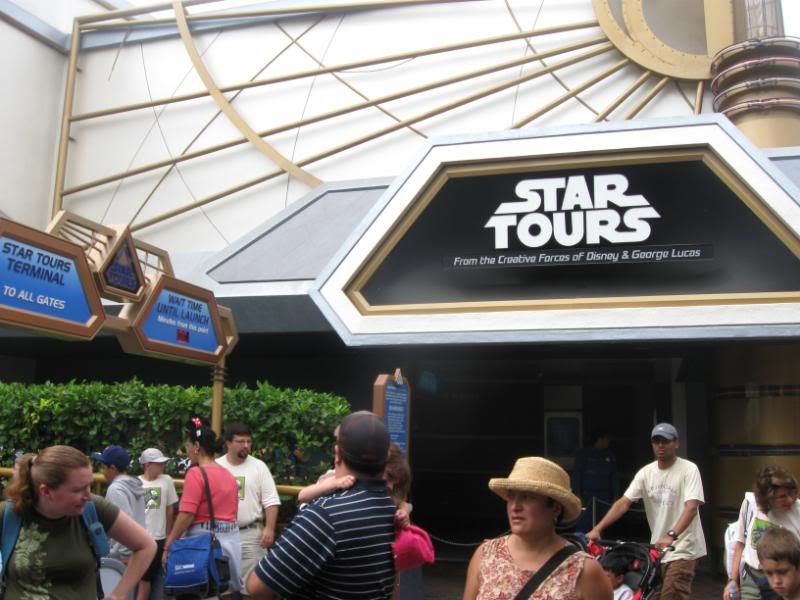 Since neither my brother nor I had been on Star Tours in months, we decided to give it a spin.  It is really showing its age, espically the pre show video.  I can't wait for Star Tours 2.0 to debut (which is rumored to beSpring 2011 FYI).  However this is another totally crazy creation by the Imagineers.  I hope they feature more then 1 destination so it varies expierences.
What kind of trip would be complete without a ride on Pirates of Caribbean?  Pirates is one of the most beloved attractions ever made and is still wildly popular with guests nearly half a century later.  While I do love this ride, at this point I prefer Haunted Mansion because the new additions to Pirates of the Carribean that link in with the movie, absolutely ruin the orginal expierence.  Jack Sparrow, is out of place; why is there even a barbosa; the whole thing just looks forced.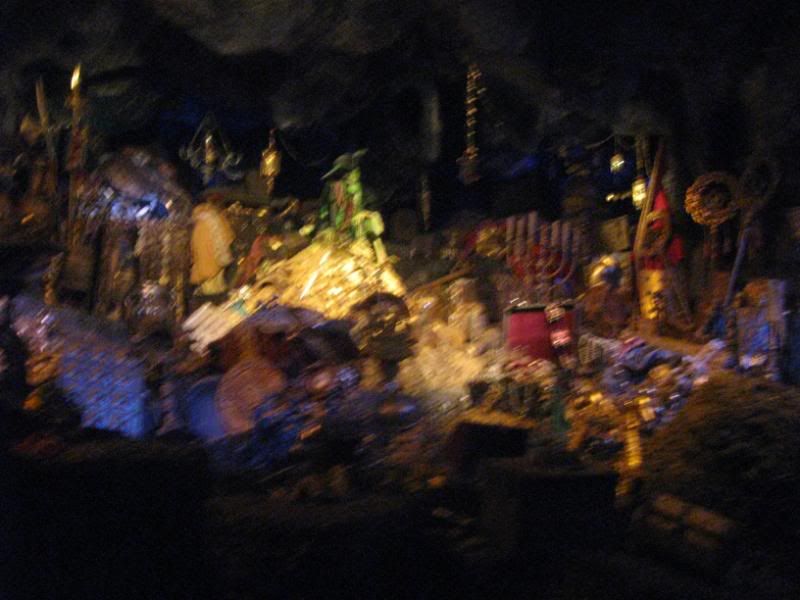 Thankfully the begging portion of the ride is still mostly intact.  However that doesn't make up for Sparrow, Barbosa, or Davy Jones.   Sorry for the fuzzy image, my camera is by no means the greatest and it is well a dark ride.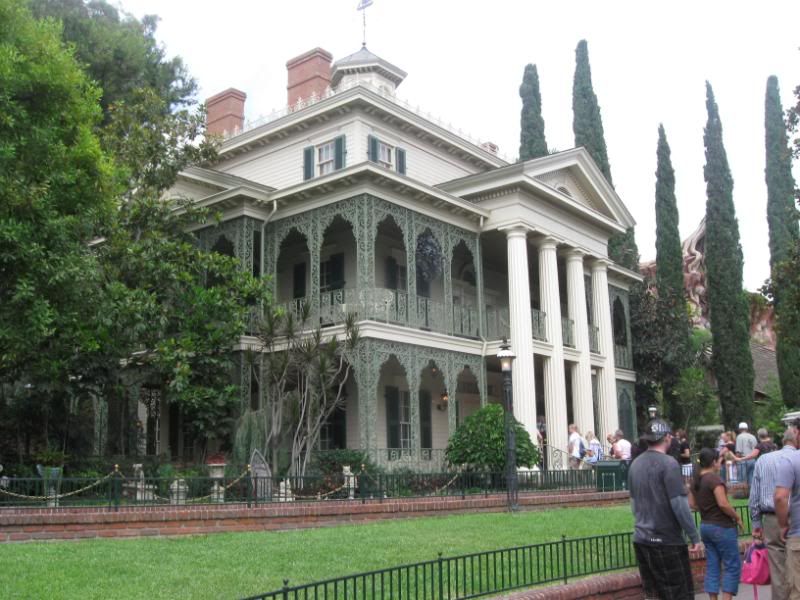 Right next door is the world famous, and now 40 years old Haunted Mansion.  Haunted Mansion is without a doubt one of the most spectacular, incredible attractions of all time.  And it is increasingly becoming a favorite of mine.  I don't know if it is the effects, or the music, or just the entire theme, the attraction is so aw inspiring.
After Haunted Mansion we rode the Mark Twain as we saw that the new Fantasmic dragon was covered by a tarp in its pit!  I tried to get a picture but it was no use.  However we did see the dragons head where you could make out that the skin had been peeled off.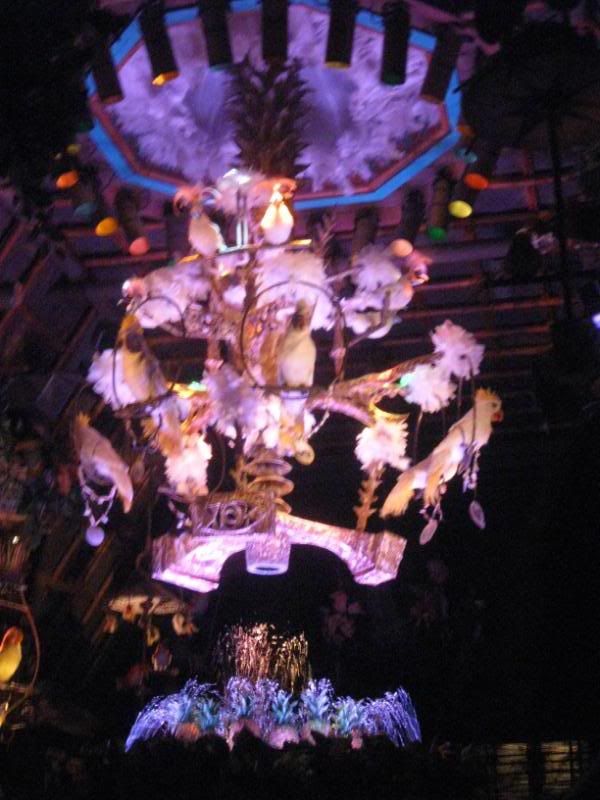 It was hot, and we needed a place to eat our frozen lemonade so we did "Walt Disney's Enchanted Tiki Room"  Again, I haven't been into this show in years, but I thoroughly enjoyed it.  What happens in the tiki room?  "All the bird sing words, and the flowers bloom in the tiki tiki tiki tiki room!"  Very old school audio animatronics and very Walt Disney.  This attraction better stay around for years to come.
While walking through Frontierland we saw an entire skit played right before us!  You see these two are running for election and the mayor was doing some dirty tricks.  He was awfully mad at the cowboy for not marrying his daughter, Miss Sally Mae.  But boy did that cobwoy have a good excuse.
This here is Miss Sally Mae, she will make a starving Dog jump off a meat wagon, kill a new born at first sight, and send the coyotes houlin'.  She is one fine lookin' fella!  Now what do you think of this here Sally Mae.
As we headed to Toon Town we passed by Big Thunder Mountain.  Thunder Mountain is one of my favorite rides i the park and I often ride it multiple times a visit.  Big Thunder Mountain was originally designed for Walt Disney World however with Disney World dealing with other projects, Disneyland assigned Tony Baxter to build the coaster here where it opened in 1979, just 2 years after Space Mountain opened.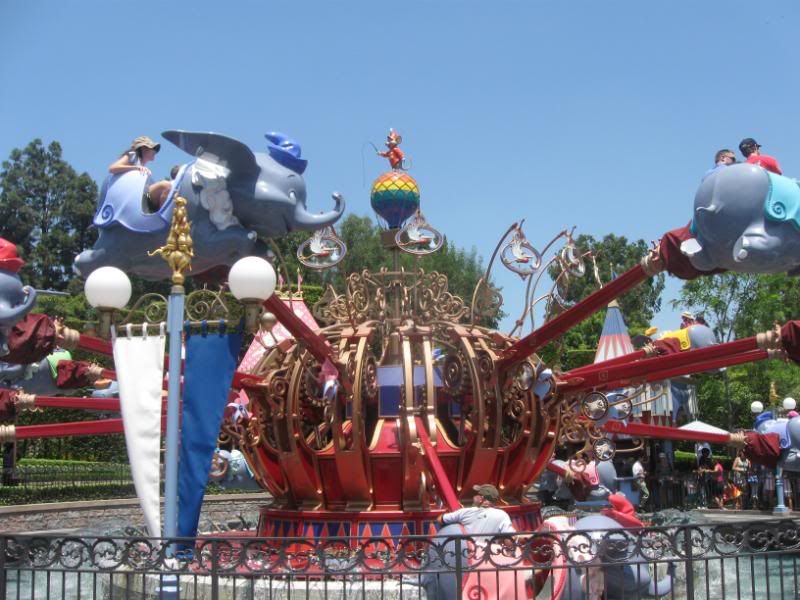 Alright, I haven't been on Dumbo in years so I need to in my upcoming visits.  Dumbo is wildly popular and usually sports a 30 minute, unshaded, un themed wait.  While even though it is just a small kiddie ride, I really want to ride because well I haven't ridden it in so long!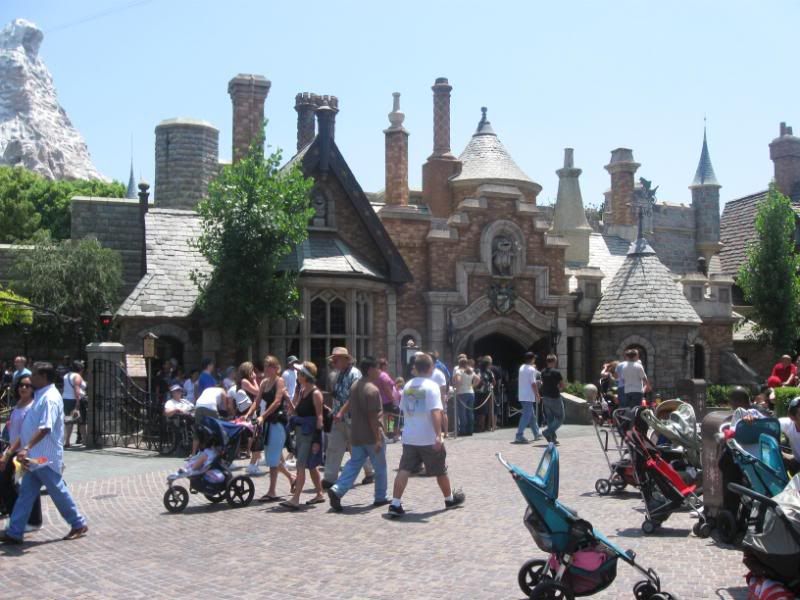 Mr. Toad's Wild ride is my personal favorite Fantasyland dark ride.  It is a wacky wild car ride with Mr. Toad that isn't what Imagineers call a "book report" or telling the story from the movie.  It instead just uses aspects and characters of the movie to create its own story.  All the twists and turns and the final scene are quite dramatic and are very fun.
The Fantasyland Canal boat ride is probably the only ride I have never ridden at Disneyland.  Shocking no?  I mean I haven't ever been on these boats as I feel they are just a low version of Casey Jr.  One of these days….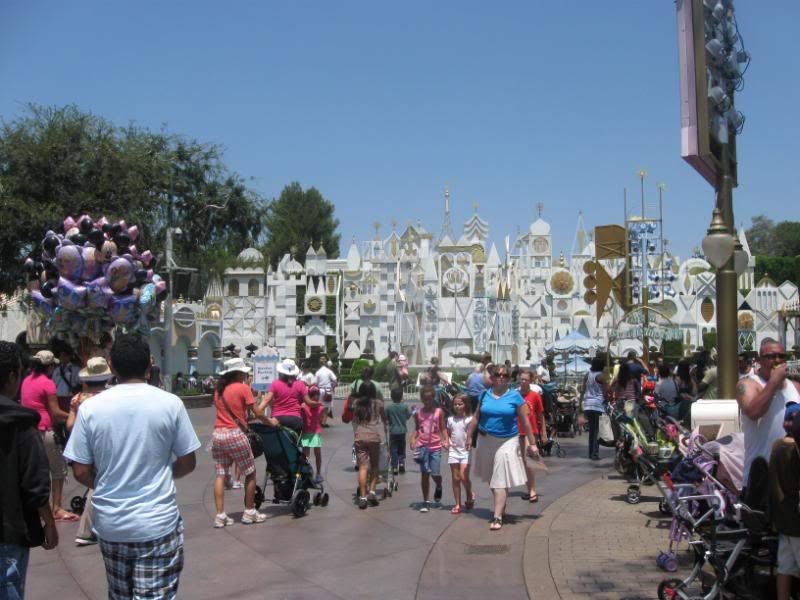 Just because I know that about half of you readers will cringe at the very tune of the song here it is "It's a small world after all!  It's a small world after all!"  Although I do have to say, that I actually really like the additions of the characters.  They add a new layer of depth to the ride.
Welcome to Mickey's Toon Town!  Toon Town was added in 1993 and has been very popular with smaller guests ever since.  Here, kids get to meet all of there favorite characters and even get to explore there houses!  However once you grow out of that, it unfortunately doesn't have much else to do.  We were over here for the Roger Rabbit Fastpasses.
It was hot, so we went to single rider Grizzly River Run over in Disney's California Adventure however to our shocking surprise, the stand by line was only 10 minutes!  Of course we went in the Standby Line so we could ride together.  What a surprise though, I mean 90+ outside and it was 12:00?  Lunch crowd maybe?
Alright, from here we did some more stuff and I can't tell you a thing of what we did.  I think it was a combonation of riding Toy Story Mania, Star Tours and collecting a billion Fastpasses.  We went to eat an early dinner around 4ish and came back with 25 fastpasses in hand ready to use.  First up was Space Mountain.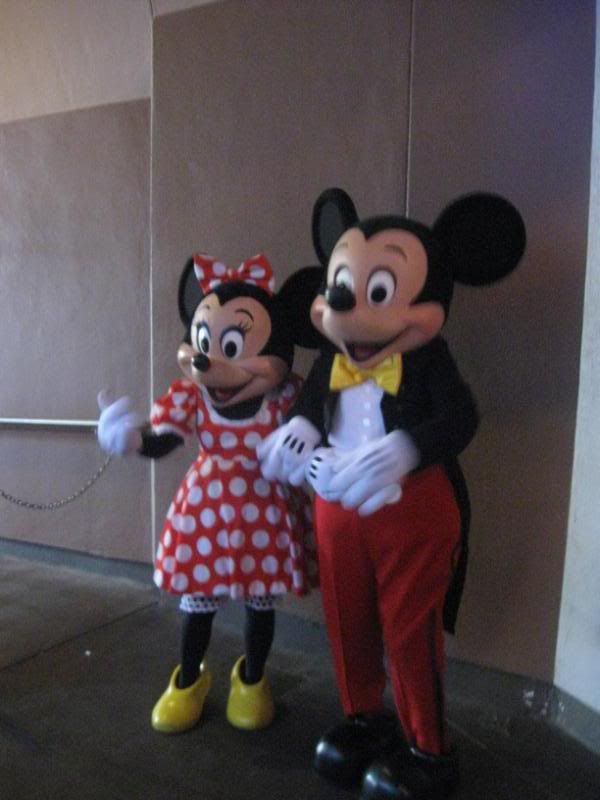 A couple of members in my group went twice and while I waited for them at the exit, I was on the phone with my mother turn around and see Minnie and Mickey together walking towards me and stopping for Meet and Greets.  After there it was all so sudden, a huge swarm of people, so many toddlers, oh the stroller bruises!  Maybe that was a little over dramatic but something like that happened.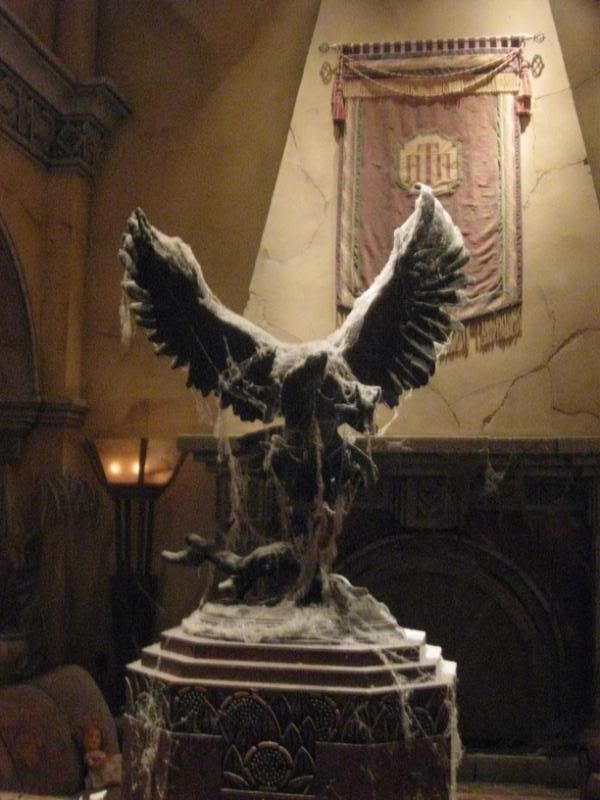 We waited 20 minutes for Tower of Terror after riding Star Tours again.  Tower of Terror is still incredible and I love the lobby decor.  I wish the lobby was bigger however.  Our ride was just as good as last time.
We met up with my Mom and rode Soarin' Over California.  Soarin' is a spectacular expierence that makes you feel as if you are flying over California in just a quick 2 and half minutes.  It is one of the park's most popular attractions and is one of my personal favorites.  Soarin' and Toy Story Midway Mania are the only thing my mom absolutely has to do every trip.
My family and I headed over to Paradise Pier to ride California Screamin' and Toy Story Midway Mania.  California Screamin' is incredible at night and is one of the best coasters in California.  It probably has the most versatile layout of any coaster I have been on.  Hills, drops, an inversion, and all of this is synced to a great musical score!
Interesting thing on Toy Story Midway Mania happened, or rather not on ride but while in line.  Electrical Light Parade was running and we could see all the floats rise high over the Little Mermaid/World of Color Viewing Area construction wall tunnel and it was quite a spectacular sight.  What a very cool experience.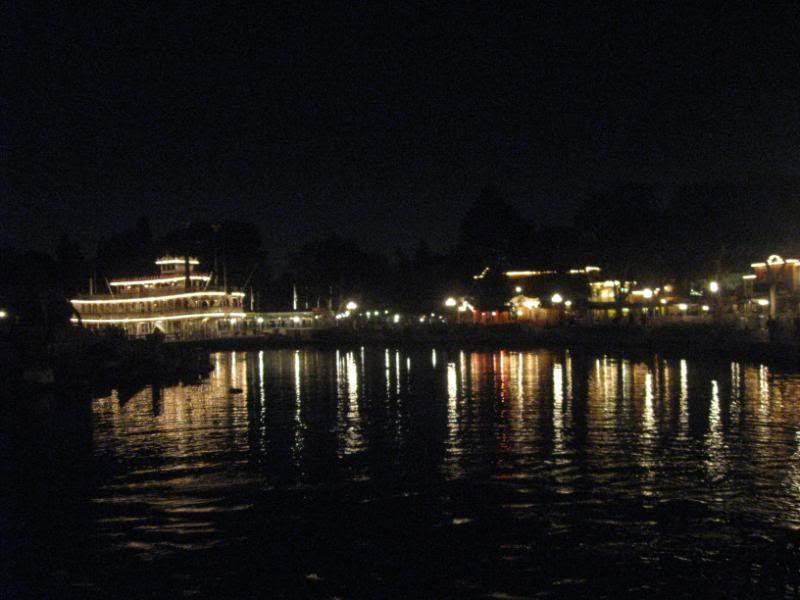 We ended our day by seeing Fantasmic!.  While the show was good, it needs to go.  On my previous visit I failed to realize the logistical nightmare it creates in Frontierland, New Orleans Square, Adventureland, and Main Street.  We were in the standing section a few rows back and it was umm just about not worth it.  Unfortunately, from this side everything is very unmagical as you can see how just about everything works.  All the CMs getting ready for the next scene, Mickey on the Mark Twain, and none of this made up for the crowd issues.  I rather see this just leave next year with World of Color and bring Electrical Parade in as a replacement.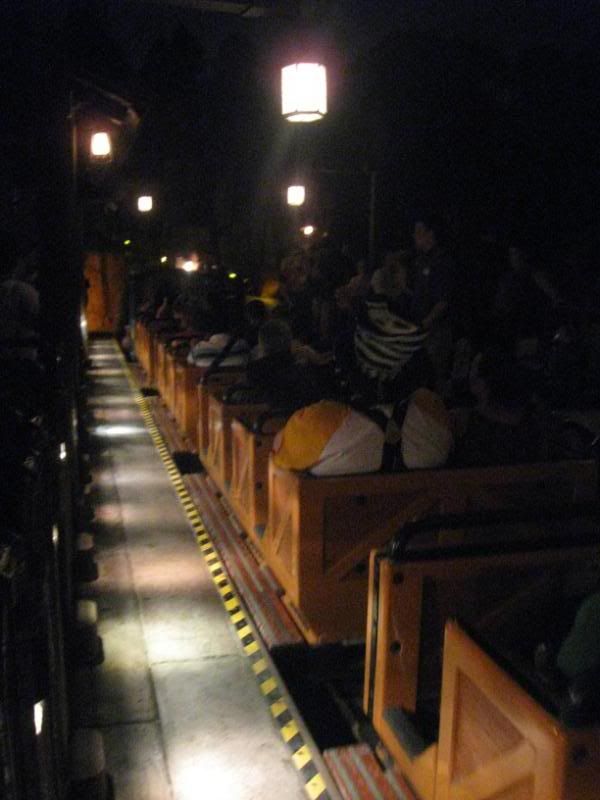 Another Fastpass we had was for Big Thunder Mountain.  Big Thunder Mountain is by far the best night time ride in the entire park.  Unlike California Screamin' Big Thunder Mountain has minimal lighting at night and the trains seem to go way faster.  It is totally worth the wait to grab a spot for a night ride.
Our fastpass collection also featured ones for Splash Mountain which is equally as entertaining at night in the back row where you don't get wet!  I love the atmosphere for Splash Mountain as it is my favorite water ride of all time.
It was just about closing so we raced over to Space Mountain to get in line before 12:00.  Sure enough I was in line at 11:56.  On the way I grabbed this shot of Astro Orbiter.  It is probably my favorite photo from the trip.  I love the lighting and angle on this one.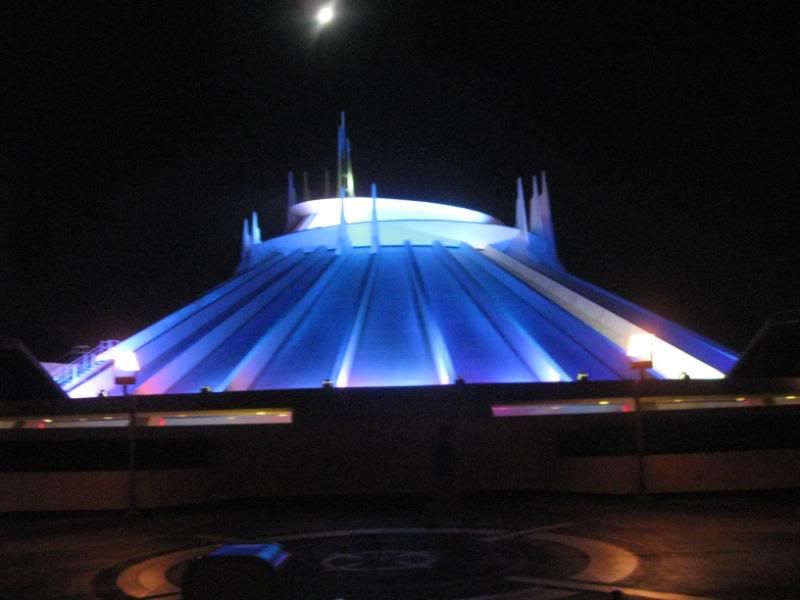 Only Disneyland can create a sight like this.  A iconic "mountain" lit by the Moon light.  What a spectacular sight.  Again, Space Mountain was wonderful, the crew was incredible.  They were assigning seats when we were still about 50 people away from boarding, so the line was moving very efficiently and by the time we arrived back at the station, they were already sending all the trains backstage as there were no more guests.  Maybe one day I will get to be taking that space train back stage!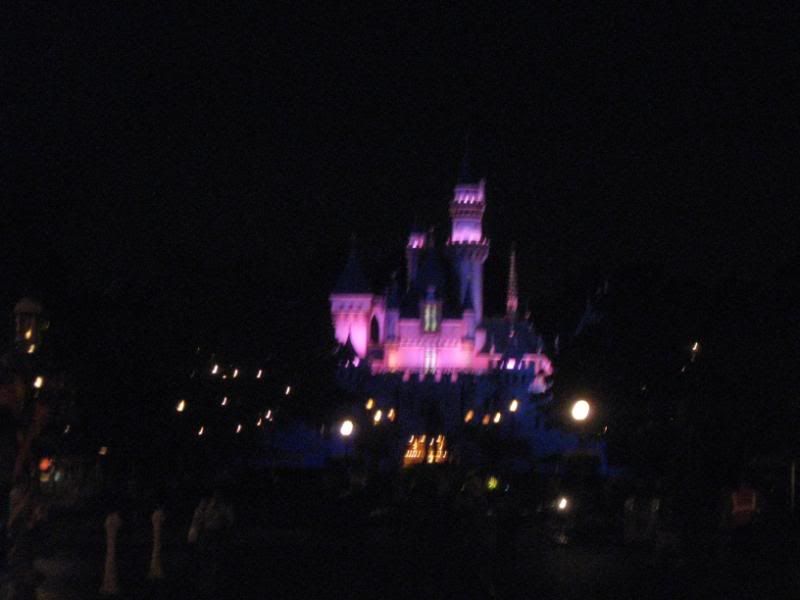 It was 12:30 by this time, I was tired, my arm wasn't steady, but I couldn't resist this shot.  Thanks Disneyland for yet another wonderful day!
Thanks for reading, leave your comments and park thougths!