Yes yes, it is the tallest. From the ground to the point, it is the tallest. Six Flags Great America is owner of this double-decker and here is a tiny review.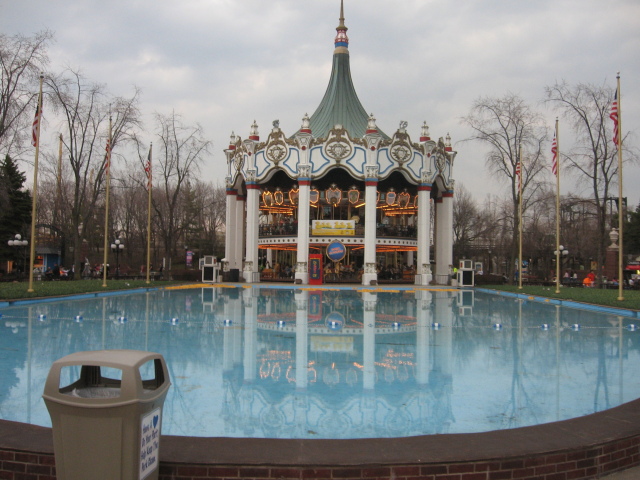 A pretty good day shot of the ride. You can also see the reflecting pool in use.  This is the first thing you see when you enter the entrance plaza at Six Flags Great America. It originally opened in 1976 when Mariott still owned the park, and still operates to this day. You also have the option to ride the bottom floor and wave to the people on the mid-way, or walk up 2 flights of stairs and get some-what of a view from the top.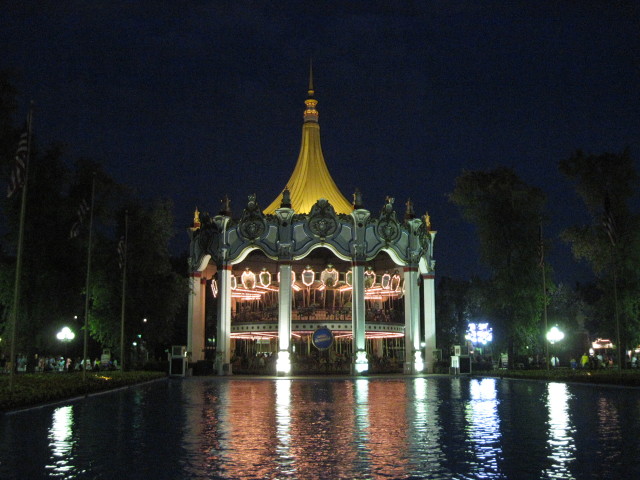 Six Flags Great America spent a little money over the winter and re-did the lighting on this ride. It still stands as a landmark of the park, and they know it has to look good. When you board the ride at night, you get a great view of the whole park at night, it is very lit up. It might not seem like it from the trees that surround it, but at night, it's possible.
My thoughts on the ride. I really do not want to see this ride to go. It is a family favorite of mine. I have been riding it ever since I can remember, and still ride it. It always has a short line, and it is always a good ride to head to. It is also really good during Frigt Fest, when all the Holloween scenery is up, and around, and on the carousel. All add's up to the tallest merry-go-around in the world.
Liked my post, hated my post? Gives me your thoughts of the ride in your comment below! Thanks for reading.