With Demon Drop moving to Knott's Berry Farm, there wasn't much room to place it. What have they come up with?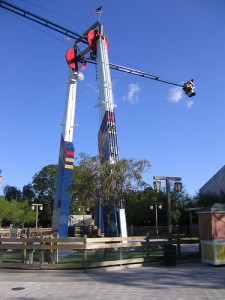 To remove the Screamin' Swing. Now there are bigger version of this ride at Valleyfair, Cedar Point and Liseberg, but those you can ride for free. This smaller version located at Knott's Berry Farm can be ridden with a little up-charge. This is where Demon Drop will ride, while this ride will fall.
California's Great America stepped up to claim the ride, which will mean the ride will be moved over 400 miles north. I am not sure if it will be an up-charge at their park, but it is atleast another thrilling flat to add to the collection.
Which ride do you think is better? Demon Drop or Screamin' Swing? Leave a comment below with your Park Thoughts.