You heard it! America's largest splash battle is opening next year, 2010, at Silver Dollar City. 2010 is the park's 50th anniversary, which this ride will be built to help celebrate.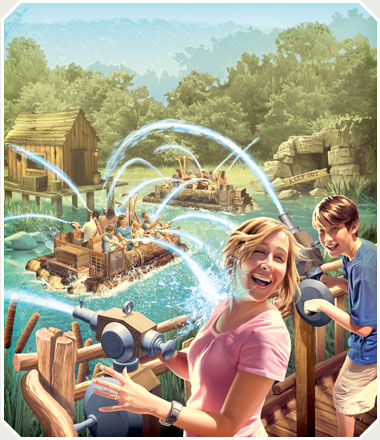 This water ride attraction will be based off of the amazing rascals, Tom Sawyer and his sidekick Huckleberry Finn. Both of the boys sailed to Silver Dollar City, where they want to operate a boat touring business. But there is no boat in site! Tom and Huck make rafts and arm everyone with super soaker guns, for the ultimate river adventure! For the longest splash battle in America, you are surely to get soaked while having a blast!
8 River Rafts
8 Passengers Per Boat, 4 of Each Side
150 Targets
63 Super Soaker Guns on Your Rafts
17 Super Soaker Guns on the Path
567′ of River Raft Adventure! Geysers and More!
5:08 To Experience the Adventure of a Lifetime!
The Ride is Set to Open March 18th, 2010!
What are your thoughts of this new attraction being constructed? Would you ride? Leave a comment below along with your Park Thoughts.