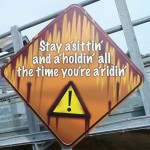 While lots of attention has been on Thorpe Park's upcoming LC12 Bolliger & Mabillard 'Wing Rider' coaster set to debut in 2012, the park is also preparing to open it's new for 2011 addition, Storm Surge. Built by popular water slide manufacturer, White Water West, the creation is a combination of water park family rafting adventure and theme parks rapids. Guests board in large circular rafts, and climb up the 65 foot lift before whizzing through the wet and slippery course all as the rafts are theming.  Thorpe Park Mania got a chance to experience the rafting adventure during the Pass Holder previews this past weekend and is also where these photos and more can be found.
Continuing a recent trend, the park spent a great deal of time and money adding heavy theming. I am still not entirely sure on what the exact storyline of the water ride is but apparently it is some sort of cartoony take on an American seaside harbor including signs with what is supposed to be an American accent:  "Stay a'stitin', and a'holdin' all the time you're a'ridin'". Hmm, I guess all of the warning signs in America are written in a proper English accent!
None the les the addition looks fantastic and while may not be worth the opening day 2 hour waits, on hot summer days, Storm Surge will be a great way to cool off.