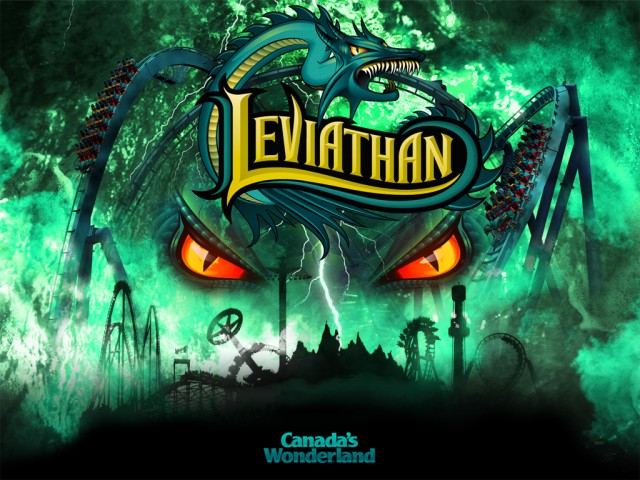 After much anticipation, Canada's Wonderland has pulled back the curtain on the park's 2012 project: Leviathan. The 306 ft B&M giga coaster will reach speeds of over 90 mph, feature over 1 mile of track, and boast an L-shaped layout which will extend out to the park's main entrance.
Unlike most other B&M hyper coasters, this Giga coaster will emphasize on speed with just 2 camel backs but several high speed turns including a 164 degree "barrel roll" (not the inversion, but an over-banked turn rather) after the first drop and a  115 degree, 147 ft high camelback over the park's front gate.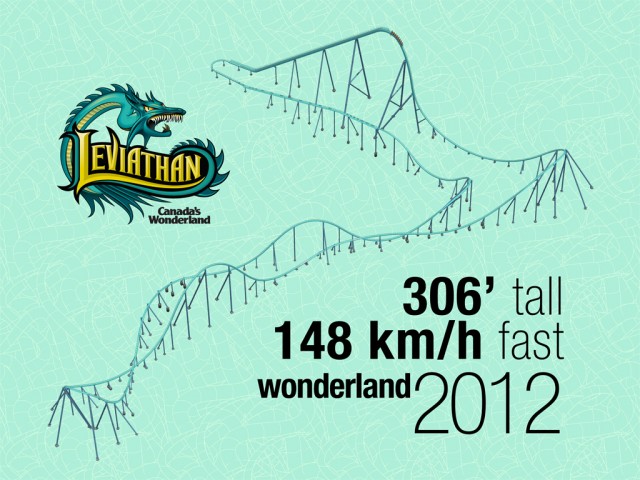 The park has already launched a mini-site which includes concept art and other renderings for the ride.  Leviathan will be the park's 16th coaster, putting it as one of the top 3 parks with the most coasters on the planet, just behind Cedar Point and Six Flags Magic Mountain.  Canada's Wonderland continues to be the destination for family fun and thrill seekers.
[yframe url='http://www.youtube.com/watch?v=Lv9EBWjkpyY']
Initial 2012 Thoughts:
My first thoughts when I saw the leaked concept art was "This is for Canada's Wonderland?"  And I still feel that way.  By no means is this a bad addition, however I doubt this was originally intended for this particular Cedar Fair park. With Cedar Fair responsible for ride installations, not the parks themselves, I would assume this was intended for a different park, but changes in plans would later move it to Canada's Wonderland.
And face it, is it a bad thing to have two nice B&M Hypers in one park? It's similar to the style of thinking for Holiday World with their new addition of Mammoth. Yes you're beating your own record, but it's building a bigger and potentially better version of the park's most popular ride. More than anything it's nice to finally see B&M get into the giga coaster business as who knows what that means for the future (300 ft Dive Machine anyone?).
What are your thoughts on Leviathan? Wish it was at your park? Will you be riding it next year? Leave a comment with your Park Thoughts below.