Yes, we just covered Carowinds two days ago, but they're probably the busiest park in the world right now, construction work of some kind is taking place in almost every corner of park. Intimidator is closing in on completion, the transition from Nickelodeon Central to Planet Snoopy is in full force, another year of Thunder Road rehab is underway, and Carolina Cyclone's painting should begin any day now, plus even more announcements coming soon.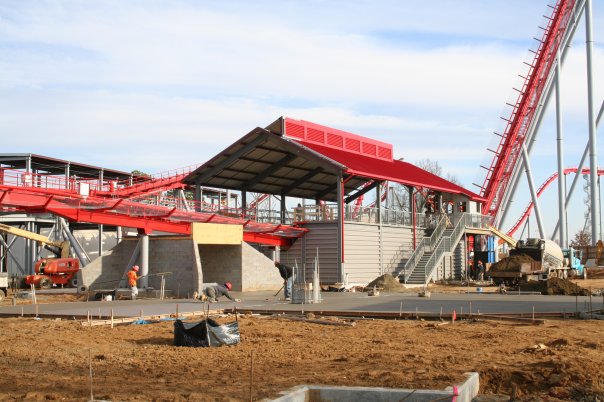 As far as Intimidator goes, we posted a couple of days ago that trains had arrived, since then concrete for the entrance plaza/queue area has been poured and it appears that the gift shop is nearly done. The park has posted a large gallery of photos of the train and some really detailed shots of the storage sheds that it currently occupies. See all of the Intimidator photos here.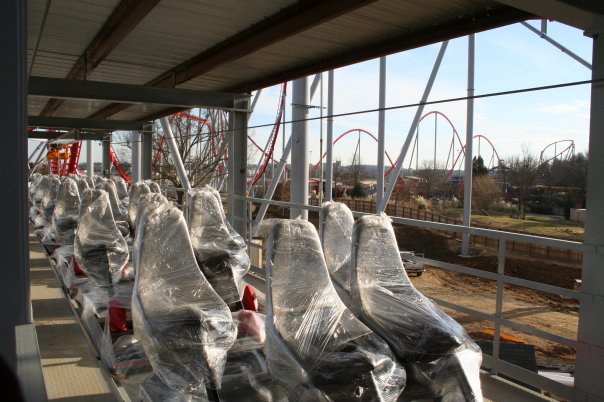 The park also posted a nice collection of Planet Snoopy construction photos, including the work-in-progess paint job of "Flying Ace Aerial Chase" (formerly Rugrats Runaway Reptar). The supports are being painted bright orange, although the track color is unknown as it hasn't gotten past the priming stage yet, and honestly, the ride looks more Nickelodeon-like then ever before. Hopefully the track color will change that. See these photos here.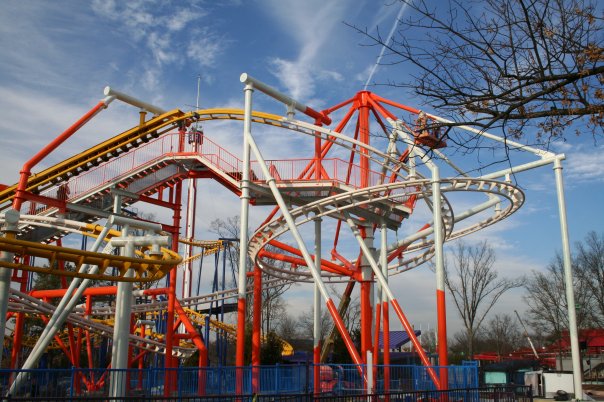 At the other end of the park, GCI has begun work on the next phase of Thunder Road rehab. The hills on both tracks up to the turnaround has been completely removed. I certainly thought this "5-year plan" to essentially make Thunder Road a brand new ride would go a little faster.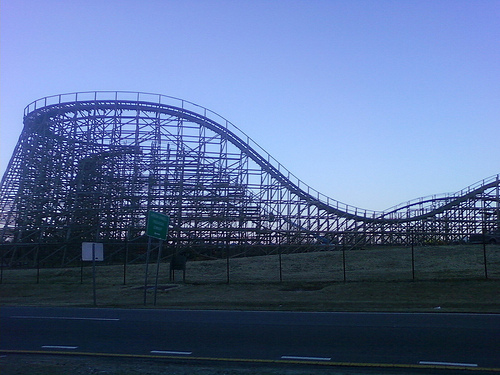 Photo by Carowinds Connection member, derek_lentz.
As for Carolina Cyclone's painting, there's been word that a crane is up next to the ride, but no photos yet. I know I definitely look forward to seeing what color scheme the classic ride will sport next year.
What do you think about the construction at Carowinds? Leave your comments and Park Thoughts!