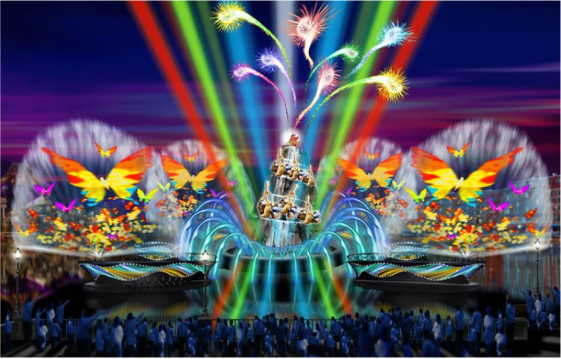 We broke the rumor to you back in October, however now it is official.  The Oriental Land Company has finally declared Fantasmic! as Tokyo DisneySea's 10th Anniversary attraction.  With the recent additions of Tower of Terror, Monsters Inc Ride n' Go Seek, Turtle Talk with Crush, as well as the upcoming additions of Mickey's Philarmagic, a Cinderella castle walk-though attraction, as well as a Toy Story Mania, the OLC is serious when it comes to running their parks.  The 10th Anniversary is expected to be no different as Fantasmic! seems to be reimagined just for this park.
In Tokyo, the Fantasmic will include Finding Nemo, Cinderella and Aladdin, in an epic 20 minute spectacular.  Guests will be immersed in adventure before the climax where Mickey fights a mighty dragon.  This is sure to be a flat out incredible moment considering that there is also a massive erupting volcano going to be behind the 20-40 foot dragon.  The grand finale will be Mickey saving the day.  All of this is expected to cost approximately 30 billion yen (roughly 30 million US dollars) and will begin its run in April of 2011 for Tokyo DisneySea's year long 10th Anniversary celebration.
So what is Fantasmic! Tokyo DisneySea going to be like?  Well I can give you a good idea: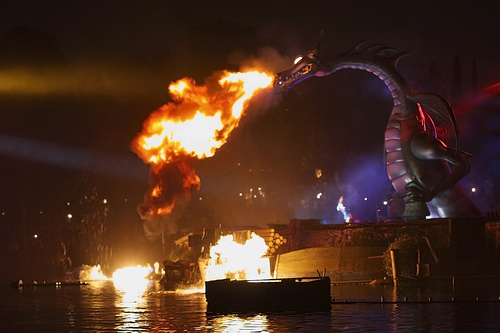 Fantasmic! can already be found at both Disneyland and Disney's Hollywood Studios.  So how different will Tokyo DisneySea's version be?  Well,  looking at the OLC's track record, it will likely use much newer technology then the other 14-18 year old shows.  Another interesting note, that Tokyo DisneySea's current show Braviseamo was designed to be a similar show to Fantamsic!
Back when the park was looking for a new nighttime spectacular, a show similar to Fantasmic! was planned however, the Oriental Land Company backed out in order to make something more original.  This is what lead to BraviSEAmo.  However, by the time this decision was made, work already began on the giant, deep pit in the middle of the lagoon for the dragon.  As a result, the pit was used for the Fire Spirit in BraviSEAmo (first picture) instead of a dragon similar to Disneyland's (Second picture).  So the dragon will finally be put in its rightful home.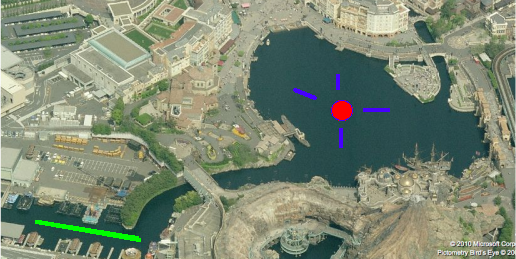 Another interesting note about Fantasmic! at Tokyo DisneySea is that it will have a much different "stage" then the other shows.  Unlike the current version in the US parks, the Japanese version will have to be seen from 360 degrees around the lagoon as appose to the standard stage setting at Disneyland and Disney's Hollywood Studios.  The solution shown in the concept art is what I have sketched out for you in the image above.  e
Similar to the Legend of Mythica Fantasmic! will have a centeral stage that will be anchored to the bottom of the lagoon (red circle).  Around it, are 4 fountain barges (blue lines).  BraviSEAmo uses a similar system with 4 barges around the lagoon that each hold fountains and pyrotechnics.  Fantasmic! will likely be similar.  The concept art shows a giant mist screen extending out from the barge, but also, if you zoom in you can see what appear to be fountain nozzles extending out from the bottom of the barges.
Another thing to take into consideration is the fact that Tokyo DisneySea is much better equipped to hold more "boats" for the show.  Now these "boats" are more like high detailed, parade floats on water.  Both of the American Fantasmic!'s use square barges that with minimal lights on them.  Tokyo DisneySea are professionals at making elaborate floating masterpieces, as seen with my Legend of Mythica post.  So the show will also be blessed with the capability of having amazing floats swimming around the harbor with dazzling water fountains in the background.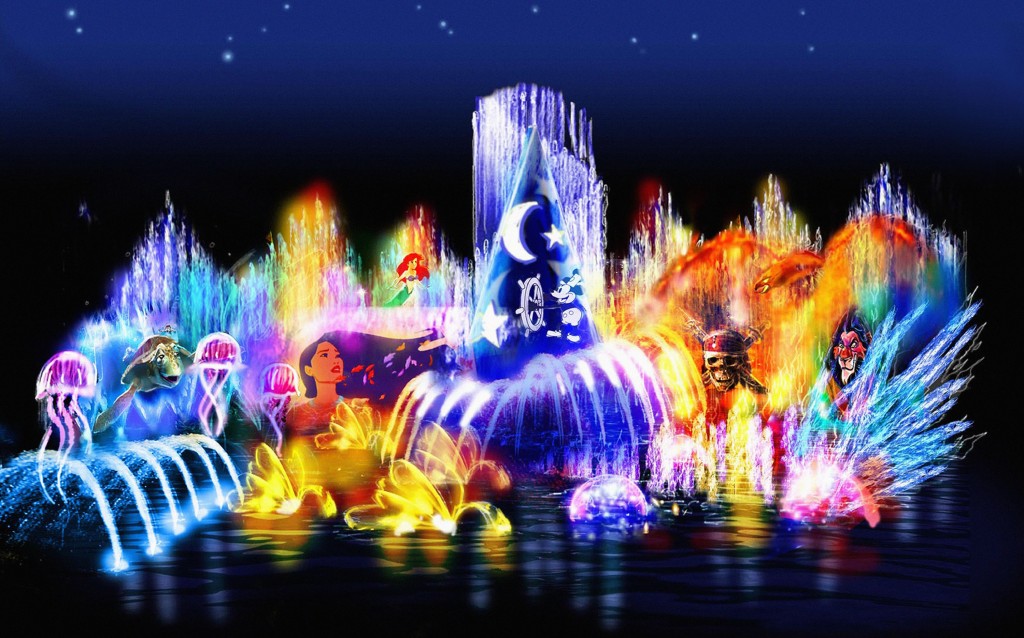 Lastly, it appears that Fantasmic! will be combining the storytelling and theatrical elements of the other showings, along with the water fountain styles of World of Color.  There appears to be a very advanced use of water screens in several forms.  In the center of the screen we can see a cone shaped water screen with the Fantasia mops carrying buckets of water towards a Sorcerer Mickey on top of a platform.
Well details will emerge as we get closer to the 10th Anniversary Celebration in April of 2011.  Construction for the new spectacular is expected to begin immediately after BraviSEAmo gives it's final show on November 13th, 2010.  What do you think of this incarnation of Fantamsic?  Leave a comment and park thought below.