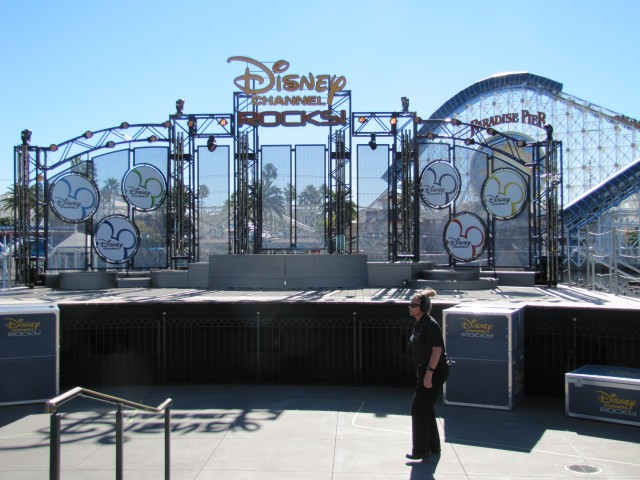 Disney Channel Rocks just debuted today and featured songs from popular Disney Channel shows.  The show is set on the Palisades Stage in the new Paradise Park World of Color viewing area and features and elaborate set up.
So I just saw the show twice today and I have very mixed emotions about the show.
To say I hate the show would be hypocritical of me. There is no doubt, the show is an honest to good effort. The stage was really big. There is lighting equipment on either side of the small mini stages. There is a healthy number of performers. It really is impressive. The use of the fountains is well done, and the show's values are really good. For the first time in a very, very long while, I congratulate Disney on greatexecution. It's really hard to bash the show for its set-up. The show is fantastic at doing what it does (the very opposite of C!RAP).
Saying that, this is money really spent in the wrong direction. The theme of the show kills any sense of atmosphere that area of Paradise Pier once had. My biggest issue was that the park plays Radio Disney in the very short 35 minutes between each show. So guests walking by can listen to the loud obnoxious ringing of Miley Cyrus singing "Jingle Bell Rock". The park really had no business doing that in between. The obvious issue with the show is the concept. I really just don't like the music, the costuming, and the overall concept. It really is a huge step back in theming.
Some other nit-picky notes are that only the far left platform is used, but the middle platform was also visible (this is probably unrelated to the show). The bigger problem was was that the left platform didn't submerge between shows, an eyesore most certainly.
Some random things I liked was how wide angled the show was with performers on the stage, just below the stage, and on either side of the water play ground. I also liked the rising platforms. And I liked the timing of the fountains (only the ending and opening).
So the show is a step in the right direction in some categories. The execution is great but the concept needs a lot of work. I am very impressed at how versatile of an entertainment location Paradise Park serves for shows. I can totally picture some seriously awesome entertainment offerings coming later on. I have pics and videos on their way but might not be up for a while as I am going back for WoC tonight. At the same time, the park needs to re-assess how they are approaching Paradise Pier. Seriously Disney, finish your dinner. Fix the shop facades, and drop these modern shows.
Below are pictures.  Video coming soon.